The 10 Days of Polsky: Looking Back at 2020 
Published on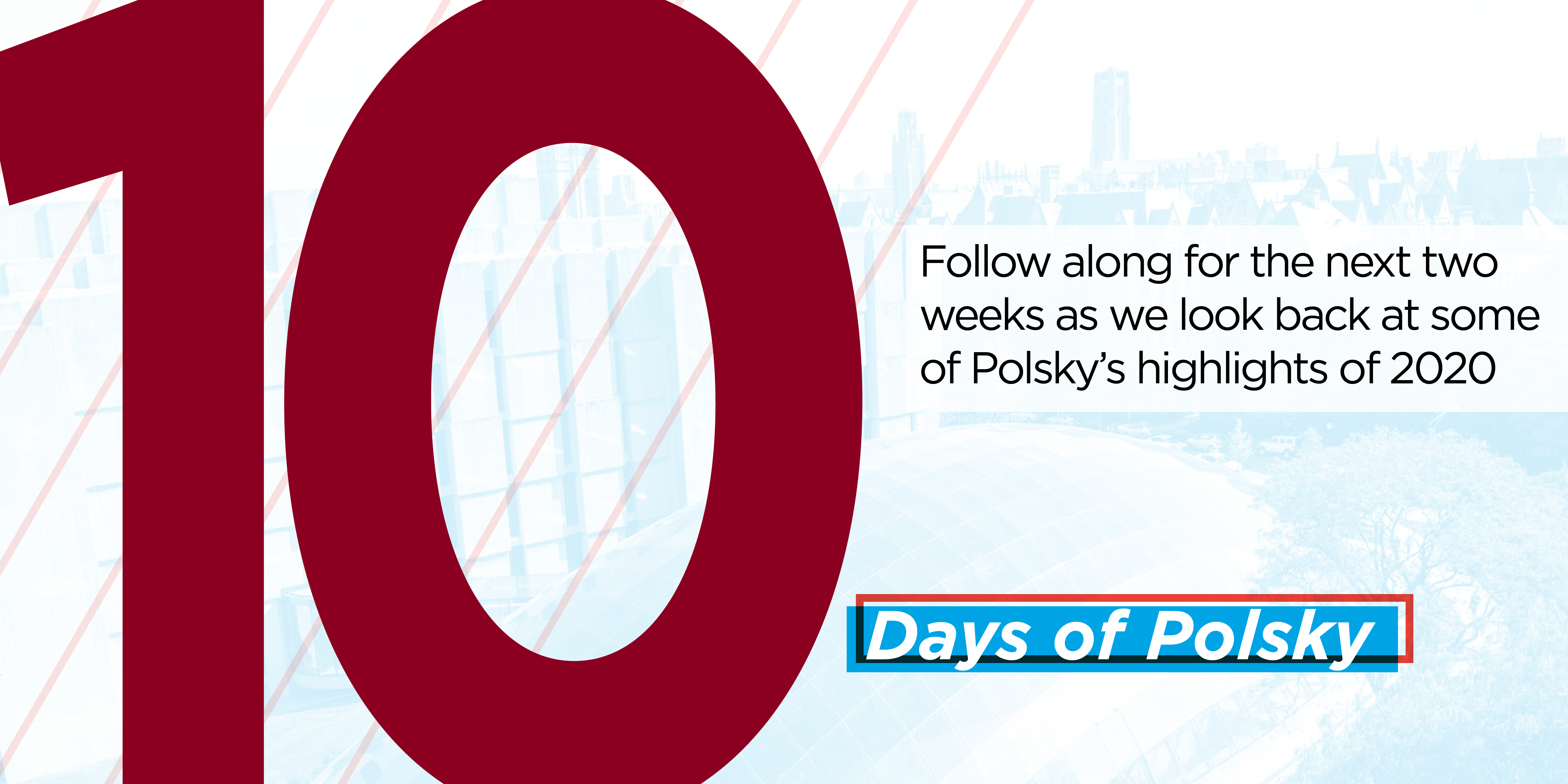 The past year was unlike any we've experienced before. Despite the many challenges caused by the global COVID-19 pandemic, we stayed focused on advancing our Polsky Center mission.   
We authored a bold new strategy, transformed the "technology transfer" function of our organization, launched new programs locally and globally, and awarded a record-breaking $1 million in our capstone Edward L. Kaplan, '71, New Venture Challenge.  
Follow along with us over the next two weeks as we take a look back at some of the year's highlights in The 10 Days of Polsky. 
1 // Entrepreneurial Outlook Kicked Off 2020
The Polsky Center kicked off the year with our annual Entrepreneurial Outlook series. One of the only events this year to be held in person, the series covered a range of topics, including medtech, manufacturing, entertainment, quantum, fintech, as well as retail and food.  
Each session began with the opportunity for local entrepreneurs to pitch their business ideas and was followed by a panel discussion with industry experts. 
The Entrepreneurial Outlook series is inspired by the University of Chicago Booth School of Business' world-renowned Economic Outlook event, a forum for thought leaders in economics to share their insights and analyses with a global audience.  
"On any given day, something new and groundbreaking is being dreamt up or discovered in Polsky's backyard," said senior director of the Polsky Exchange, E.J. Reedy. "It's incredibly invigorating for local entrepreneurs to hear about what's coming from investors, entrepreneurs, and other experts in specific industry areas." 
2 // We Supported Our Small Businesses
Between April 13 and 19, 2020, the Polsky Center hosted a week-long Small Business Bootcamp to provide resources for small business owners and entrepreneurs affected by the COVID-19 pandemic.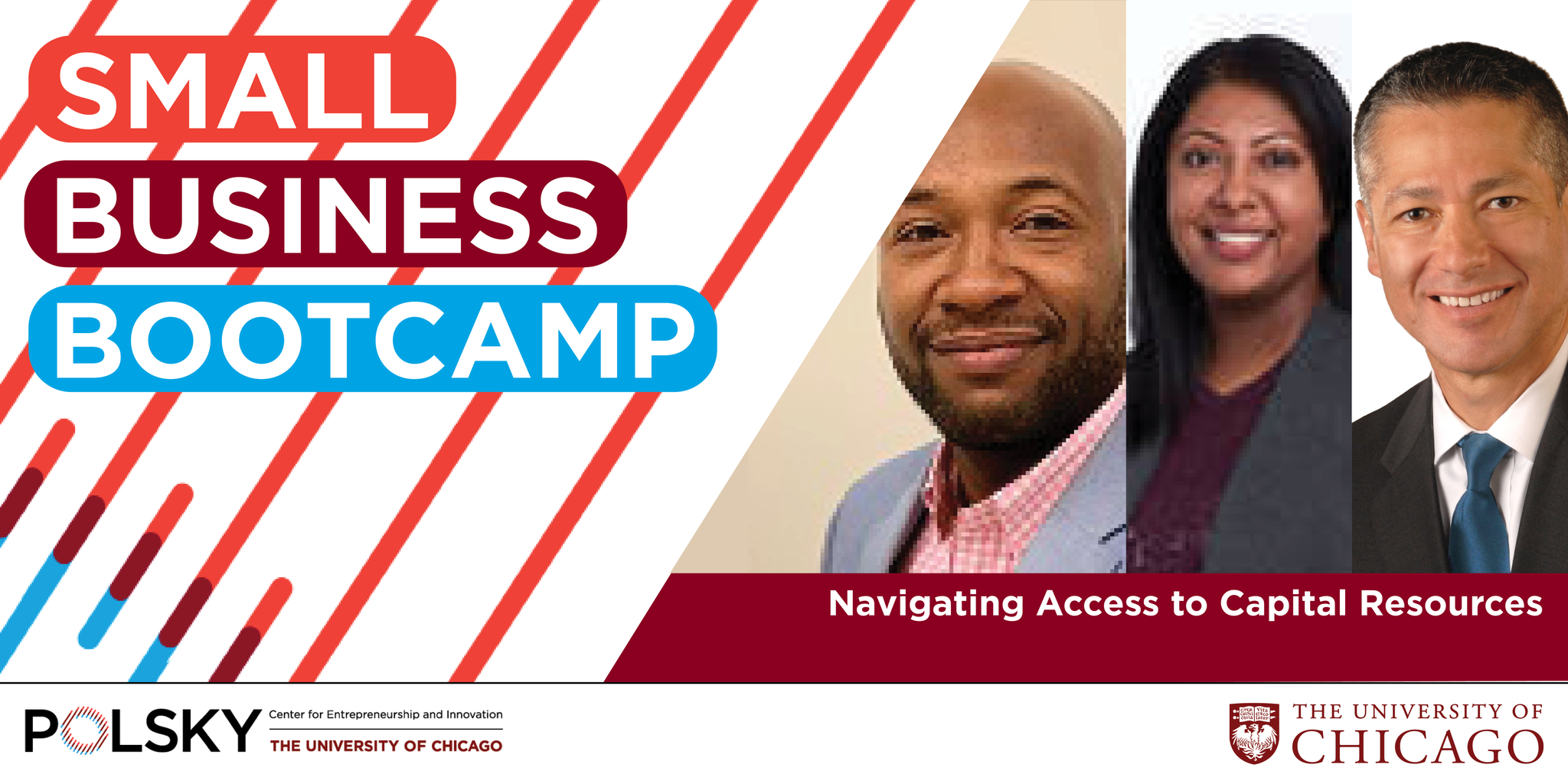 The virtual bootcamp featured 10 sessions in five days, which were taught by Chicago Booth professors and business experts: 
Additionally, a record 20 teams this year were accepted into the Polsky Accelerator, a 10-week intensive summer program designed for both for-profit and not-for-profit ventures. 
The Small Business Growth Program also was expanded and accepted its largest-ever cohort of 21 new and returning business owners for Summer 2020. The program pairs teams of UChicago students with small businesses on the South and West Side of Chicago to provide hands-on consulting experience to companies, helping them address key business challenges and determine new strategies for growth.
3 // Startup Investments Set New Records
In 2020, more than $6 million was invested in startups across 11 Polsky programs. Through the traditional track of the Edward L. Kaplan, 71, New Venture Challenge alone, we awarded a record-breaking $1 million in 11 student-led startups, which included $150,000 from the Rattan L. Khosa First-Place Prize. This year's NVC winner was Pippin Tittle – a one-stop-shop for land title reports – which took home $450,000. 
"We are so proud of you for having worked through very tough circumstances and still creating real businesses," said Steve Kaplan, Neubauer Family Distinguished Service Professor of Entrepreneurship and Finance and Kessenich E.P. Faculty Director at the Polsky Center, during the first-ever virtual NVC finals on June 4.  
A peer-to-peer subletting marketplace, Subli in March – before things shifted online – won $25,000 at the College NVC. Alumni NVC winner, Speeko, secured $75,000 for its AI-driven speech coach, and UTours out of Hong Kong, took first place ($35,000) at the Global NVC. 
Several other companies received funding this year through the George Shultz Innovation Fund (DrLullaby, Laiya, and Super.Tech) and the UChicago Startup Investment Program (Kin Insurance, Foxtrot, Taiger, Tovala, and others).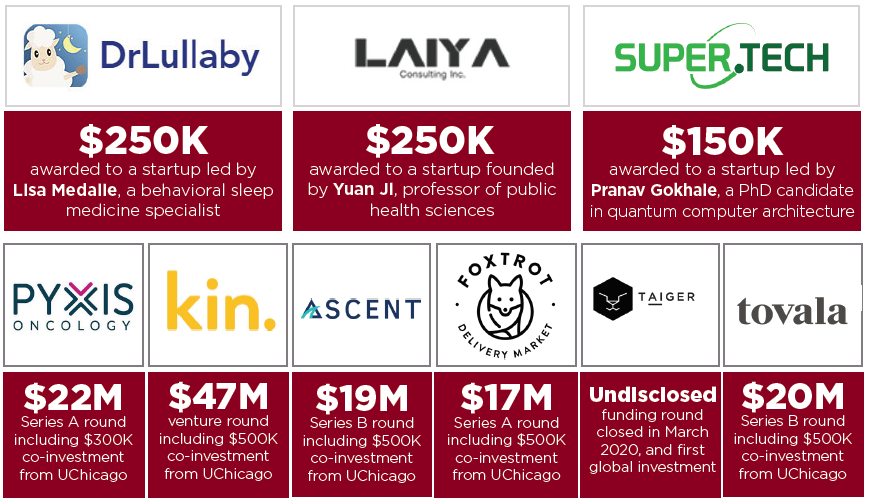 4 // Chicago Plants Flag as a Leader in Quantum
2020 was a big year for quantum research.  
"There are enormous opportunities developing computers that are capable of solving in seconds what's currently impossible for our most powerful supercomputers today. We're going to lead the way in launching the quantum internet," said Govenor J.B. Pritzker in conversation with Professor Juan de Pablo at the third annual Chicago Quantum Summit, hosted by the Chicago Quantum Exchange (CQE). 
The event, held virtually this year, covered several topics, including Illinois' future as a quantum hub. 
The CQE added several new companies this year to its growing list of industry partners, including Polsky-supported startup Super.Tech. The quantum software startup aims to close the gap from near-term quantum computers to practical applications in industries such as energy and finance. Super.tech participated in the George Shultz Innovation Fund earlier in 2020 and was awarded $150,000 from the Polsky Center. 
The government also doubled down on its investment in Chicago as a quantum hub this year, with the US Department of Energy (DOE) announcing plans to establish five new National Quantum Information Science Research Centers, including centers led by Argonne National Laboratory and Fermi National Accelerator Laboratory. The labs are each projected to receive $115 million in funding over the next five years. 
During the Summit Pritzker said: "We put ourselves at the front of the line and made it obvious for the federal government to pick Chicago." He also in 2019 committed $200 million to establish the city as a quantum hub.  
Additionally, the National Science Foundation with a $25 million, five-year grant established the new Quantum Leap Challenge Institute for Hybrid Quantum Architectures and Networks (HQAN), which includes UChicago and other CQE member institutions.
5 // We Connected with Entrepreneurs Around the World
The University of Chicago Global Entrepreneurs Network (UChicago GEN), a new initiative that fosters a global community of UChicago entrepreneurs and investors affiliated with the University of Chicago, made its debut earlier this year.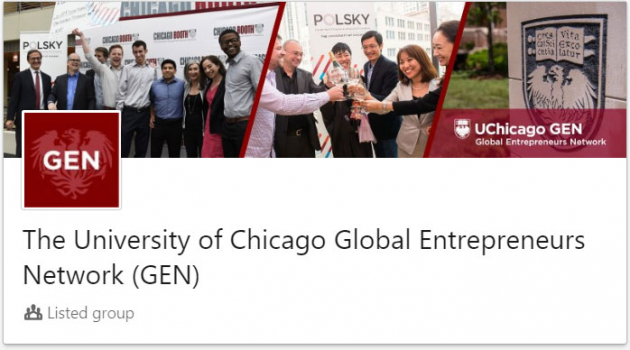 Spearheaded by the Polsky Center, in partnership with Chicago Booth and the Rustandy Center for Social Sector Innovation, the goal of UChicago GEN is to provide alumni and student entrepreneurs with connections, valuable content, and other resources around the globe. 
The idea for UChicago GEN stemmed from research conducted by Waverly Deutsch, clinical professor at Chicago Booth and Polsky Center director of UChicago GEN, about the value of professional networks.  
6 // Innovation Never Stopped: Researchers Pushed Breakthroughs Forward 
Researchers this year continued to push boundaries with their work. 
Reports published by the Illinois Science and Technology Coalition (ISTC) have shown Illinois to be a startup powerhouse, especially in STEM. In May, the ISTC released the Illinois Innovation Index, which tracks entrepreneurship and commercialization stemming from the state's universities.
Over the last five years, Illinois university students and faculty have had record startup activity, raising approximately $1.42B. The ISTC also recognized three UChicago professors in its 2020 list of Researchers to Know, for their innovative work in the STEM fields. The professors were Cathryn Nagler, Jeff Hubbell, and Maryellen Giger. 
Stacy Lindau, MD, MA '02, professor and a director of a research lab in the Biological Sciences Division, also made strides in her research that is examining how to return sensation to mastectomy patients. Lindau leads the Bionic Breast Project, an interdisciplinary program applying bionic technologies to restore post-mastectomy breast function. (Graduate student Katie Long, MD/PhD '24 received $20,000 for her work on the Project through Aerie's "Changemakers" program.) 
Evozyne also this year made its official debut. "It's really exciting to think about Evozyne as being a first major startup company to emerge directly on the principles of molecule engineering," said co-founder Rama Ranganathan, Joseph Regenstein Professor of Biochemistry and Molecular Biology and Molecular Engineering at the University of Chicago.
The data-driven molecular engineering company that uses artificial intelligence (AI) to design man-made proteins and worked with the Polsky Center to file a patent for the core technology, which combines AI with genetic engineering technology.  
In the early spring, with Covid taking the attention of all, Peter J. Eng, PhD, an experimental physicist and research professor at UChicago, came up with a way to decontaminate N95 masks. 
Eng designed and fabricated an N95 respirator decontamination cabinet, which features a proprietary UV-C lamp arrangement that eliminates shadowing and optimizes the UV-C dose to all surfaces of the mask. The result is full irradiation and disinfection of mask surfaces at a rate of 180 masks per hour – though the inventors estimate a scaled-up, automated version could process up to 1,440 masks per hour, or more than 34,000 per day. 
For more breakthroughs made by UChicago faculty and researchers:
To highlight the research and inventions of UChicago faculty, the Polsky Center also this year launched a weekly column called "Patent of the Week."
7 // Where Are They Now? We Found Out
Launched this year, our article series "Where Are They Now" catches up with students and alumni who have participated in Polsky Center programming. From banking to biotech to voting, these companies and founders have excelled in their fields and persevered during an extraordinarily difficult year. 

Among the several companies we caught up with was BallotReady, which this year partnered with social media giants TikTok and Snapchat to register young voters for the 2020 general election and reached 50 million voters. The comprehensive, non-partisan, online voting guide won the John Edwardson, '72, Social New Venture Challenge in 2015 and participated in the 2016 George Shultz Innovation Fund. Now, BallotReady covers elections in all 50 states, ranging from local to state-wide to national.    
Making several headlines throughout the year with its work, digital health company physIQ is using FDA-cleared artificial intelligence-based analytics to analyze data from COVID-19 patients and those at high risk of exposure. In early May, physIQ announced the launch of a program in conjunction with the Department of Defense (among others). This program will use physIQ's pinpointIQ™ platform to collect and analyze wearable sensor data to better understand the coronavirus. Gary Conkright, a Chicago Booth alum and past participant in a George Shultz Innovation Fund investment round, is the co-founder and CEO of physIQ. 
In October, Daniel Rogers, MBA '13, was one of six entrepreneurs in the Chicago area chosen by Google for Startups Black Founders Fund. As part of this program, Rogers was awarded $100,000 and given access to mentors at Google. Rogers co-founded A.M. Money, the student loans company, out of the Polsky Exchange office space in 2016 and went on to participate in the Polsky Incubator. A.M. Money has helped hundreds of students afford their college education. 
The 2013 Edward L. Kaplan, '71, New Venture Challenge alum CancerIQ raised a $4.8 million Series A funding round in August. The company offers an end-to-end solution that enables healthcare providers to deliver precision health services using genetic and genomic information to focus on preventing or detecting disease early. Co-founder and CEO Feyi Ayodele will use this funding to advance CancerIQ's integration with electronic medical records.  
Sean Harper, AB '03, MBA '09, launched home insurance technology company Kin Insurance in 2016. In August, Kin Insurance announced a $35 million Series B round with participation from the University of Chicago via its Startup Investment Program in the amount of $500,000. Harper plans to use this backing to expand the company. "We're hiring more engineers, building more features and products, and expanding into new geographies," he said.   
For more "Where Are They Now" stories, find the series, here.  
8 // Polsky Launched on Demand to Bring Learning Opportunites Online
As the world went online, so did the Polsky Center. We launched Polsky On Demand, a digital library that houses some of the Polsky Center's educational workshops for free.
With Polsky On Demand, get access to the Small Business Bootcamp workshops, Entrepreneurship Essentials, missed info sessions, and more. The Polsky Center is now just a click away. 

"We live in an increasingly virtual and on demand world," said Dan Sachs, executive director of education and programs at the Polsky Center, who joined the University in September 2020. "The Polsky Center is focused on training the next generation of entrepreneurs and leaders to succeed in this new environment."
The more than 80 sessions included in this initial launch of Polsky On Demand represents more than 100 hours of digital content aimed at helping entrepreneurs gain the critical skills necessary to successfully launch and scale a startup.
9 // Thought Leaders Shared Advice, Talked Trends, and Taught us Something New
Throughout the year, Polsky Center staff and mentors share their expertise in various formats.
Among these, the Polsky Center in September partnered with Argonne National Laboratory and Fermi National Accelerator Laboratory and hosted a webinar as part of Current's inaugural Chicago Water Week. The panel highlighted opportunities for research collaborations and how to gain access to research facilities and innovative technologies from the University of Chicago, Argonne, and Fermi.

Steve Kaplan, Neubauer Family Distinguished Service Professor of Entrepreneurship and Finance at the University of Chicago Booth School of Business and Kessenich E.P. Faculty Director of the Polsky Center, also has continued to examine the pandemic's effects on venture capital and corporate venture capitalists (VCs).  
In August, Kaplan co-authored a report that compared VCs in early 2016 to VCs in early 2020 to assess how the COVID-19 pandemic has affected decision-making and investment practices. According to the report, in the first half of 2020, the investment pace of VCs was 71% of their normal activity.  
"While VCs have slowed their pace of investing – which is not surprising – the decline is much smaller than it was in the financial crisis and during the dotcom bust, which is surprising," said Kaplan. The report concluded that "the most dire" predictions about the potential effects of COVID-19 on the VC market have not come to fruition. 
Looking at the tech industry and the pandemic, Bill Payne, executive director of science and technology at the Polsky Center, moderated a discussion at the Executives' Club of Chicago. The panel featured Chicago leaders in tech who spoke about the city as a place to found and grow a company as well as the effects of the COVID-19 pandemic on local entrepreneurship. 
"These are challenging times," said Payne. "I think that there's recognition now and hopefully it will lend itself to more diversity and more opportunities, because that's really the crux of the issues here." 
The Polsky Center's investor-in-residence and Chicago Booth alum Tim Kelly,  also earlier this year shared advice and talked strategy in times of crisis. For those looking to break into the private equity industry, Kelly said, "During this moment in time, remain calm and do not panic. … Only worry about and try to control those things that you can control. Send out your resumes, make your networking calls, remain persistent with your job searches." 
10 // Our Team Expanded, Evolved, and Went Virtual
We remained steadfast this year and focused on advancing our Polsky Center ambitions. We authored a bold new strategy for our future and launched several new initiatives to support that strategy. As part of that, we transformed the "technology transfer" function of our organization into a newly established group called Polsky Science and Technology.
In March, we brought on Bill Payne, PhD, to lead this new group, which provides deep expertise and service along the entire commercialization value chain – from IP protection to technology licensing, new venture creating, and industry relations.
In an effort to enhance industry engagement and entrepreneurship in quantum information sciences, a new joint role of director of industry partnerships for quantum information science was created as part of the Polsky Center's partnership with the Chicago Quantum Exchange (CQE) to enhance industry engagement and entrepreneurship in quantum information science.
Preeti Chalsani transitioned into this role in June. "Quantum science and engineering brings together researchers from many different areas. I am thrilled to have this opportunity to facilitate connections and interactions within this research community in order to create and expand research collaborations and training opportunities," said Chalsani.
Following the promotion of Starr Marcello, AM '04, MBA '17, to the role of deputy dean of MBA programs at Chicago Booth, Dan Sachs, a seasoned business executive and entrepreneur in the hospitality industry, was named the new executive director of the Polsky Center starting in September.
Most recently, the Liew Family Professor in Molecular Engineering and senior scientist at Argonne National Laboratory, Juan dePablo was appointed Vice President for National Laboratories, Science Strategy, Innovation and Global Initiatives at UChicago. In this capacity, de Pablo drives and supports the University's science, technology and innovation efforts, along with their connection to policy and industry. He also provides oversight of entrepreneurship and innovation activities at the Polsky Center.
Several other new hires have joined the team as well as we look to continue executing on several new strategic initiatives in 2021.