Alumni New Venture Challenge Winner, Speeko, Secures $75K for AI-Driven Speech Coach
Published on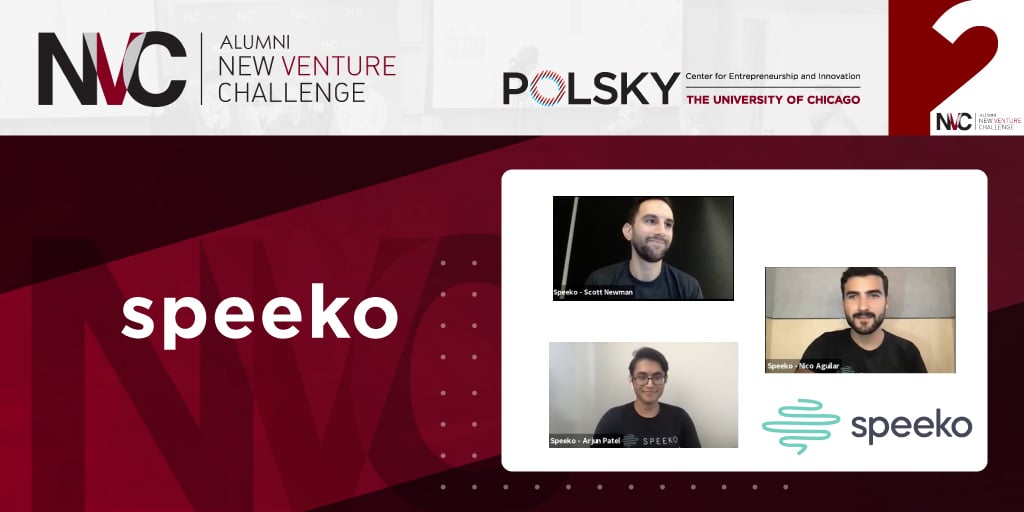 The Polsky Center for Entrepreneurship and Innovation at the University of Chicago is pleased to announce the winners of the 2020 Alumni New Venture Challenge (ANVC).
The alumni track of the nationally-ranked Edward L. Kaplan, '71, New Venture Challenge, the ANVC this year was virtual and brought together teams from six participating regions (Europe, Asia-Pacific, Latin America, North America-East Coast, North America-West Coast, North America-Midwest).
The ANVC is a global program dedicated to supporting all University of Chicago alumni who are in the process of launching and developing their startup ventures.
The winners are:
// First place ($75,000): Speeko (North America – Midwest)
Speeko is a B2C technology company helping the 70% of people who struggle with public speaking. Its app provides AI-driven speech coaching by analyzing recorded speech, highlighting areas for improvement, and providing fun, interactive exercises. The company received $50,000 from the Polsky Center and an additional $25,000 from the judges.
Team:
Scott Newman, MBA '20
Nico Aguilar
Arjun Patel, BA '20
Will Field-Thompson, BS '18
// Second place ($35,000): NeuroPath (North America – Midwest)
Based in Belgium, with ties to the Midwest as a MATTER member, NeuroPath's digital health platform captures data from Parkinson's patients by using state-of-art technologies to track their physical, mental, and social health.
Team:
Benoit Tas, MBA '95
Mary Beth Arzac, BA '88, MBA '97
Jan Louagie
Peter Dedeken
Narciso Albarracin
Kevin Donnelly
David Stumpf
Keyuri Shah
Koen Van den Brande
Neelum Aggarwal
Eric Clark
Geoffrey Hutchins
// Third place (tied) ($5,000): Whitelab Genomics (Europe)
WhiteLab specializes in developing AI solutions to allow biotech and pharma companies to bring more gene therapies to the market at a significantly lower cost.
Team:
David Del Bourgo, MBA '06
Lucia Cinque
Julien Cottineau
Roberta Codato
Rohil Gupta
JP Buffet
Kevin Cheeseman
// Third place (tied) ($5,000):  Less Platform (North America – East Coast)
Less Platform's vision is to reduce CO2 emissions and contribute to the reduction of road congestion nationally and globally by moving freight with fewer resources.
Team:
Vardan Markosyan, MBA '17
David Modol-Flix, MBA '17
Karan Gill, MBA '16
Anahit Gevorgyan
Matthew Echezabal
// Third place (tied) ($5,000): Set You (Latin-America)
Set You is an online platform that delivers personalized vitamins, supplements, and phytotherapeutics with professional support.
Team:
Murillo Barbosa Vianna, MBA '11
Juliana Duarte, MBA '11