Students and Small Businesses Work Together to Address Challenges, Form Strategies for Growth
Published on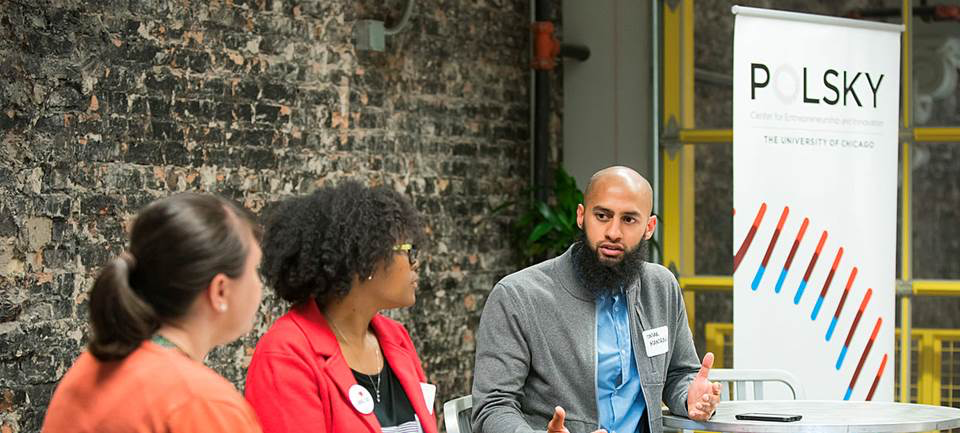 Small businesses in Chicago and across the US have been hit hard during the shutdowns and changes affecting our economy as a result of the COVID-19 pandemic. Yelp estimates, for example, more than a quarter of restaurants have already shuttered permanently and many more are in precarious positions. And it is not just restaurants seeing this type of impact.
"[COVID-19 has] been challenging," said Jeff Osuji, founder and CEO of Eventnoire, a ticket platform that focuses on Black culture and events. "But entrepreneurship is challenging and I welcome the challenge. That's the reason I decided to become an entrepreneur; to try to tackle challenges like these."
Osuji was among one of the 21 small business clients served during the summer of 2020 through the Polsky Small Business Growth program – one of the largest University-led responses to support small businesses during this crisis, resulting in more than 7,000 hours of dedicated assistance and support. This was made possible with financial support from the UChicago Women's Board, the Dean's Office at Chicago Booth, Chase Bank, and a partnership between the University of Illinois, Urbana-Champaign and the Office of Civic Engagement at the University of Chicago.
The program pairs teams of UChicago students with small businesses on the South and West Side of Chicago to provide hands-on consulting experience to companies, helping them address key business challenges and determine new strategies for growth.
"Oftentimes, as an entrepreneur, you get stuck in your own perspective of how the business should be, what your vision is. So, when you're actually getting to hear from somebody else, it's just amazing," said Osuji.
Simple Steps
Another client was Anthos Training Club, a personal training gym located in Hyde Park. Co-founders Shaka Mitchell and Clifton Hempstead worked with a team of student consultants on social media presence and brand awareness, leading to an improved client newsletter and other online presence.
"They gave us steps, simple steps, on what we need to do for each thing," noted Mitchell. "They just helped us become a lot more efficient with the steps and our processes." These adjustments have increased the web traffic on the Anthos site and the number of leads.
For anyone interested in the program, Mitchell advised: "Give your teams as much information that you have about your business as possible, because the more information that you give, the more they'll be able to help you and make sure that they build upon that."
Elevated Thinking
A small business owner who applied for the program to build her marketing strategy and to extend her retail footprint, Tiffany Joi owns Hemp Heals Body Shop, which sells CBD bath and body products.
"[The program] has allowed me to elevate my thinking when it comes to marketing Hemp Heals Body online, especially on social media platforms," added Joi. She's now running her first approved Facebook ad and seeing results. The company also is currently is part of the L1 Creative Business Accelerator, a twenty-month fellowship with UChicago Arts, though which it will have a physical store location in Washington Park.
"The Small Business Growth Program assisted me with various aspects of my business vision and goals by providing valuable solutions that saved me time, and most importantly, money, just by learning from others," said Joi.
Engaging in the Community
For student consultant Maria Lovera, MBA '21, participating in the program gave her the opportunity to help out small businesses and be more engaged in the community in Chicago, she said.
What made the experience so successful for Lovera, was getting to know her clients and their passion. "[The business] is part of their lives, part of their identity," she said. Understanding that helped Lovera's team have an impact on their clients' businesses.
A student consultant for the second time, Yuyang Zhang, AB '22, said moving the program to a virtual format taught them to leverage tools, such as Slack, Trello, and Zoom. For one of her team's clients, they focused on building a nationwide shipping service, which would establish a new revenue stream. "The whole idea was to set up [the company's] ability to have online sales nationwide and to have nationwide shipping to allow it to do so," Zhang said. They built the platform from scratch, researching different shipping companies and contacting carriers.
// The Polsky Center last week welcomed 10 new companies into a new cohort of the Polsky Small Business Growth program, each set to receive personalized assistance and help in achieving their growth goals.
Minority- or female-led companies on the South or West Sides of Chicago that are interested in participating in future consulting engagements can apply to be a client at any time.
Students from the University of Chicago looking to engage in the Polsky Small Business Growth program in the future can find more information, here.