Polsky On Demand Launches to Provide Entrepreneurs and Business Owners Access to World-Class Business and Entrepreneurship Training
Published on
The Polsky Center for Entrepreneurship and Innovation at the University of Chicago has launched Polsky On Demand, a new online portal that provides access to some of Polsky's world-class business and entrepreneurship workshops for free.
The more than 80 sessions included in this initial launch of Polsky On Demand represents more than 100 hours of digital content aimed at helping entrepreneurs gain the critical skills necessary to successfully launch and scale a startup.
"We live in an increasingly virtual and on demand world," said Dan Sachs, executive director of education and programs at the Polsky Center, who joined the University in September 2020. "The Polsky Center is focused on training the next generation of entrepreneurs and leaders to succeed in this new environment."
At the onset of the pandemic, the Polsky Center transitioned all of its regular programming and events online and began recording its public-facing speaker events, conferences, and workshops. The Polsky Center also supported small business owners in the South and West sides of Chicago in successfully navigating the difficult economic, business, and social challenges caused by the pandemic.
"We launched a week-long, first-of-its kind Small Business Bootcamp for entrepreneurs and small business owners back in April," recalled E.J. Reedy, senior director of the Polsky Exchange, a 34,000 square foot co-working space and startup facility in Hyde Park that is still temporarily closed because of the pandemic. "While the bootcamp was aimed at supporting our local small businesses, we saw tremendous interest from our students, alumni and other entrepreneurs around the globe."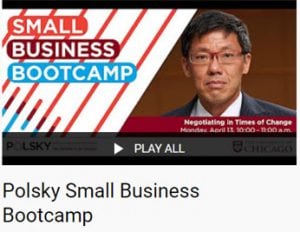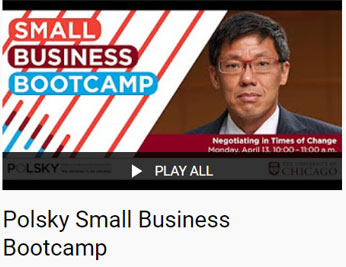 The Small Business Bootcamp attracted more than 3,800 participants across its 10 sessions and the recorded sessions have continued to be viewed online. The success from the bootcamp led the Polsky Center team to offer its popular Entrepreneurship Essentials (E2) series this fall. The E2 series has seen a tremendous amount of demand, with more than 3,400 registrations for the live events, and countless requests for the recorded videos from the sessions.
"The E2 series enables the Polsky Center to deliver our premier entrepreneurial educational programing in an easy-to-consume and accessible way," said Melissa Byrn, director of innovation programs at the Polsky Center. "Through the E2 virtual series, the world has access to our tremendous Chicago Booth faculty, Chicago Booth alumni, and friends of the Polsky Center who are experts in their respective fields."
Also included in the new Polsky On Demand library are opportunities to learn more about the growing field of entrepreneurship through acquisition (ETA). The Polsky Center has developed a robust set of resources and educational offerings in ETA, including an MBA class taught by Brian O'Connor and Mark Agnew, an ETA podcast series, and an annual conference run in conjunction with students at Chicago Booth and Northwestern's Kellogg School of Management.
"Our annual ETA conference, like most other things recently, will be virtual," explained Paul Cavalieri, associate director of ETA at the Polsky Center. "We are very excited about the opportunities that a virtual format provides and believe that we can enhance the conference experience in many ways. Over the course of our ETA Week in mid-February participants will have an opportunity to learn about the emerging trends for investors, searchers, operators, and service providers and experience an unmatched ability to network with their peers through our technology partners."
The Polsky Center's mission is to educate and train the next generation of innovators and change-makers by applying world-class business expertise from Chicago Booth to bring new ideas and breakthrough innovations to market. That educational mission—spanning more than two decades—has been instrumental helping hundreds of new companies launch and scale.
"Despite all the challenges we have all faced during the past year, the Polsky Center remains optimistic. The spirit of entrepreneurship and the energy we see from our students-, alumni- and faculty-led startups is full of endless possibilities," said Sachs.