Polsky Accepts Record-Breaking 20 Teams for Summer Accelerator Program 
Published on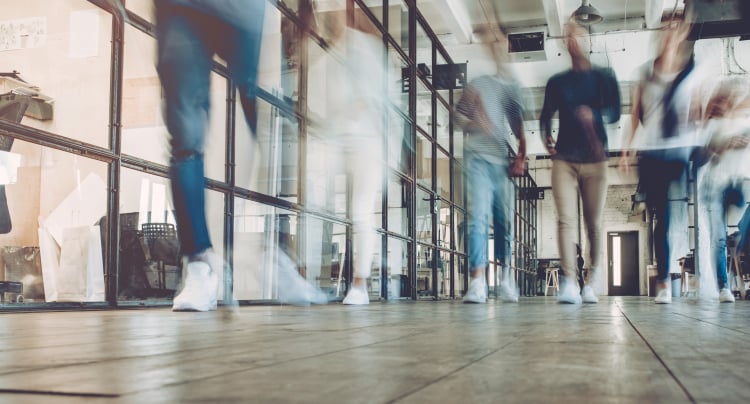 The Polsky Center for Entrepreneurship and Innovation has accepted 20 teams, the most ever, for its Polsky Accelerator, a 10-week intensive summer program designed for both for-profit and not-for-profit ventures.
In addition to accepting almost double the number of teams this year, this will be the first time the Polsky Center is hosting its summer program completely virtually. With the Polsky Exchange still shut down temporarily due to the coronavirus pandemic, startups will participate remotely.
"We've retooled the program to make it work well in a virtual world," said Crissy Ritter, assistant director at the Polsky Center who oversees the Accelerator program, who is optimistic about moving the experience to an online platform. "We have a great foundation on which we can grow and evolve this program even in the wake of COVID-19."
This year's startup teams will receive many of the same benefits available as past Polsky Accelerator cohorts including a $10,000 investment from the Polsky Center, coaching from Polsky and Rustandy Center staff, mentorship from alumni entrepreneurs and Chicago-area investors, and weekly programming designed to help them overcome many of the hurdles to launching a business. In addition, the teams will receive access to legal, accounting resources, and support from in-kind sponsors. 
The move to virtual programming has also expanded the Accelerator's scope, allowing Polsky to support companies that aren't run directly out of the Chicago area. "Another upside is that this is allowing us to really expand mentorship opportunities for our teams to connect them virtually with folks outside of our local Chicago ecosystem," Ritter added.
On the heels of the Polsky Center's recent partnership with the University of Illinois at Urbana-Champagne's (UIUC) city Scholars program for our College New Venture Challenge, the Polsky Accelerator is excited to add UIUC to the list of valued supporters of the program. UIUC joins the Rustandy Center for Social Sector Innovation at Chicago Booth and University of Chicago Career Services, as well as our donors Donna and Phillip Zarcone, MBA '87; Zayo Group and The Caruso Foundation; and the Rudnick-Earle Fellowship who have all helped to make the Polsky Accelerator possible.
Now in its ninth year, the Polsky Accelerator company portfolio has supported 72 teams, including notable alumni such as BallotReady, Moneythink, and BrewBike.
The 20 startup teams in the Polsky Accelerator 2020 cohort include: 
AutoLert

is an easy-to-use iOS application that uses facial landmark detection to monitor drowsiness and attentiveness in drivers in real-time.

The company's

mission is to reduce car accidents caused by drowsy and careless driving with

an

automated alert system.

Team member: Mickey Friedman AB '20.

 
Byto

is a professional network that connects gig workers with employers. By creating a LinkedIn-like network,

Byto

enables anyone to discover gig opportunities and simultaneously reduces the high search cost of recruitment.

Team members:

Qingfeng

Chai, Jerome Freudenberg, Ren Yu Kong, Yves Shum, and Yuki

Yuminaga

.

Byto

participated in the 2020 College New Venture Challenge

.

 
Ember

 is a consumer brand offering a fast-absorbing energy chew that provides convenient, on-the-go energy for active and busy adults.

Team Members: Mark

Schlecker

and Alec

Kremins

.
EPIC

is a mobile-first marketplace for home services

that is working to solve

everything

one's

ever hated about finding qualified pros for

a home project

.

Team members: Donald

Guarino

and Alan Cruz.

 
gaapRT

is an online tool that allows accountants performing research on technical accounting matters to promptly find answers to their questions and draft position papers.

Team members: Ali Masood and

Khurram

Ghafoor

.

 
Kitchens' Alliance:

Market data shows that Mexicans are ordering more meals for delivery and craving higher

quality delivery experiences.

Kitchens' Alliance partners with world-renowned chefs to develop premium-quality, delivery-only restaurant brands that will

"

make consumers wonder why they ever settled for anything else."

Team members: Rodrigo Gonzalez,

Erum

Ahsan, and And

rea

Bayron

. Kitchens' Alliance participated in the 2020

Edward L. Kap

lan, '71, New Venture Challenge

.

 
Lighten

is a digital one-stop

shop for making arrangements a

fter the death of a loved one.

The company's

mission is to ease the strain of the planning process and to empower customers to celebrate the lives of their loved ones in a way that is personal and meaningful to them.

Team member: Alexandra

Koys

. Lighten

participated in the 2020 E

dward L. Kaplan, '71,

New

Venture Challenge and the

Polsky

Center's

Entrepreneurial Internship Program.

 
LivingWaters

is developing a low-cost,

easy to deploy

rainwater collection system to provide clean water to the world's displaced populations in refugee camps and in other off-grid communities.

LivingWaters

participated in

the

2020

John

Edwardson

, '72, Social New Venture Challenge. Team members: Caleb Kao MPP '21 and Josh Kao.
Ludite

,

Inc.

is a suite of technology wellness applications. Through social influence and mindfulness, users

can

gain control over their devices.

Team members: Scotty

Lefkowitz

and Daniel

Ducic

.

Ludite

participated in the

2020

College New Venture Cha

llenge

.

 
LUKH

is an online rental service focused on making Indian fashion accessible and affordable to consumers in the U.S.

Team members:

Rajul

Parekh, Karen

Desai, and Kinney

Sheth

. LUKH

participated in the

2020

Edward L. Kaplan, '71, New Venture

Challenge

.

 
Neural Trend

provides fashion retailers with actionable insights to increase sell-through by investigating millions of data across social media, search engines, blogs, and

eCommerce

sites.

Team members: Dip

Majumder

and Tina

Djenge

. Neural Trend

participated in the

2020

Edward L. Kaplan,

'71, New Venture Challenge

.

 
recreaish

facilitates engaging in active recreation with others. Users are automatically connected with peers to play sports that they enjoy at the time they want to participate.

Users

can input a specific activity at an exact timeframe, or be flexible and let a robust algorithm find the most ideal match based on

their

preferences, skill level, etc.

Team member: Marco

Lagone

.

Ruby is the second screen experience for every sports fan. Ruby provides real-time interactive experiences that bring fans closer to the athletes, teams, and sports that they love. Team members: Julian Davidson, Ryan Black, Ini Archibong, and Simon Sorich. Ruby 

participated in the

2020

Edward L. Kaplan,

'71, New Venture Challenge

.

 
SAEF Legal Aid (Support, Advocacy and Education for Families)

is an online legal education platform designed for those who cannot afford to hire a private attorney with family law legal issues, such as child support and child custody.

Team member:

Eamonn

Keenan. SAEF Legal Aid

participated in the

2020 College New Venture Challenge

.
Point Nemo

is a great tasting line of ready-to-drink cocktails packaged in innovative, functional, and fun spouted pouches.

Team member: Teddy Donnelley.

Sprout

is an enterprise SaaS platform connecting two sides of the philanthropic market: diverse nonprofits and individual donors.

The company is

focused on helping members of the social sector advance their mission by providing them with a robust view of the organizations working in their fields of interest

and showing donors the

im

pact

they are making

through philanthropy.

Team member: Alana Taube. Do

Good

participated

in the

2020 J

ohn

Edwardson

, '72, S

ocial New Venture Challenge

.
Teneez

is a

p

remium

s

neaker

r

ental

c

ompany

that provides

sneaker enthusiasts with access to

today's

most in demand sneakers at a fraction of the cost.

Team members: Raymundo Vargas, Emily

Ruan

, Maxwell

Karlan

, and Benoit

Ortalo-Magne

.

Teneez

participated in the

2020

College New Venture Challenge.

 
Uncommissioned

Design

is a B2C company that connects independent furniture fabricators with clients who want custom-made furniture. On our platform, consumers will be able to interface directly with fabricators in order to get pieces of furniture built exactly to their specifications.

Team members: Jacob

Joergens

and

Aryav

Pal.

Uncommissioned

Design

participated in the

2020

Co

llege New Venture Challenge

.

 
Vaizian

helps doctors prevent misdiagnosis by combining clinical assessment with spe

cialist expertise. The company's

AI software considers all patient data and diagnostic solutions.

Team members: Ari

Perlin

and Mark

Perlin

.

Vaizian

participated in the

2020

Edward L. Kap

lan, '71, New Venture Challenge

.

 
Leved facilitates the development of whole children through technology-based experiences to democratize opportunity for all Latin American children.

Team members: Hector Mendoza, Felipe

Barret

o

, and Fernanda Ibarra.

Zócalo

participated in the

2020

John

Edwardson

, '7

2, Social New Venture Challenge

.