Change the World, Start a Quantum Company: Panel Talks Opportunity and Investment
Published on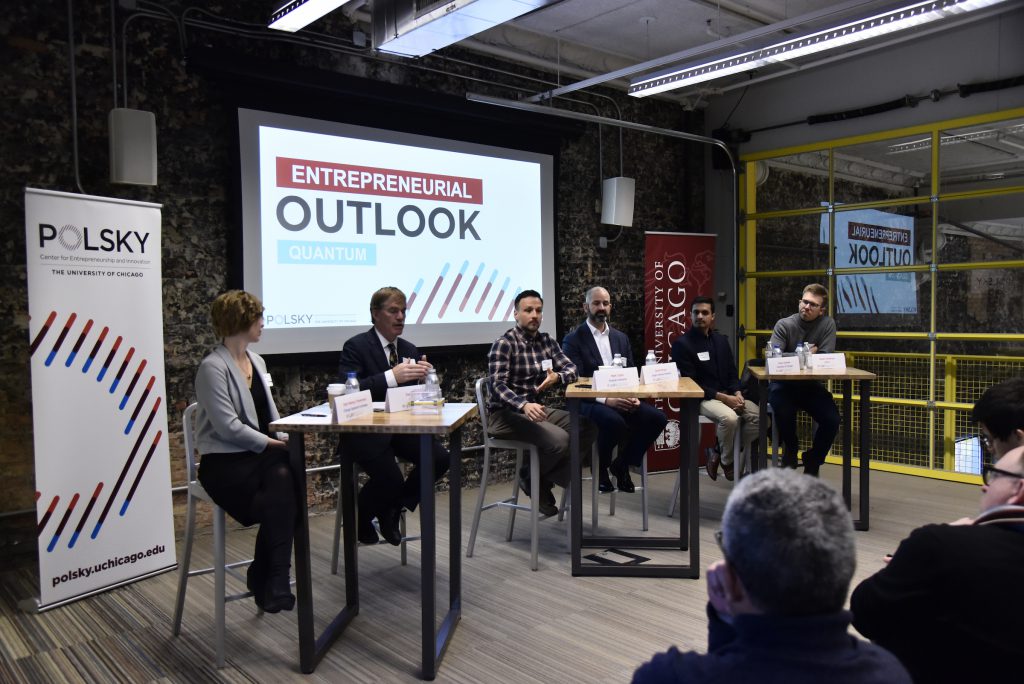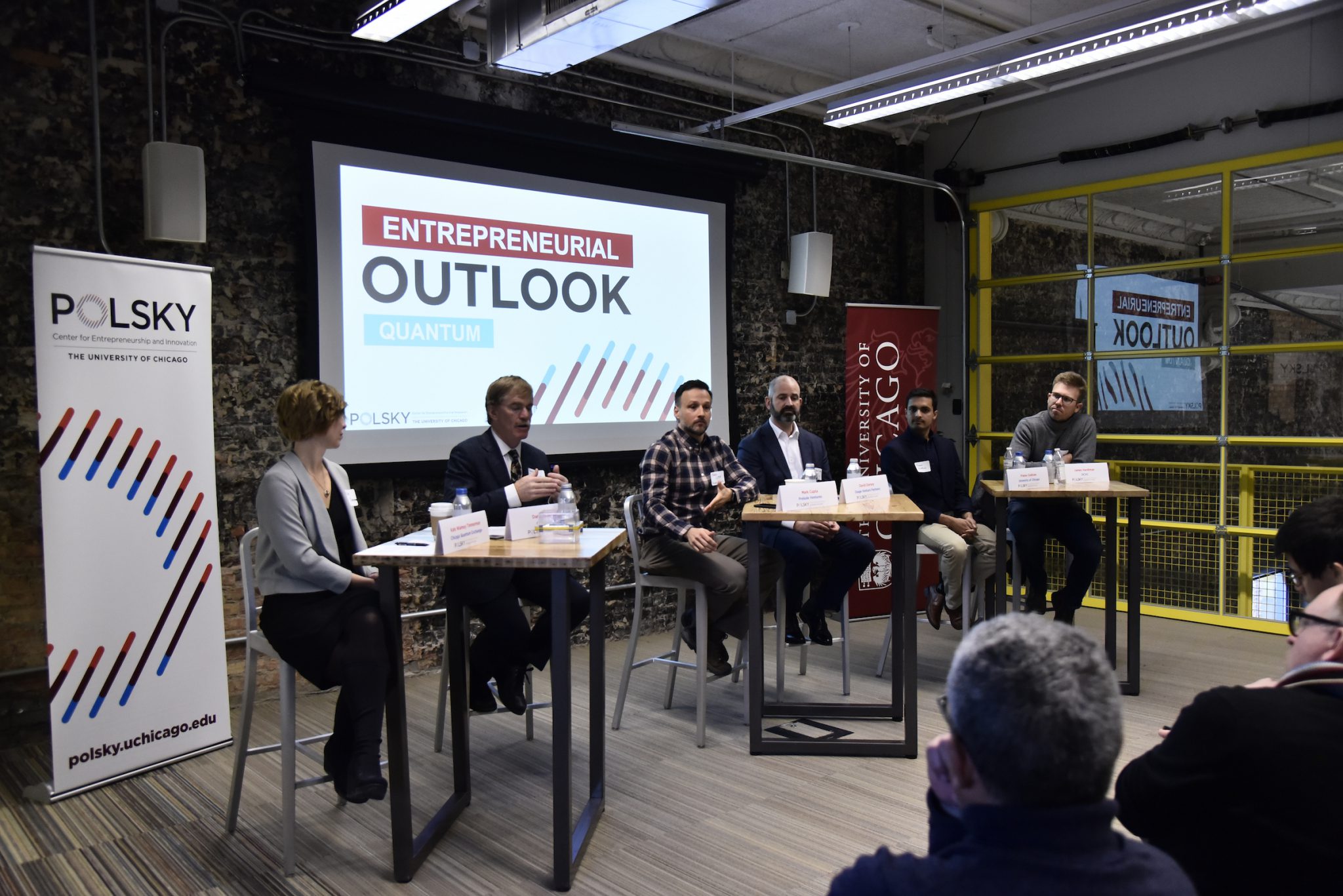 Quantum technology will revolutionize several industries – and the Midwest, specifically, Chicago, has a unique opportunity to become a hub for innovation in the burgeoning space.
Enabled by classical technology, quantum is already solving problems and is here to stay, said Dana Anderson, chief technical officer, ColdQuanta, during a panel discussion at the University of Chicago's Polsky Center.
"In the future, if you're not operating there you will not be competitive," Anderson said, which is among the reasons the US has invested significantly in this space.
Notably, in 2018, President Trump signed into law a bill designating $1.2 billion to accelerate the development of quantum information science and technology applications. The US Department of Energy also last year announced $21.4 million in funding for research in quantum information science.
A nascent industry, James Hardiman, MBA '14, partner, DCVC, said Chicago has all the elements to become a hub for quantum technology. His advice to the audience was to encourage people to create programs that support quantum startups.
"The Midwest has a huge opportunity," echoed Anderson, citing opportunities to build up new industries and improve the quantum supply chain. "If you want to change the world, start a quantum company," he said.
But what is quantum? "It's a hard space to think about," said Mark Cupta, partner, Prelude Ventures
"Really, what it comes down to, is not being able to do something much faster, but something that wasn't possible," explained David Dorsey, senior associate, technology, Osage Venture Partners. "We're not sure what you can do with it yet, but we're hoping it can solve extremely rare, extremely valuable problems."
One application in which quantum technology is currently being applied is the development of atomic clocks, which take more than the lifetime of the universe to be off by a second, Anderson explained. "It's remarkably more powerful than you can imagine when you have precision timekeeping – both for commercial and defense and national security," he said.
Pranav Gokhale, a PhD candidate at the University of Chicago, noted that for anything normal – such as doing your taxes or checking your email – there is no point in using a quantum computer.
"Quantum computers aren't just about making something faster, they are enabling us to solve tasks that are otherwise intractable," he said, adding that there is a lot of potential for improving the training of classical neural networks.
Quantum technology also is poised to disrupt the pharmaceutical and advanced materials industries. But keeping Gokhale up at night is the ability for quantum computers to break encryptions, which need to be updated, he stressed.
Work to adopt new standards is underway, with the US Department of Commerce's National Institute of Standards and Technology estimating that the last 20 years have seen a $250 billion economic impact from the development of its Advanced Encryption Standard.
The Chicago Quantum Exchange
In 2019, more than $65 million in federal funding went to institutions that make up the Chicago Quantum Exchange, including the University of Chicago, Argonne National Laboratory, and Fermi National Accelerator Laboratory, as well as the University of Illinois at Urbana-Champaign, University of Wisconsin Madison, and Northwestern University.
The Exchange since last year has added seven industry partners, two international partners, and two non-profit institutions, including P33, a nonprofit dedicated to bolstering Chicago's reputation as a hub for tech companies.
"The Exchange is involved in developing a quantum community and culture within the Chicago region and providing fertile soil for all types of companies to do work here," said Kate Waimey Timmerman, executive director of the Chicago Quantum Exchange, who moderated the panel discussion.
This includes connecting researchers with large companies, such as IBM, and others looking for rising talent to add to their workforce, as well as "building a broader economic base where smaller companies and startups in quantum information science can launch," Timmerman explained.
The Chicago Quantum Exchange is directed by UChicago professor and Argonne senior scientist David Awschalom, who recently led a successful experiment that is being touted as the potential foundation for developing a quantum internet: Achievement of quantum entanglement across a 52-mile fiber network.
"The network really provides the opportunity for Chicago to plant its flag as a leader in quantum communication and demonstrate to the nation and the world that this is a place where researchers and companies can come," said Timmerman.
The scientists are now in the process of developing a plug-and-play system whereby companies and others could test their technology on the network.
"There's such a significant opportunity for quantum science moving forward," Timmerman added, "It will take researchers across institutions and industry working together to solve technological challenges and develop tomorrow's quantum applications."
The quantum panel discussion took place as part of the Polsky Center's Entrepreneurial Outlook sessions, which are made possible with support from Loeb & Loeb and Capital One. Other topic areas include medtech, manufacturing, entertainment, fintech, as well as retail and food.