Clarix Imaging Gets $10 Million to Scale FDA-Cleared 3D Imaging Tech
Published on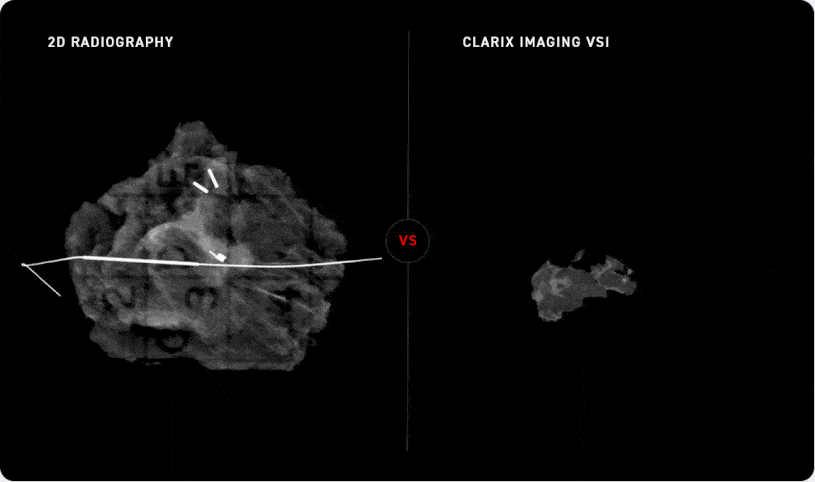 University of Chicago spinout Clarix Imaging has received $10 million in funding from kineo finance, a Swiss-headquartered investment firm, to advance its novel imaging-based solution for surgical oncology.
The company, which participated in the Polsky I-Corps program, was founded in 2016 based on decades of research in advanced medical imaging theory and techniques out of Professor Xiaochuan Pan's lab.
Clarix Imaging's solution provides surgeons and radiologists with real-time 3D imaging of the lumpectomy specimen in the operating room. The high-resolution image data, along with visualization and analysis software helps physicians assess if the initial resection completely removed the tumor target and, when necessary, provides precision guidance to remove the remaining tumor from the patient's breast. It is unique in that there is no change of clinical practice needed.
"The funding will be used for scaling up manufacturing and increasing access of our products to facilities using innovative business models such as SaaS [software as a service]," explained CEO Xiao Han, PhD '13, a former research assistant professor in Pan's lab.
The latest investment follows a round of equity financing which was completed in 2022. The company also has received $6.7 million in SBIR funding to date.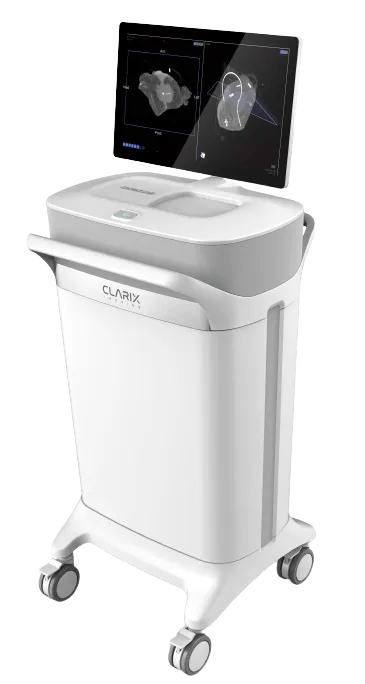 Currently, the company is finalizing a co-development partnership with a major academic hospital. It also recently completed a Stage I audit at its manufacturing facility, clearing the way for a Stage II audit and ISO3485 and MDSAP certifications to demonstrate compliance with regulatory requirements.
"We launched commercial sale with our first FDA-cleared product, and have sold a number of systems to hospitals across the U.S.," added Han.
The Volumetric Specimen Imager received initial US FDA clearance in late 2019, though the Covid pandemic quickly stalled activities with the cancelation of all the in-person exhibits, which are the main venue for launching new products in this space. Many hospitals also were not bringing on new vendors during this time. "Covid had a huge negative impact on us," said Han, adding that they "barely made it through."
However, due to its potential to benefit the 300,000 patients who are diagnosed with breast cancer in the US annually, the company has seen "a surge in demand."
As for the next steps, the company is looking to raise a Series A round by the first quarter of 2024 to expand its geographic reach and manufacturing capabilities, accelerate marketing and sales, and support its research and development pipeline.
"Clarix Imaging has demonstrated remarkable traction by addressing a fundamental unmet need in lumpectomies, and we are extremely excited to welcome them to our portfolio of companies," said Lee Hsieh, senior vice president of kineo finance in the press release.
"With the exceptional clarity of the 3D images created by their technology and its proven surgical workflow compatibility, we foresee tremendous expansion potential into novel use cases that were previously unimaginable," added Hsieh. "The image creation capabilities and clinical utilities have demonstrated superiority over the status quo intraoperative imaging methods, opening doors to a plethora of new applications, including imaging-based assessment of other types of cancer."
---
Article by Melissa Fassbender, senior associate director of external relations and science communications at the Polsky Center. Melissa is a former journalist and has held the role of editor at various global publications in the drug development, clinical trials, and design engineering space. Reach Melissa via email or on Twitter at @melfass.