Clarix Imaging Addresses Unmet Needs with Novel Imaging-Based Solution for Surgical Oncology
Published on
Clarix Imaging was founded in 2016 as a spin-off company from the University of Chicago – translating decades of research in advanced medical imaging theory and techniques out of professor Xiaochuan Pan's lab into solutions for unmet clinical needs in breast cancer treatment.
The company is developing an imaging-based solution to help reduce re-excisions in breast-conserving surgery, which has a national average of approximately 20%, but can go as high as 70% at some hospitals, according to the researchers.
These re-excisions have significant, undesirable consequences on patient recovery and cosmetic outcome, in addition to added financial burden, explained Xiao Han, a former research assistant professor in Pan's lab and CEO of Clarix Imaging.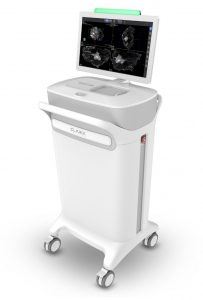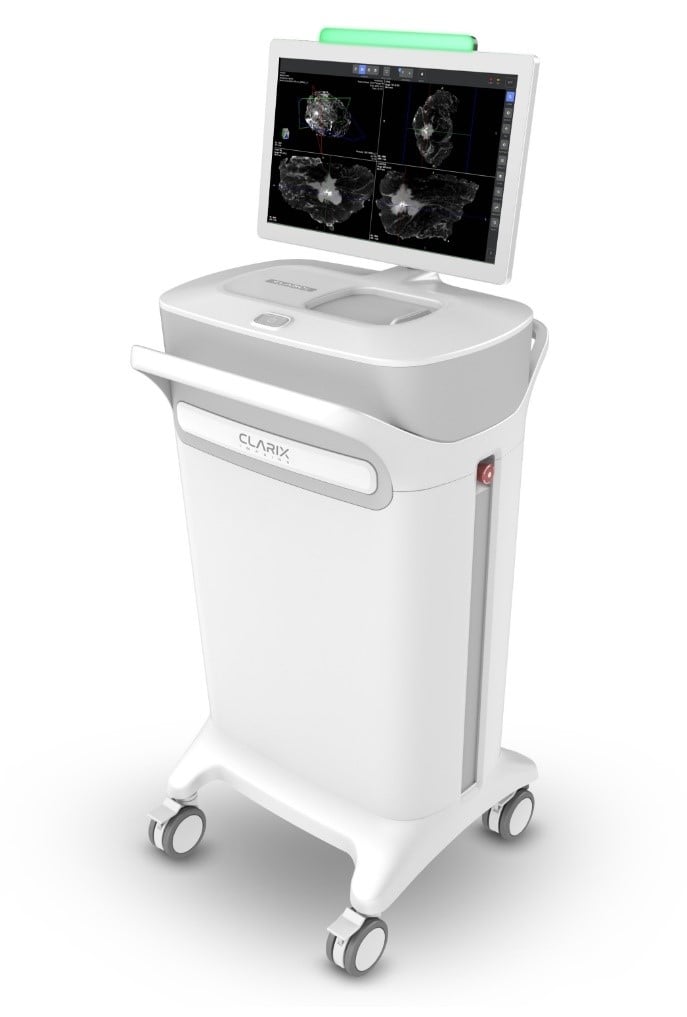 According to the company, Clarix Imaging's solution provides surgeons and radiologists with real-time fully-3D imaging of the lumpectomy specimen in the operating room. The high-resolution image data, along with visualization and analysis software helps physicians assess if the initial resection completely removed the tumor target and, when necessary, provides precision guidance to remove the remaining tumor from the patient breast.
"The significant difference is now [physicians] can rapidly visualize and analyze the tumor margin status without the specimen leaving the room, with the patient still on the bed," said Han. "Within several minutes they can have the real-time tissue margin status."
The Clarix Imaging solution also is unique in that there is no change of clinical practice needed, Pan noted. "If you want them to use your solution then you have to adapt everything into their workflow, their habits, their thinking," he said.
From day one, Han and Pan talked extensively with various clinical teams from multiple institutions and across different specialty areas, they said. "At every step of the solution and technology development we were very fortunate to have clinical experts to give us guidance and feedback," Han added. "That early, frequent interaction with multi-disciplinary clinical users really helped a lot for us to tightly focus on clinical relevance and benefit when defining product requirements."
Supported by multiple Small Business Innovative Research (SBIR) grants from the National Cancer Institute of National Institutes of Health, as well as seed investment, the company has achieved numerous milestones, including product design manufacture transfer. Their first product, the Volumetric Specimen Imager, received initial US FDA clearance in late 2019.
Today, Clarix Imaging is looking to expand its team and ramp up marketing and sales activities. The aim is to grow into a self-sustaining business by scaling up manufacturing and market adoption in order to help improve outcomes and lower cost for surgical oncology, which is the ultimate goal.
"In my lab, there are two lines of effort, one is more focused on basic research and discovery of knowledge, and the other is always keeping one eye on potential translation," said Pan. "We are in the field of applied science. The word applied is even before science. You have to have a goal of clinical relevance."
---
Article by Melissa Fassbender, assistant director of external relations and science communications at the Polsky Center. Melissa is a former journalist and has held the role of editor at various global publications in the drug development, clinical trials, and design engineering space. Reach Melissa via email or on Twitter at @melfass.