Compass Teams Gain 'Clarity of Focus,' Investor-Ready Pitches, and a 'Deep Network of Experts'
Published on
The Polsky Center for Entrepreneurship and Innovation's recently-launched Compass accelerator program has concluded its second cohort, which featured four teams working on developing deep tech with applications in various industries.
Designed for early-stage startups and technologies, the program draws on expertise from across the University ecosystem, connecting teams from the University of Chicago, Argonne National Laboratory, and Fermi National Accelerator with Business Development Fellows from the Chicago Booth School of Business.
"We had a successful second cohort of the Compass. With a more streamlined programming and mentorship elements, this cohort was elevated to the next level," said Senior Manager for Science Ventures Shyama Majumdar, who leads the Compass accelerator program. "However, our biggest win is our principal investigators telling us that they benefitted immensely from the program and found the experience invaluable."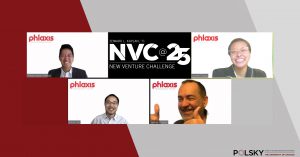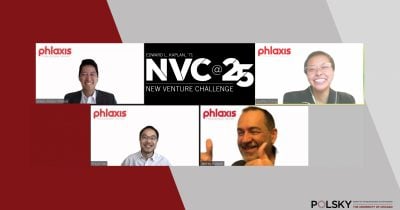 Among the successes of the second cohort is the advancement of two teams the final round of the George Shultz Innovation Fund and a third – Phlaxis – as among the finalists in this year's Edward L. Kaplan New Venture Challenge (NVC). Phlaxis went on to take second place at the record-setting finals this week, taking home a total investment of $258,750, including the $40,000 Moonshot Prize, which is awarded to a team whose unique technologies are catalyzing innovative solutions to global challenges.
The startup is developing a vaccine to treat and prevent peanut allergies in children and is one of two Compass teams cofounded by the principal investigator (PI) Jeff Hubbell, University of Chicago Eugene Bell Professor in Tissue Engineering and Deputy Dean for Development. Shijie Cao, a PME post-doctoral scientist is the other cofounder of Phlaxis, and Booth student Hikaru Ihara was the team's Business Development Fellow.
Additionally of note, the second cohort also included the first team out of Argonne: ElectroCorr. The team who took the ElectroCorr project through the program included PI Vineeth Gattu, a staff researcher at the national lab, who worked with Business Development fellow, Khushboo Sharma. The team is exploring the development of a toolkit that evaluates and quantifies corrosion of materials in a variety of substrates. Applications of this technology range from medical implants to the automotive and oil and gas industries.
"It is impressive to see the depth and the breadth of innovations out of University of Chicago."
– Dimitra Georganopoulou, Compass Mentor
"It was an honor to be a Polsky mentor for the Compass program for four teams and contribute to their commercialization journey. I can't wait to see and support their follow-on steps that can further bolster the innovation ecosystem being built in Chicago," added Georganopoulou, who is an experienced biotech professional and business development leader.
Senior Program Manager Ellen Zatkowski, who supports the education and student programming components of the deep tech accelerator, described the program as "a perfect example of the power in combining the technical expertise of world-renowned faculty members and researchers with the top-notch business talent of Chicago Booth MBA students, who serve as business leads for the Compass teams."
"Through their efforts over the course of the accelerator, these Booth students made a lasting impact on their teams and played a key role in determining the company's strategy moving forward," Zatkowski said.
One such student to work on a team as a Business Development Fellow was Ryan Meyers, who is slated to complete his MBA in 2022 and currently serves as the CEO and cofounder of AddGraft Therapeutics, a startup developing a CRISPR-based therapeutic technology using skin cells to treat cocaine addiction.
"The Compass accelerator was the perfect crash course to starting a new venture for both our company and for our newly formed team. It provided the structure we needed to build AddGraft Therapeutics into what it is today and I would highly recommend this program to any Booth student looking for an entrepreneurial career path," said Meyers.
Other cofounders include the PIs Ming Xu, professor of anesthesia and critical care, and Xiaoyang Wu, associate professor, both within the University of Chicago's Biological Sciences Division. AddGraft Therapeutics is among the two of the Compass teams to qualify for the George Shultz Innovation Fund finals, along with Heiothera, which is developing a therapeutic platform technology to treat autoimmune disorders such as rheumatoid arthritis and multiple sclerosis.
Heiothera is a second venture cofounded by Hubbell, in collaboration with Jun Ishihara, PhD '20, an assistant professor at the Imperial College London, and Booth MBA student Carlo Passeri, who now serves as the startup's chief business officer.
"The Polsky Center is unique in the nation's innovation ecosystem given its centralization of the University of Chicago's intellectual capital and focus on de-risking innovations and maturing entrepreneurs in preparation for spinning out of the University. This unique model is best exemplified in the Compass, where participants are taught, mentored, and challenged by a gauntlet of industry veterans, tenured venture capitalists, and commercialization experts," said Passeri. "We leave the Compass program with clarity of focus and vision for our company, investor-ready pitch decks that cater to a variety of audiences, and a deep network of experts and Polsky affiliates that have been helpful in our development."