Senator Klobuchar to Moderate 'Kid Presidential Debate' with UChicago Startup Debate It Forward
Published on
Debate It Forward (DIF), an education non-profit promoting healthy discourse in youth, this week is hosting its own "Kid Presidential Debate" moderated by former presidential candidate and University of Chicago Law School alum, Senator Amy Klobuchar, JD '85.
The virtual event – October 20th from 6:30-7:30 Central Time – will see future leaders debate a wide array of substantive topics from climate change to healthcare.
Founded by University of Chicago undergraduates Leah Shapiro, BA '18, and Josh Aaronson, AB '18, DIF placed second at the College New Venture Challenge (CNVC) in 2018, and after participating in the 2018 Polsky Summer Accelerator cohort, took home the top prize at the Rustandy Center for Social Sector Innovation's John Edwardson, '72, Social New Venture Challenge (SNVC), the following year.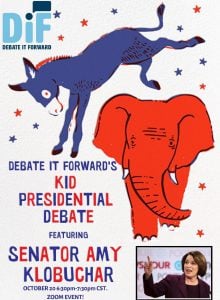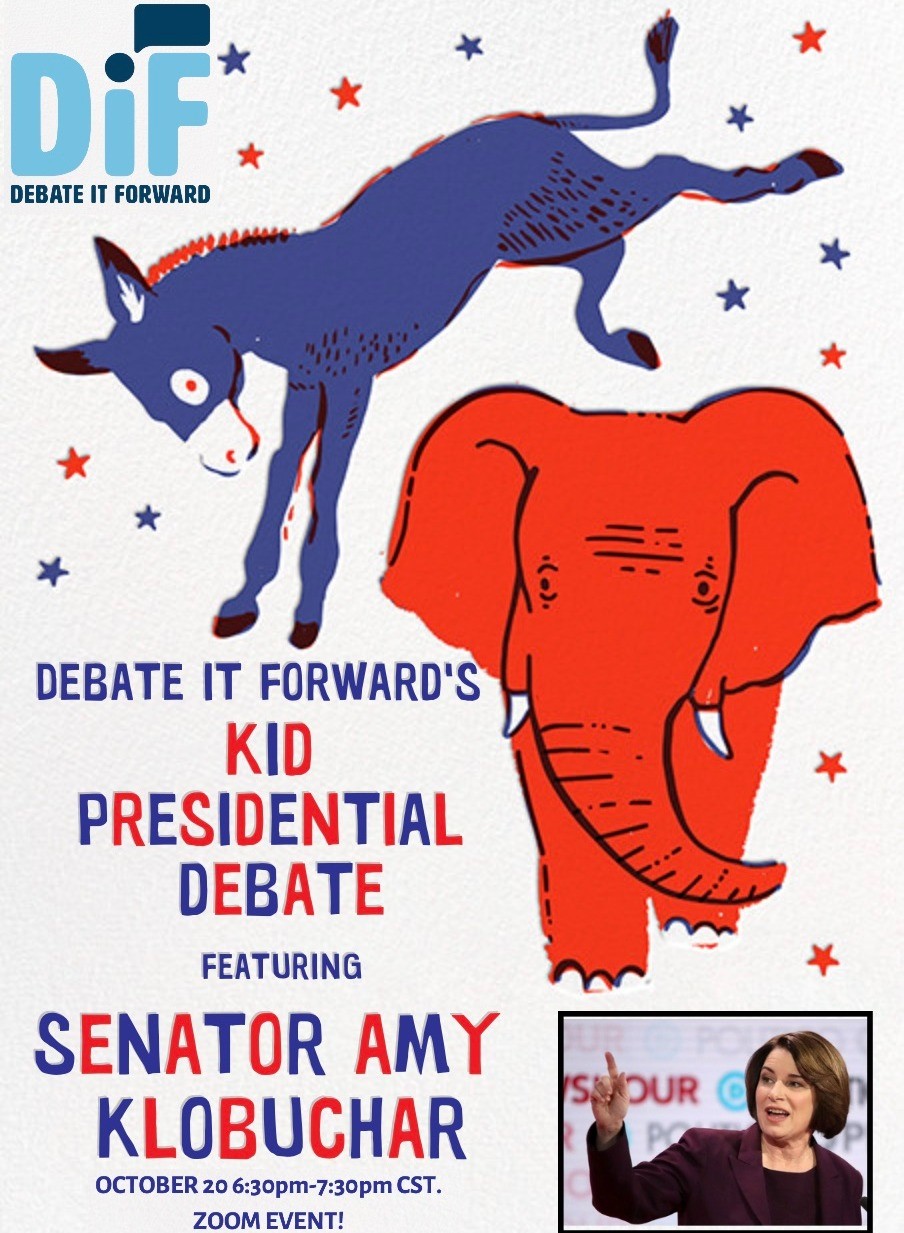 "I would not be here in Debate It Forward if it were not for Polsky," said Aaronson. "It's played a really vital role in our forming Debate It Forward as a sustainable business, as opposed to a hobby side project we were doing in college."
Engaging in civil discourse and speaking up are critical skills and yet there are many who don't have access to the programming that builds those skills, noted Aaronson, who with co-founder Shaprio, started DIF to address this gap.
The organization focuses on young students, those with learning or developmental differences, and those who come from low-income backgrounds, by partnering with schools, and hiring and training students from UChicago and other local universities to teach the curriculum.
As the world has moved online with the onset of the COVID-19 pandemic, however, Aaronson said the organization had to fundamentally change its model. "We recognized that the skills we provide – the ability to think critically, to speak confidently, and to listen to other perspectives – were just as important, or more so, during a pandemic," he added, noting that the curriculum is now available virtually. This meant rethinking class sizes and moving away from its co-teaching model, to one teacher per eight-person class.
Aaronson said the ability to still participate in the curriculum is especially important at a time when many enrichment opportunities have had to be canceled. "Enrichment is critical and the need for enrichment is clear," he said.
"The need for students to have the ability and the confidence to speak up is even clearer, as well," Aaronson added – "It's in the little things," like being able to raise your hand and ask a question to your teacher in math class.
More students and young people also are now the faces of various movements, leading marches and protests across the country and world.
"What we're seeing is that kids have a really strong voice and opinion, they just need the toolset in order to express that," said Aaronson, "and that's where we can come in and make sure that all students can have those skills to engage and participate and speak up."