Debate it Forward Takes Home Top Prize and $60,000 at the 2019 John Edwardson, '72, Social New Venture Challenge Finals
Published on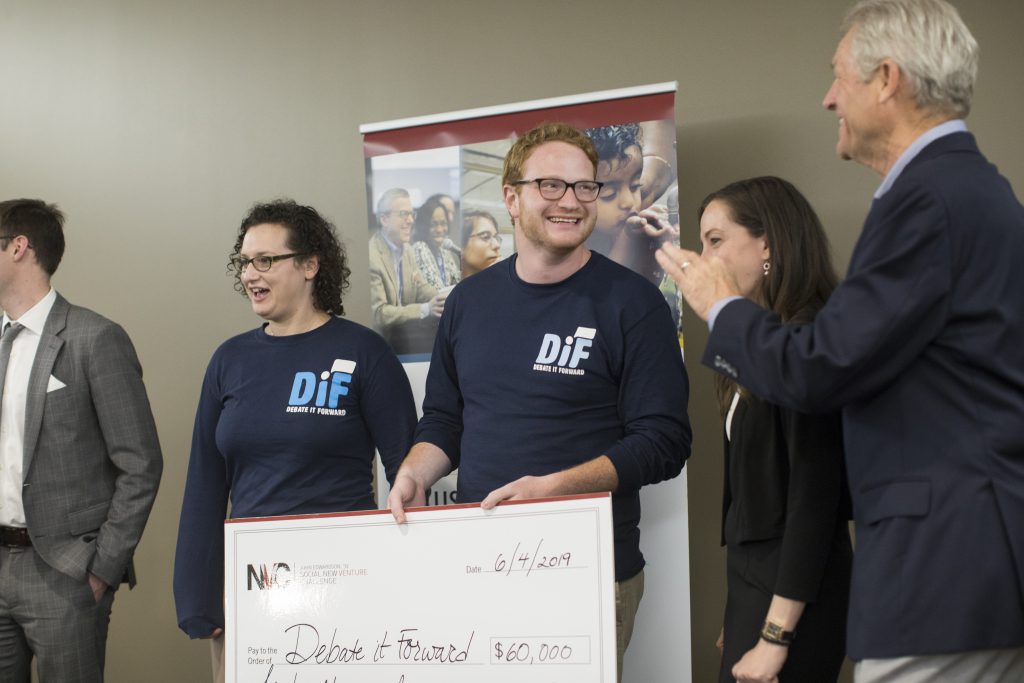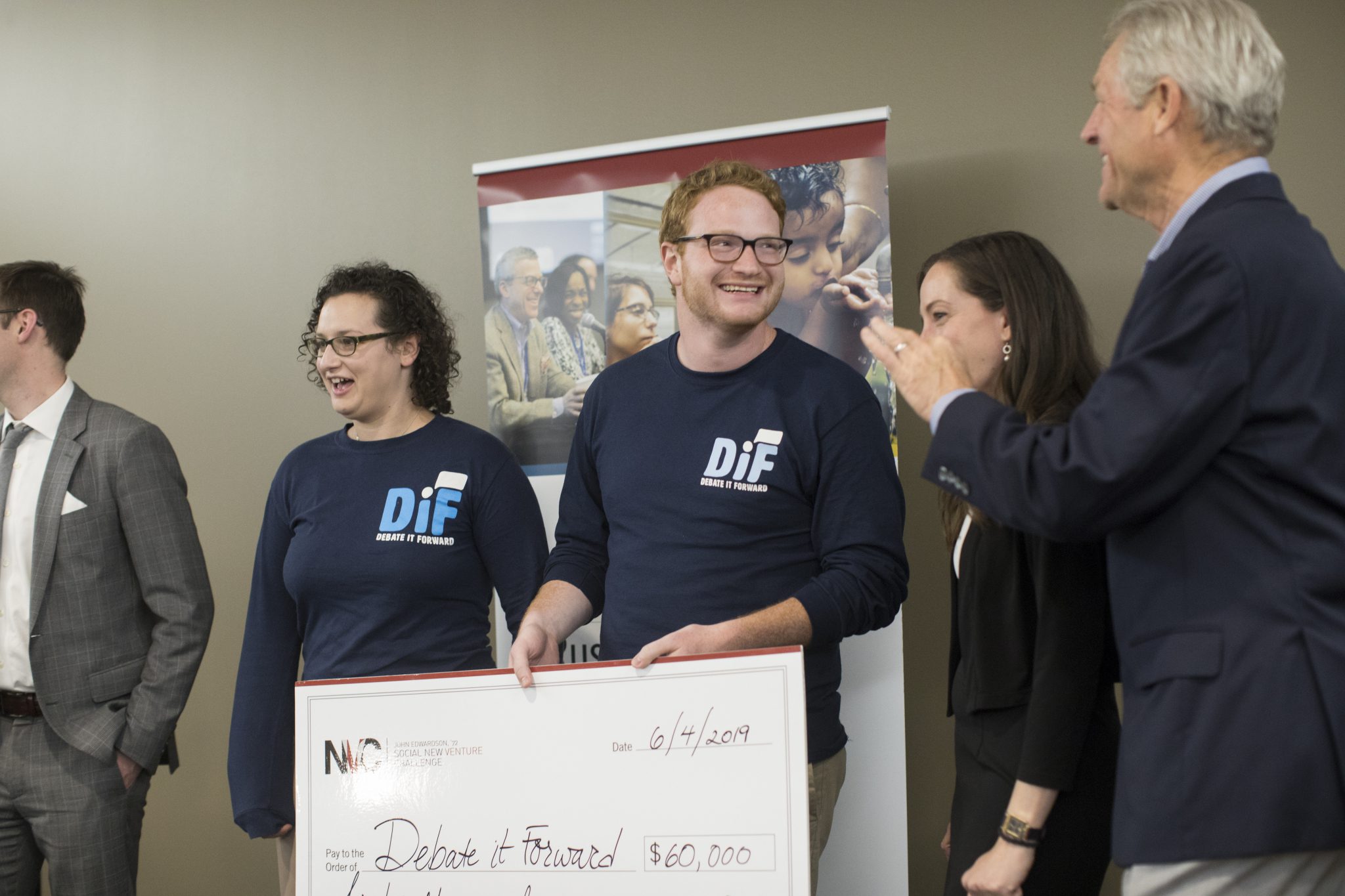 The Rustandy Center for Social Sector Innovation at the University of Chicago Booth School of Business and the Polsky Center for Entrepreneurship and Innovation are pleased to announce the winners of the John Edwardson, '72, Social New Venture Challenge (SNVC), the social impact track of the university's nationally ranked Edward L. Kaplan, '71, New Venture Challenge (NVC).
Winners of the ninth annual SNVC, which launches enterprises with a social impact mission and a plan for financial sustainability, received a total of $140,000 in venture funding—the most prize money ever awarded at the startup competition. The winners are:
First Place ($60,000): Debate it Forward uses debate to teach students who are frequently overlooked by academically rigorous extracurricular programs critical twenty-first-century skills: analytical reasoning, self-advocacy, and respectful disagreement. Team members: Joshua Aaronson and Leah Shapiro, AB '18 (School Affiliation: the College).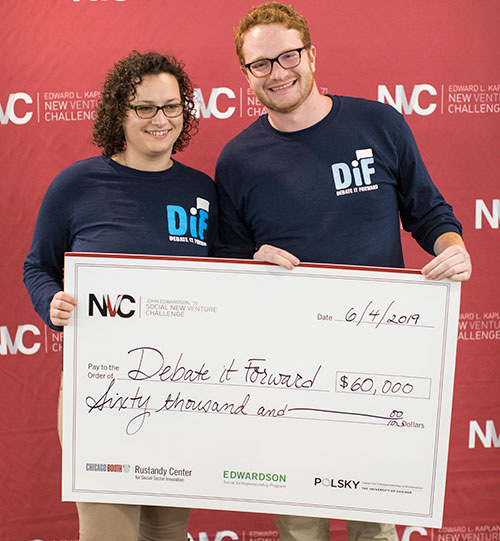 Second Place ($30,000): Business Services Collective provides a shared back office to small minority-owned construction companies. By lowering the cost to access services like bid estimation, project management, and bookkeeping, the collective enables entrepreneurs of color to stabilize businesses and focus on growth. Team members: Kyle Johnson, '19, Nitika Nautiyal, '14, and Krithika Narayan (School Affiliation: Booth).
Third Place ($20,000): Veera Health is a telehealth platform designed to address the social stigma, myths, and barriers to access that exist around women's health in India. It aims to empower women to navigate their health journey by accessing a curated network of providers via telemedicine, medically verified content, shared personal experiences from other women, and other support services through the convenience and privacy of their mobile devices. Team members: Chetan Mahajan, Shashwata Narain, Shobhita Narain, Praneet Wadge, and Dr. Mansi Verma (School Affiliation: Booth).
Other finalists: diBO, MM Community, Populi Foundation, and Prepmedians
This year, two SNVC teams received additional specialized awards. Veera Health earned the $10,000 Tata Centre for Development Social Impact Award for India, Instituted by Tata Trusts, to pursue a venture that addresses a socially relevant issue in India and advances it in India. This award is instituted by Tata Trusts and implemented by the Tata Centre for Development at UChicago (TCD). The award brings Veera Health's total winnings to $30,000.
Peak-a-Box earned the $20,000 Early Childhood Award, a prize supported by the Renee Adelson Early Childhood Innovation Fund, established by Scott Adelson, '87. Peak-a-Box is developing a mobile app to provide early childhood educators and parents in developing countries with play-based activities and lesson planning tools designed to supplement teacher training programs and empower children to reach their peak potential.
SNVC finalists also will share in over $130,000 of in-kind services, including office space, legal services, and professional consulting.
"It's encouraging to see that so many of this year's SNVC teams are working to address equity—equal access to educational programs, technology, healthcare, and more," said Robert H. Gertner, Joel F. Gemunder Professor of Strategy and Finance at Chicago Booth and John Edwardson Faculty Director of the Rustandy Center. "We are truly proud of all the students and teams who presented and look forward to following their progress."
More than 70 judges—including experienced social and traditional entrepreneurs, impact investors, nonprofit leaders, and many Chicago Booth alumni—provided feedback throughout the SNVC program. Judges included Eric Wong, senior advisor at the Obama Foundation; Ghian Foreman, '01, president and CEO of the Emerald South Economic Development Collaborative; Tasha Seitz, partner with Impact Engine; Stephanie Kater, '11, partner with Bridgespan; and James Casselberry, '01 (XP-70), chief investment officer, 4S Bay Partners. A full list of judges can be found on the SNVC website.
The SNVC is run by the Rustandy Center, in partnership with the Polsky Center. This year, 17 teams competed for seven spots in the SNVC finals, representing Booth, the Harris School of Public Policy, the College, the Prizker School of Medicine, the School of Social Service Administration, and Social Sciences.
The SNVC is the cornerstone of the Rustandy Center's Edwardson Social Entrepreneurship Program at the University of Chicago, which is an initiative named in recognition of a 2016 gift by John Edwardson,'72, retired chairman and CEO of CDW, a leading provider of technology solutions, and co-chair of Advance Illinois, an independent statewide education organization.
"The ideas, commitment, and enthusiasm of students participating in the SNVC continue to impress me," Edwardson said. "As the SNVC approaches its 10-year anniversary, I'm especially proud to support the work of social entrepreneurs from across UChicago."
About the SNVC
Since 2011, the SNVC has helped jump-start more than 100 companies and nonprofits
SNVC companies have gone on to raise more than $21.3 million in philanthropic dollars, grant support, and venture capital funding
Among them: solar-powered light company LuminAID, which has twice appeared on Shark Tank; Nigeria-based tractor leasing company Hello Tractor; online voter guide BallotReady and autism therapy provider AIM Clinics
SNVC startups are connecting farmers with technology, teaching high school students financial skills, and more
* Originally posted on the Rustandy Center website.