Doctors Design New Device to Improve Care for Burn Patients
Published on
Met with a clinical need to improve care for burn patients, two University of Chicago doctors designed a new device that is now in use at the hospital.
A plastic surgery resident, Ronak Patel during his burn rotation noticed significant difficulty with circumferential burns – burns that affect the entire circumference of a patient's limb.
"Circumferential burns to the extremities pose a significant patient positioning challenge due to both the multitude of joints and freedom of motion they afford, as well as the delicate nature of skin grafts and constant threat of shear forces," explained Patel, who provides comprehensive care for both inpatient and outpatient plastic and reconstructive surgery patients.
Sebastian Vrouwe, an assistant professor of surgery at the University of Chicago and plastic surgeon who specializes in complex burn care, explained that while there are several techniques to position limbs in space during burn surgery, including overhead hook-and-pulley systems and repurposed weighted IV poles or bedframes, "each of these existing techniques have limitations in terms of portability, sterility, and ergonomics."
"We sought to develop a simple and reproducible extremity elevation system able to be fixed to a standard operating room bed, thus maintaining a sterile field while optimizing ergonomics and portability," said Vrouwe, who in addition to his clinical work, is an active researcher, investigating subjects related to burn care and surgical education.
To do this, the team connected with the Polsky Center for Entrepreneurship and Innovation, described the clinical need and shared a sketch of the device and how it could be easily mounted to a hospital bed. Ben Cox, a manager of intellectual property and technology development at the Polsky Center who has a background in engineering design, helped refine and finalize the new device design.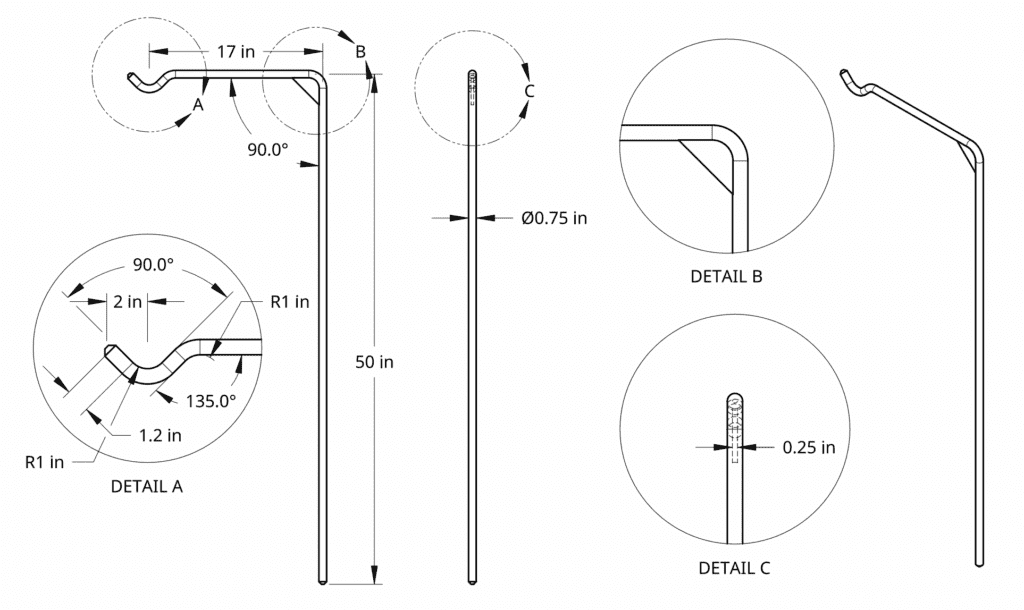 "After a few iterations and speaking with several area manufacturers, we had a manufacturable design and someone willing to make a few," said Cox, who in his role can provide support with CAD modeling, detailed part drawings, and making connections with area manufacturers for prototyping resources.
Although initially designed for upper extremities, the device has been adopted for lower extremity burns as well and is currently in use at the hospital. It is simple, portable, sterile, and can be used with readily accessible materials in the operating room.
"The new device allows for limb suspension system to be away from the surgical site and surgeon's field while being affixed to a standard operating room table," said Vrouwe. "The implementation of the system has significantly improved ergonomics in burn surgery, especially for circumferential burns."
// Ben Cox is a manager of intellectual property and technology development at the University of Chicago's Polsky Center for Entrepreneurship and Innovation. He manages a diverse intellectual property portfolio consisting of inventions related to physics, medical imaging, and devices. Questions? Contact Ben Cox at blcox@uchicago.edu.
---
Article by Melissa Fassbender, senior associate director of external relations and science communications at the Polsky Center. Melissa is a former journalist and has held the role of editor at various global publications in the drug development, clinical trials, and design engineering space. Reach Melissa via email or on Twitter at @melfass.