How the Alumni New Venture Challenge Helped Lead These Startups to Success
Published on
Launched in 2019, the Alumni New Venture Challenge (ANVC) is the newest track of the New Venture Challenge – the top-ranked university accelerator that has been helping seed businesses for 27 years.

With a specific focus on supporting University of Chicago alumni, the ANVC caters to early-stage ventures across the globe. Startups led by alumni can apply to one of two tracks of the program: North America and International. Selected teams will be cohorted into groups.
Selected teams gain access to virtual resources from the Polsky Center as well as local programming, mentorship, and feedback opportunities, which are organized by regional alumni co-chairs. Teams will pitch in a semi-final event in the spring to a panel of judges. The judges will select the top teams to advance to the ANVC global finals, where they present their businesses to a panel of esteemed judges and compete for part of a $100,000 investment pool.
Despite being in only its sixth year, the teams that have gone through the ANVC are already seeing success. We caught up with a few of them to see how they've progressed and to ask about the impact that the ANVC had on their company.
>>The ANVC application deadline is January 9, 2024 at 11:59 p.m. CT. Click here to apply.
UNLISTED – Winner of 2022 ANVC (Midwest)
Katie Hill, MBA '13, Founder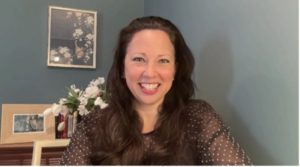 UNLISTED is a software platform that allows homebuyers to connect with homeowners of off-market properties to explore the possibility of a private home sale now or in the future.
What have you been up to since the ANVC?
We've seen a lot of success since the ANVC. We made our industry debut at the National Association of Realtors annual conference with a national solution and 121 million homes in our system. We are seeing particular success in high-end real estate and are working with luxury real estate agents in major markets across the U.S. including Chicago, Austin, Dallas, San Francisco, L.A., Washington D.C., Boston, and more. Revenue has increased five-fold. We also made news when we launched first-to-market ChatGPT enabled property search.
How did the ANVC help you succeed?
The ANVC actually helped us in a very specific way.
After the win, we received press from Chicago-based media. A very talented software engineer, Henri Hegemier, read about our company, thought it was interesting, and reached out. At that time, we were looking to hire a full-time developer and had been struggling to find the right fit. Henri was perfect for the role and we hired them within three weeks. The search for the perfect engineer was brutal, but thanks to the ANVC, they ended up sort of falling out of the sky! Henri also just started in Booth's part-time MBA program.
In addition, we received coverage from a number of other publications which each led to exposure of our business and ultimately more customers. This coverage was instrumental in building momentum for our business to reach a broader audience.
What was your favorite part of the ANVC?
By far what I loved the most was the mentorship that I got. It reflected and represented the "Chicago Booth rigor" and I think that is so special. Throughout the process, I was pushed outside of my comfort zone and challenged, and this is where breakthroughs happen. The experience made me, and the company, better on the other side.
Any words of advice for somebody thinking about participating?
Do it! I know people worry if they have the bandwidth to do something like this – especially when you're already stretched thin with your business – but the ANVC is particularly sensitive to this. It's clear that it has been designed by people who understand the entrepreneurial journey. The way it's structured, along with the advice you receive from mentors, are all aspects that are going to make you better.
Digital Keeper – Third Place 2022 ANVC (Latin America)
Luis Navarro, MPP '16, Founder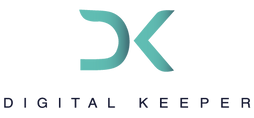 Digital Keeper offers cybersecurity-as-a-service to the 99 percent – startups and small to medium businesses that don't have in-house capabilities. By offering everything in a SAAS solution, Digital Keeper elevates cyber security standards through an easy solution.
What have you been up to since the ANVC?
When we participated in the ANVC, we were just starting, so we built everything from scratch there. Since then, we have bootstrapped the company, received a number of funding offers, have six full-time people on the team, reached profitability, and have grown organically. We have proven that there is a market for our product and we are continuing to innovate.
How did the ANVC help you succeed?
The feedback from the judges was really important for us. One judge specifically asked us why we were sticking to a local market when we could go global without extra cost. After working it into our business plans, we learned that it was a great idea and have plans to expand into the U.S.
The ANVC representative for Latin America also helped us a lot. They took time to learn about our company and expressed interest in investing in us. It didn't ultimately happen, but being able to build those connections was critical.
In addition, for us at the stage we were at, learning how to craft a compelling pitch deck for investors was important. We were just starting to think about fundraising, but didn't have a solid plan for how to start. All of the connections we made at the ANVC opened different doors and became so valuable. We now have a strong pitch deck, good connections, and a solid business plan which are all things we learned as a result of participating in the ANVC.
Any words of advice for somebody thinking about participating?
It's totally worth it. It's on you to make the most of it, but if you're committed 100% – go for it.  The access to accomplished entrepreneurs and the resources you receive as part of the program are very valuable.
Juju Spirits – Second place 2022 ANVC (West Coast)
Steven Tang, BA '12, Cofounder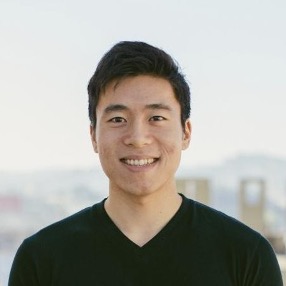 Juju Spirits makes alcoholic beverages that are inspired by Asian flavors and culture. The company has launched two products: Yoju, the first ever canned version of a Korean yogurt soju cocktail, and Drunk Fruit, an
Asian-inspired hard seltzer.
What have you been up to since the ANVC?
Over the last year, so much has happened. We expanded within the U.S. and started distributing to some mainstream stores such as Costco and Whole Foods; grown our product lineup with some new flavors of Yoju coming soon; hired more people; received additional funding; and we continue to build out our team. It's been a very good year for us and we have some exciting things coming up.
How did the ANVC help you succeed?
Participating in the ANVC helped us hone our business pitch. The feedback we received from the judges and mentors taught us what investors wanted to see and we were able to create a good pitch from that information. The process also helped us clarify our internal thinking and to better define our business plan.
The biggest value however was from the people that we met. The ANVC gave us another "hub" – a community of likeminded entrepreneurs who were going through many of the same things we were. And we still keep in touch with some of them today. Having this community has proven to be such a good launching point to further our business goals.
Any words of advice for somebody thinking about participating?
There really is no downside in going for it; I've only seen benefits. There is work involved – documents, presentations, forms – but all of it is really useful for your business and they're things you should be doing anyway. Even if you don't make it to the finals, it's still valuable to hear from the mentors and judges to further improve your plans.
The ANVC is full of people who are willing to help, so go for it.
RX Longevity – Winner of 2021 ANVC (Europe)
Juan Cartagena, MBA '12, and Clara Fernandez, MBA '19, Cofounders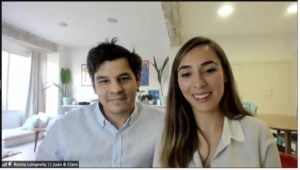 RX Longevity is a mobile app that promotes healthy lifestyle habits for seniors, with the goal of increasing healthy life expectancy. Launched in October 2020, the app offers coaching, motivation, and activities to help people reduce muscle pain, improve agility, and form community.
What have you been up to since the ANVC?
We were barely started when we participated in the ANVC – our product wasn't even finalized – and we've grown a lot since then. We have done a lot of product development and have been gathering medical data to help optimize health span and reduce biomarkers of pain.
We now have a fully developed product, ongoing clinical trials, and have gained a lot of traction in terms of our product base, including high engagement and efficiency data.
We've also moved and expanded our business into the U.S. We hope to translate what we did in Europe to the States and are having conversations with hospital providers to help fuel that expansion.
How did the ANVC help you succeed?
The ANVC was very important in helping build our network. Throughout the process, we formed close connections with our peers, mentors, and other alumni. And these aren't "cheap" connections; they're people who have gone through the process and are willing to reach out to others within their networks to help you succeed.
Any words of advice for somebody thinking about participating?
Everyone should apply if they're interested; we only had positives from the experience. Some applications make you spend a lot of time – and as a startup, we're already very short on time –but the ANVC is very startup friendly and provides an easy process. It's a program that really understands what startups are going through and it's centered on supporting them.
The ANVC application deadline is January 9, 2024 at 11:59 p.m. CT. Click here to apply.