LinkedIn Cofounder Reid Hoffman Talks Entrepreneurship, Investing in Tech Startups
Published on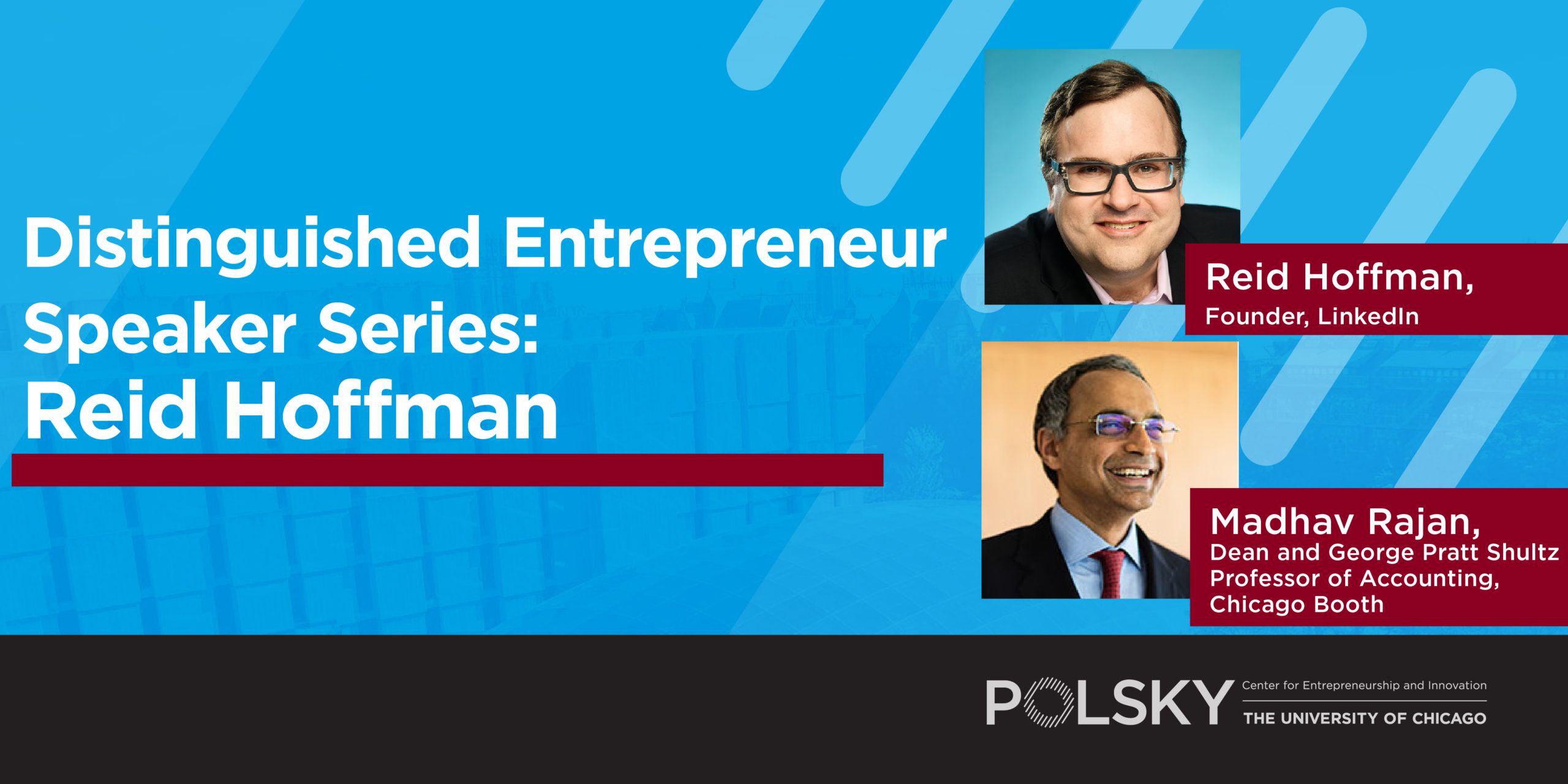 The Polsky Center for Entrepreneurship and Innovation began its Distinguished Entrepreneur Speaker Series with Reid Hoffman, cofounder of LinkedIn. In a discussion with University of Chicago Booth School of Business Dean Madhav Rajan, Hoffman spoke about his career as an entrepreneur and now as a partner at Greylock Partners, a venture capital firm in Silicon Valley.
When asked what drew him to social networks, Hoffman said, "Some people who go into entrepreneurship tend to be technologists. For me, I've always been much more of a humanist."
Hoffman founded his first entrepreneurial venture in 1997 with SocialNet, a networking platform. Though the platform ultimately didn't succeed, he learned important lessons on entrepreneurship: "Be contrarian, be right, and be a little early."
From there, Hoffman went on to serve as the execute vice president of PayPal, the online payment and money transfer company. Still in its beginning, Hoffman worked with PayPal cofounder Peter Thiel to refine the company's vision.
In 2003, Hoffman cofounded LinkedIn, which would go on to become the world's largest professional networking platform. He believed that the internet would redefine physical space. As the internet became part of our lives, Hoffman felt that the people and relationships in our lives needed to be brought to the internet. "Your real identities and your real relationships help you navigate the network. That's what's most fundamental about us. Life is a team sport, not an individual sport, in terms of how get through it," said Hoffman.
For those looking to become entrepreneurs, Hoffman stressed the importance of interrogating your own ideas. "What you should really be is constantly on the hunt for that idea and for your cofounders," he said. "Be brutal about your idea. Know how to kill your own idea."
Now, Hoffman works in venture capital, investing in promising tech startups as a partner at Greylock. For him, there are two elements to a successful investment: "There's plumbing and poetry in investment," he explained. The plumbing is more logistical: market size, product fit. The poetry, however, is about societal impact. "I prefer [investments] that are like, 'Who knows if this will work or not? But if it does it'll be super important,'" said Hoffman. That was his attitude when considering investing in Airbnb, the vacation rental marketplace. Others at Greylock pushed back on investing in it, but Hoffman thought to himself, "If Airbnb works, it'll totally transform society. If we get there, that could be it."
Currently, Hoffman sits on many for-profit and not-for-profit boards, including Airbnb, Microsoft, Kiva, and Do Something, among others. He hosts the podcast, Master of Scale, and is the co-author of three best-sellers: The Start-Up of You, The Alliance, and Blitzscaling.