Veteran, Teacher, Business Owner: Meet the New Leader of the Polsky Exchange's Small Business Development Center
Published on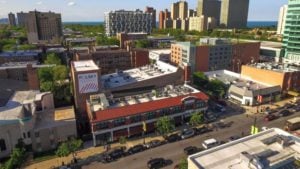 The Polsky Center for Entrepreneurship and Innovation recently welcomed Vince Beachum as senior program manager and director of the Small Business Development Center (SBDC) at the Polsky Exchange.              
In this role, Beachum leads all day-to-day operations of the SBDC including advising and training small business clients that are part of the Polsky Exchange. Beachum also focuses on community outreach, working closely with community organizations, businesses, and industry leaders in effort to align resources, initiatives, and training.
Beachum is a Desert Storm Veteran and has over 20 years of experience working for Fortune 500 companies such as General Electric and John Deere, where he led multiple business units in operations optimization, cost reduction, profit maximization, and strategic growth. After leaving the corporate world, he spent 12 years as owner of several small businesses, including a mechanical engineering company and a logistics and distribution franchise. Prior to joining the Polsky Exchange, Beachum worked as an Illinois and Indiana SBDC Business Advisor. He is also an adjunct professor for the City Colleges of Chicago where he teaches in the Business and Supply Chain Management disciplines.
Beachum earned his BS in Process Management from Franklin University and an MBA from the University of Notre Dame. He is a golf enthusiast, comedy buff, and audio books fanatic.
Here is more about Beachum in his own words.
How has your background helped prepare you for this role?
I have been extremely fortunate throughout my career. During my professional journey, every experience has contributed to my preparation for the next step. Whether it be a pitfall where I had to pivot my business in order to make payroll, or a success where I was challenged to help a client implement cost-cutting strategies that ultimately saved their small business, I have gained invaluable real-life experiences and have the scars to prove my readiness. More specifically, let's take a look at a few stops along my journey and how they prepared me:
U.S. Army (Veteran) – Taught me how to work with others despite differences (race, sexual orientation, creed, gender, political affiliation) for one common goal. Understanding that defending the country was the ultimate sacrifice where perseverance infiltrates the bloodline and failure is never an option despite the challenges. To this day, I live by that creed.
General Electric (GE) and John Deere– Although I learned the following responsibilities at home first, GE reinforced the importance of working with a sense of urgency, fulfilling your commitments, vetting your business ideas, using data to drive decisions, managing business financials, and delivering quantifiable results with a high level of integrity, which all proved to be the key to my success.
Business Owner – Not every decision can be made solely based on data – it also requires some intuition. The ability to separate the business theoretical from the practical is part of the success equation. In other words, listen to the "real world," don't be afraid to make tough decisions, and reward employees that deliver results even when finances are difficult. Finally, I learned that as a business owner, time with family and friends will always be a sacrifice.
Adjunct Professor – Education is a lifelong process. I quickly learned that teaching in distressed and underserved communities is more about inspiring and encouraging rather than administering assignments and exams. Despite their circumstances, my students desire to learn and expect me to prepare them for their journey at a four-year university or in the job market. Teaching challenges me to be my best self. I am constantly thinking of ways to become a better instructor. Because I directly impact their lives, I do my students a disservice if I don't stay committed to lifelong learning in my field of expertise.
Business Advisor– Having high integrity and values has led to my preparation for this role, but most importantly, learning to work with people from different backgrounds is key. It is my obligation to be honest and transparent with every client. I won't hesitate to share with a client that their idea is risky and may fail. I treat the client as if we were going into business as equal partners, which means advisor sessions can sometimes get intense.
What part of the new role are you most excited for?
I'm most excited to learn more about the different agencies and organizations, other than the SBDC, available to entrepreneurs within the Chicagoland area. I'm ready to collaborate with these agencies and organizations while leveraging all the Polsky Exchange programs to help our clients succeed. I look forward to starting our outreach initiatives because I can't wait to share with the community all the great resources the SBDC has to offer new and existing business owners.
What excites you about entrepreneurship and innovation?
I have witnessed how entrepreneurship has been life-changing for many people, whether it increases one's net worth, helps one become financially independent, improves one's family life, or builds a legacy. There's nothing like participating in a grand opening for a new business owner I advised, who has sacrificed, saved, and worked to finally get a chance to "cut the ribbon" on their business, or when a client schedules an appointment to discuss the idea of a second location.
Innovation creates a vehicle for business owners to create new product lines and new marketing strategies, while improving current products, inefficient processes, value propositions, and more.  Innovation allows businesses to pivot into markets they may have never thought about. Through innovation, I'm excited to help reinvigorate businesses while expanding their brand footprint.
What has been the most valuable lesson you've learned throughout your career?
The most valuable lesson I've learned throughout my career and life is simple yet twofold:
1) The Golden Rule: treat others as you would want to be treated (paraphrasing). Always treat people with dignity and respect no matter the company culture and/or circumstances. In addition, I periodically read All I Really Need to Know I Learned in Kindergarten by Robert Fulghum to keep me grounded.
2) Don't be afraid to take risks; not reckless risk but calculated risk. Once I understood the concept of risk, I realized that risk is recoverable—calculated risk, that is. Therefore, I changed my mindset which allowed me to make better decisions as a business leader, think more creatively when there is uncertainty in the market, approach problem solving from multiple angles, and be open to non-traditional business practices.
What do you like to do in your free time?
During my free time, I enjoy listening to audiobooks, golfing (I hope to play St. Andrews in Scotland soon), trying new restaurants, attending concerts and comedy shows, and making homemade unique flavors of ice cream for family and friends.