The Startup Connection: Researchers and Business Students Meet at Fall Collaboratorium
Published on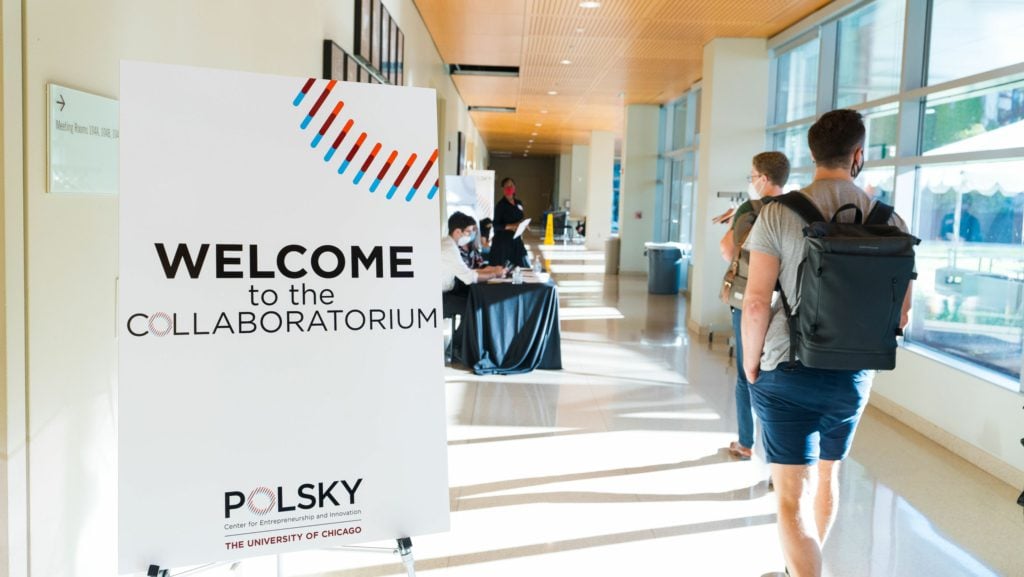 Connecting researchers with business expertise, the Fall 2023 Collaboratorium will feature teams participating in the Polsky I-Corps program in addition to startups from the Transform and Duality accelerators.
The Collaboratorium provides the opportunity for scientists and researchers who want to explore commercialization opportunities to showcase their work and network with students and alumni who may be interested in connecting to pursue further academic study, market research, a business partnership, or participation in experiential programming.
"The Collaboratorium is a unique opportunity to bring together scientists and students, particularly Booth MBA students, who might not otherwise interact on campus," said Ellen Zatkowski, Polsky Center senior associate director and manager of the Collaboratorium. "Through these connections, we have seen the launch of incredibly successful startups who are able to leverage world-class technical expertise and unparalleled business acumen."
>> Register for the Collaboratorium, September 28, 2023 from 5:00 p.m. – 7:30 p.m.
In addition to Cohort 2 of Transform and Cohort 3 of Duality, participating teams include:
Aquora Biosystems // Aquora's patented biomembrane filtration technology responds to the market need for low-cost and high throughput filtration of waste streams, spanning municipal wastewater to cow manure.
Team: Tim Fairley-Wax, Chain Reaction Innovations, Argonne National Laboratory
Bocaliner // Bocaliner is an FDA-registered Class 1 medical device that is designed to enhance the efficacy of oral topical medications. This technology has applications in clinical oncology and dentistry.
Team: Eli Ehrenpreis, CEO/CSO; Ana Ehrenpreis, VP; Elisha Gotlib, Unaffiliated with the University of Chicago
Epigenetic biomarkers for tuberculosis // This project leverages epigenetic technology to more accurately diagnose tuberculosis, leading to earlier diagnosis and treatment in vulnerable populations.
Team: Abhimanyu Abhimanyu, staff scientist, Biological Sciences Division
QMIS // QMIS develops innovative MRI-based quantitative and automated tools for improved diagnosis of prostate cancer, leading to better patient outcomes.
Team: Aritrick Chatterjee, research associate professor, Biological Sciences Division; Aytekin Oto, chair of radiology, professor of radiology and surgery, Biological Sciences Division; Greg Karczmar, professor of radiology, Biological Sciences Division
Virtual patient simulator and smart drug delivery // The team has created an accurate physiologic model of the cardiovascular system to proactively model patient responses to different therapies and create personalized treatment options and timely access to care.
Team: Jonathan Grinstein, assistant professor of medicine, Biological Sciences Division; Mark Belkin, assistant professor of medicine, Biological Sciences Division
X-Seed Plants // By leveraging genome editing and unique molecular evolutionary analysis, the X-Seed Plants team is creating male-sterile plant lines to enhance vital crop traits, ensuring a sustainable food supply amidst climate instability.
Team: Deanna Arsala, Post-doc, Biological Sciences Division; Shengqian Xia, Post-doc, Biological Sciences Division; Jianhai Chen, Post-doc, Biological Sciences Division
 // Questions? Contact Ellen Zatkowski at ellen.zatkowski@chicagobooth.edu.