Build and Launch Accelerator Accepts 18 Teams for the 2023 Summer Program
Published on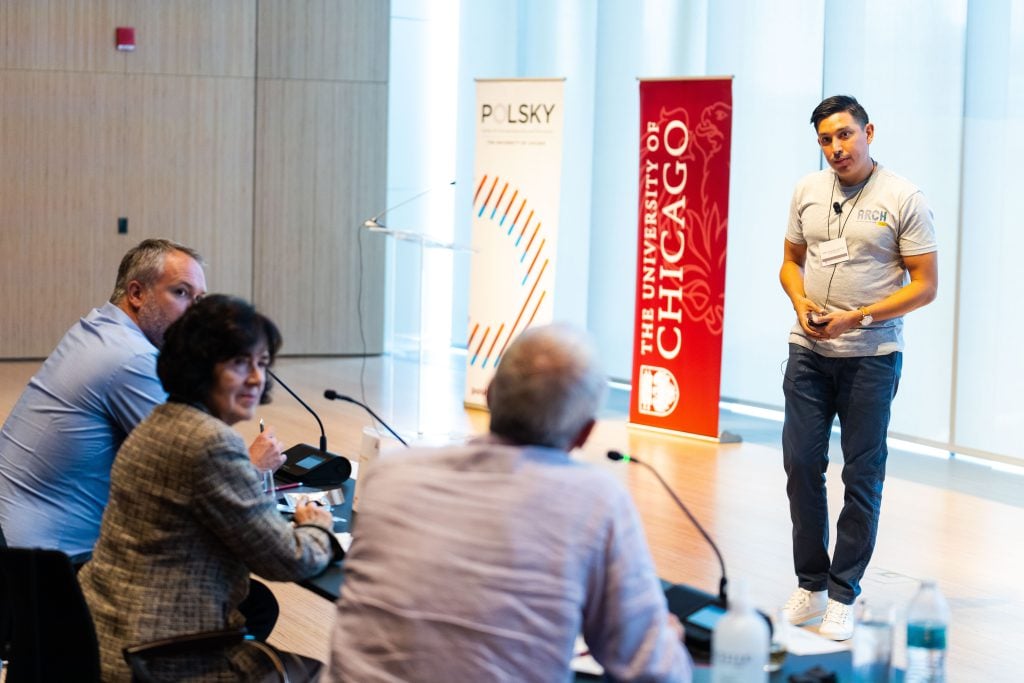 The Polsky Center for Entrepreneurship and Innovation is pleased to announce the 18 startups selected to participate in the 2023 Polsky Accelerator, a competitive 10-week summer program open to all University of Chicago students and recent alumni.
Teams selected this year represent a variety of units from across UChicago including the College, Harris School of Public Policy, Chicago Booth School of Business, Department of Computer Science and alumni.
Ten teams were accepted into the Build track of the accelerator, designed for early-stage ventures. In this track, students spend their summer building the key elements of their venture and validating assumptions around their market or customers. Each Build team also receives a $7,000 non-dilutive grant.
The other eight teams were accepted into the Launch track of the accelerator, designed for investment-ready teams to focus on fundraising, selling, and gaining and maintaining momentum. It includes a $10,000 investment in the business, networking opportunities with venture capitalists, and assistance in building pitch and fundraising decks.
All teams accepted receive funding including more than $100,000 in in-kind services such as web hosting and incorporation help, coaching from Polsky Center staff, mentorship from alumni entrepreneurs and Chicago-area investors, and weekly programming designed to help them overcome many of the hurdles to launching a business. Teams will present their business plans at a demo day set for August 31.
The teams selected for the Build and Launch tracks of the 2022 Polsky Accelerator are:
BUILD ACCELERATOR
Eman Equity // Eman Equity is a U.S.-based equity crowdfunding platform that connects business owners looking to raise Halal capital with investors who are looking to invest in Shariah-compliant private companies.
Familial // Familial is a service that empowers tech-forward millennials to help their older relatives with estate planning and financial preparedness. Our solution makes challenging conversations easier, simplifies financial management, and connects to the best providers to avoid probate and reduce stress and expense for families.
From The Ground Up // From The Ground Up is a mobile app that creates a digital marketplace for private upstream firms to buy and sell materials and services. The app uses AI to learn firms' purchasing patterns and preferences, providing personalized recommendations and conducting risk analysis. It also encourages supply chain diversification to reduce reliance on a single source and mitigate risks.
Galleon AI // Galleon AI is a data annotation service for AI developers that pairs with an "annotate-to-earn" mobile game. The game, called DigiDivers, allows Galleon to source high quality, high volume human data annotation.
IbisGen // IbisGen is democratizing business insight by leveraging the power of generative AI and proprietary domain knowledge from industry experts to create ConsultingAI, a knowledge platform that provides affordable, reliable and interactive business advice to small business owners, while also offering monetization opportunities for our expert partners.
Linkr // Linkr is the first and only social app to connect college students through events and matchmaking.
Opto Financial // Opto Financial is a fintech company that combines psychology and technology to empower young adults to build strong financial habits. With a focus on those managing money for the first time, Opto is a digital tool that uses behavior change techniques with clear action steps to help young adults build the foundation needed to fund the future they desire.
Sommos // Sommos is the wealth management partner for startup employees and founders, offering bespoke financial solutions tailored to their unique needs.
TourMe // TourMe is a platform that transforms travel enthusiasts' experience when exploring and learning about a new place, by giving them the freedom to design and personalize their own routes and guides based on their interests, availability, restrictions, demographics, and more. With TourMe, travelers create a unique and unforgettable connection with each location. 
Wash Day Supply Co. // By leveraging partnerships with Black beauty retailers (BBRs) whose inventories are 100% dedicated to Black hair and beauty, Wash Day Supply Co. will curate and consolidate their product offerings into a streamlined online marketplace. Once customers order, delivery drivers will collect items, repackage them, and deliver them the next day.
LAUNCH ACCELERATOR
Aleye Health // Aleye exists to put the 10% of women with PCOS back in the driver's seat of their health. Their AI-backed platform helps users discover lifestyle interventions personalized for their bodies to reduce symptoms and provides tracking and community support to empower users to stick with changes and stay healthy.  
Demi // Demi is on a mission to make composting mainstream for the 40M Americans who live in apartments and generate over 200M pounds of weekly food waste. Demi is the first tech-enabled solution designed specifically for apartment-dwellers, by apartment-dwellers; and the first solution executing on a nationwide strategy by partnering with buildings.  
Bunny Blanco // Bunny Blanco is revolutionizing the ready-to-drink market with a modern approach to a 2,000-year-old agave wine called pulque. Blanco's pulque-based cocktails are blended with tropical fruits and offer customers an elevated taste experience while sharing a timeless Latino tradition.
Locavor // Locavor is a B2B marketplace where restaurateurs can purchase food directly from local food suppliers. Restaurants can easily discover the best suppliers around and centralize their orders. Suppliers can increase visibility and easily manage orders, inventories, and payments on Locavor. 
Nenes // Nenes is an exceptional baby clothing brand that provides customers with high-quality products through its e-commerce platform. As part of their commitment to sustainability, the brand offers two options: new and renewed garments. Customers are encouraged to return their outgrown Nenes clothing in return for store credit, fostering a circular economy to promote a healthier planet for future generations.
Stoodio // Stoodio is an online gallery and direct-to-consumer marketplace for artworks created by emerging visual artists. Stoodio offers personalized services for artists and collectors to shine a light on emerging talent and help you fill your life with art.
WattShift // WattShift software automates thermostats (and soon other devices) to shift energy demand away from peak times. WattShift leverages existing electric grid incentive schemes to compensate the homeowner hundreds of dollars each year per device to decrease peak load instead of paying for fossil fuels to produce peak load.
Zelia App // Zelia is an app that leverages AI and ML to make outfit recommendations based on both the users' personal taste and their existing wardrobe. Because of their unique insights on users' wardrobes, Zelia also serves as a marketing and analytics platform designed to connect brands with targeted consumers. The beta version of the app launched in Brazil, accumulated over 33,000 registered users and 10 brands signed on their pilot program. Zelia is now bringing the business to the U.S.
To learn more about the Build and Launch Accelerators, contact Paul Cavalieri.