Small Business Spotlight: 'I Choose the Ladder' Coaches Fortune 500 Companies on Employee Development, Retention
Published on
 Three years ago, Watchen Nyanue, MBA '22 had a dream job as the senior vice president of marketing partnerships for the WNBA's Chicago Sky. The only problem? It wasn't her dream job.
"I was at a dinner for the Basketball Hall of Fame and there was this voice in the back of my head telling me, 'You're living someone else's dream,'" said the entrepreneur and participant in The Polsky Center's Small Business Growth Program. "I loved the people there and the work was interesting, but I still felt like something was missing."
She knew that voice was pointing her toward entrepreneurship, a pull that she had felt before.
"I have always been interested in working for myself and starting my own company and building a company culture. It was a feeling that just wouldn't go away," she said. "I just needed to find the right thing that aligned with my skills and interests."
In fact, Nyanue had already tested out several business ventures by that time, including an online clothing resale site, consulting firm, children's activity boxes, and a video series. The companies had varying levels of success, but ultimately did not mesh with Nyanue's professional goals.
Then, in 2018, she had a couple of experiences that led to her founding I Choose the Ladder, an employee management consulting service for Fortune 500 companies.
"The through-line in my businesses has always been conversations and making people feel empowered," she said. "That's what we do at I Choose the Ladder – empower people to make choices and become successful on the professional path they have chosen."
The value of networking, mentorship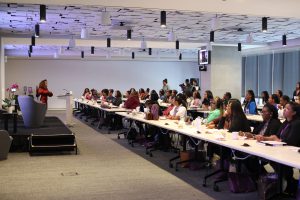 In a sense, Nyanue has been preparing for I Choose the Ladder since college. She attended DePauw University in Greencastle, Indiana, through a Posse Scholarship, which provides financial and career counseling support to diverse cohorts of students.
Through the program, Nyanue was exposed to leaders in business from a very early age and learned how to network and cultivate mentors. She met both her first billionaire and first entrepreneur at age 18 and was introduced to CEOs and CFOs of major corporations. The Posse Program even helped her land a job at Comedy Central by introducing her to the channel's president, who sat on the organization's board.
Nyanue, who has also worked at Yahoo! and Hearst, didn't realize that this experience was atypical until talking with friends post-college about their careers.
"I thought everyone had mentors and knew really successful people," she said. "When my friends complained about their boss, I'd say 'Well, just have your mentor help you get a new job.' I didn't realize that not everyone had that type of network because I had been flexing that muscle since I was 18."
Supporting Black female talent
Then, at an Alumni of Color reunion weekend at her alma mater, she heard from Black students that they would like to see more Black alumni return to help mentor them as they started their careers.
"Because of those conversations, I wanted to create something evergreen that would help young people, especially young Black women, navigate careers in corporate," Nyanue said. "So, I started a podcast that interviewed senior-level Black female corporate executives not about their jobs, but about their path to leadership as a Black woman."
The I Choose the Ladder podcast launched in March 2018. It immediately found a following and listeners soon began asking for more avenues of support, including workshops, classes, and coaching. Nyanue responded by organizing a conference in September 2018. It sold out.
"I realized then that this company could grow," she said. "My next step was determining the most sensible route to growth for me."
With the contacts she has in corporate America, business-to-business (B2B) was the most logical path according to Nyanue, who studied entrepreneurship and organizational behavior at The University of Chicago Booth School of Business. Today, she and her five-person team work with Fortune 500 companies on employee development and retention, with a focus on Black female talent.
"Our programs are open to everyone, but we specialize in the retention of Black women," said Nyanue, who takes a two-pronged approach to creating cultures that support diverse employees. Not only do her programs teach people of color how to navigate a career in corporate, but they also teach non-people of color how to work with a diverse employee population.
"You have to have both," she said. "One doesn't work without the other."
A plan for smart growth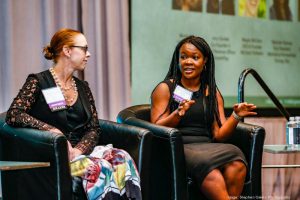 To date, Nyanue has not done any outbound development for her business. She landed her first client – Nike – through contacts she made while working at the WNBA. Her network and word-of-mouth also brought in the company's next two clients, McDonald's and Best Buy.
Now, she's interested in proactively cultivating new clients and is working with The Polsky Center's Small Business Growth program to create a business development plan.
"I want to make sure that I have the right partners and right staff in place and that I've built a solid foundation," said Nyanue, who plans to hire two additional employees this year. "I want the business that I'm building to be one that I'm going to enjoy and that my team is going to enjoy."
Nyanue has a long history with The Polsky Center, attending lectures there as a student and making use of the office space for meetings when her business was just starting out. She says she is looking forward to continuing to work with the organization on her business development plan.
"I have nothing but great things to say about The Polsky Center," she said. "There are so many opportunities and resources that you can take advantage of. As an entrepreneur, if you can access a place like The Polsky Center, it really is a no brainer."
Follow I Choose the Ladder on Instagram at @ichoosetheladder and Facebook at @IChoosetheLadder.
---
Article by Devon McPhee, freelance writer and editor, and owner of DM Editorial Services, LLC. Devon has more than 20 years of experience covering business, science and technology, health and medicine, and higher education.