Polsky Center Namesake Michael Polsky Talks Entrepreneurship Journey in Recent Fireside Chat
Published on
Ukrainian-born serial entrepreneur and energy visionary Michael Polsky, MBA '87 recently sat down with Jay Schrankler, associate vice president and head of the Polsky Center for Entrepreneurship and Innovation, to discuss his journey as a trailblazer in the energy industry and how cultivating an entrepreneurial mindset helped him find success.
When Polsky graduated from Chicago Booth in 1987, entrepreneurship had yet to become a concentration at the school, and there were very few opportunities for entrepreneurs in the high-tech space, Polsky said during the February 14th fireside chat.
Now, entrepreneurship is the most popular concentration, in no small part due to generous support from Polsky, who cites establishing the Polsky Center as one of his best investments. Being an entrepreneur also has since become a real profession, he said: "When you say entrepreneur, it means something."
It means doing things differently. It is a mindset and a lifestyle, "where things don't necessarily go by the rules," Polsky added. His advice? Don't be afraid – go forward. Try new things and take that chance.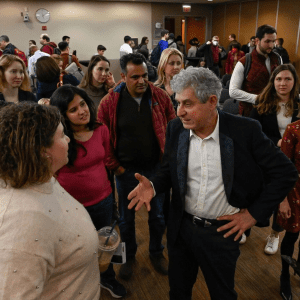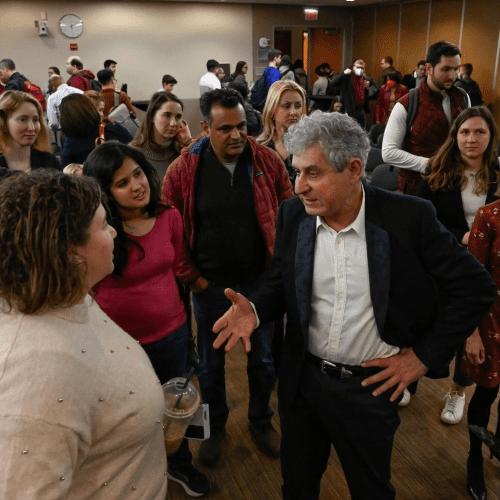 This is what Polsky did when he immigrated to America from Soviet Ukraine with his wife in 1976. He had no connections and no money, "nothing basically," except his education, knowledge, and hard work. "That's all you have," said Polsky, who earned his MSME from Kiev University Polytechnic Institute in 1973.
An ability to work hard is one of the most important "ingredients" in entrepreneurship, in addition to deep knowledge of a specific field, which Polsky said has been his competitive advantage. To this day he still uses his technical background, without which, he wouldn't be where he is, Polsky noted.
Still, Polsky sought to expand his business knowledge and wanted to test himself, he said, so he enrolled at Booth and as an Evening MBA student cofounded Indeck Energy Services. Within five years, the company, which built power plants on the East Coast, was a nationally recognized company with more than 100 employees and four plants in operation.
Several years later he founded Polsky Energy and quickly became one of the country's most successful power plant developers. After selling the company (renamed at that point to SkyGen) in 2000, Polsky founded Invenergy, a developer and acquirer of power generation, transmission facilities, and industrial energy assets in North America.
Invenergy has since led the clean energy revolution, guided by Polsky's vision, with expansion into wind and solar, in addition to next-generation technologies, such as energy storage, offshore wind, transmission, and clean water. Last year, the company and its 2,000 employees celebrated 30-gigawatts of clean energy projects developed across 30 US states and four continents.
"It's all about selling" – selling yourself, your idea, your enthusiasm, said Polsky. He still learns something new every day and is more excited about the present opportunities than ever before: "We are in the most interesting time."