Chicago Inno's "Under 25" Honors Seven UChicago Grads Making Waves as Young Innovators
Published on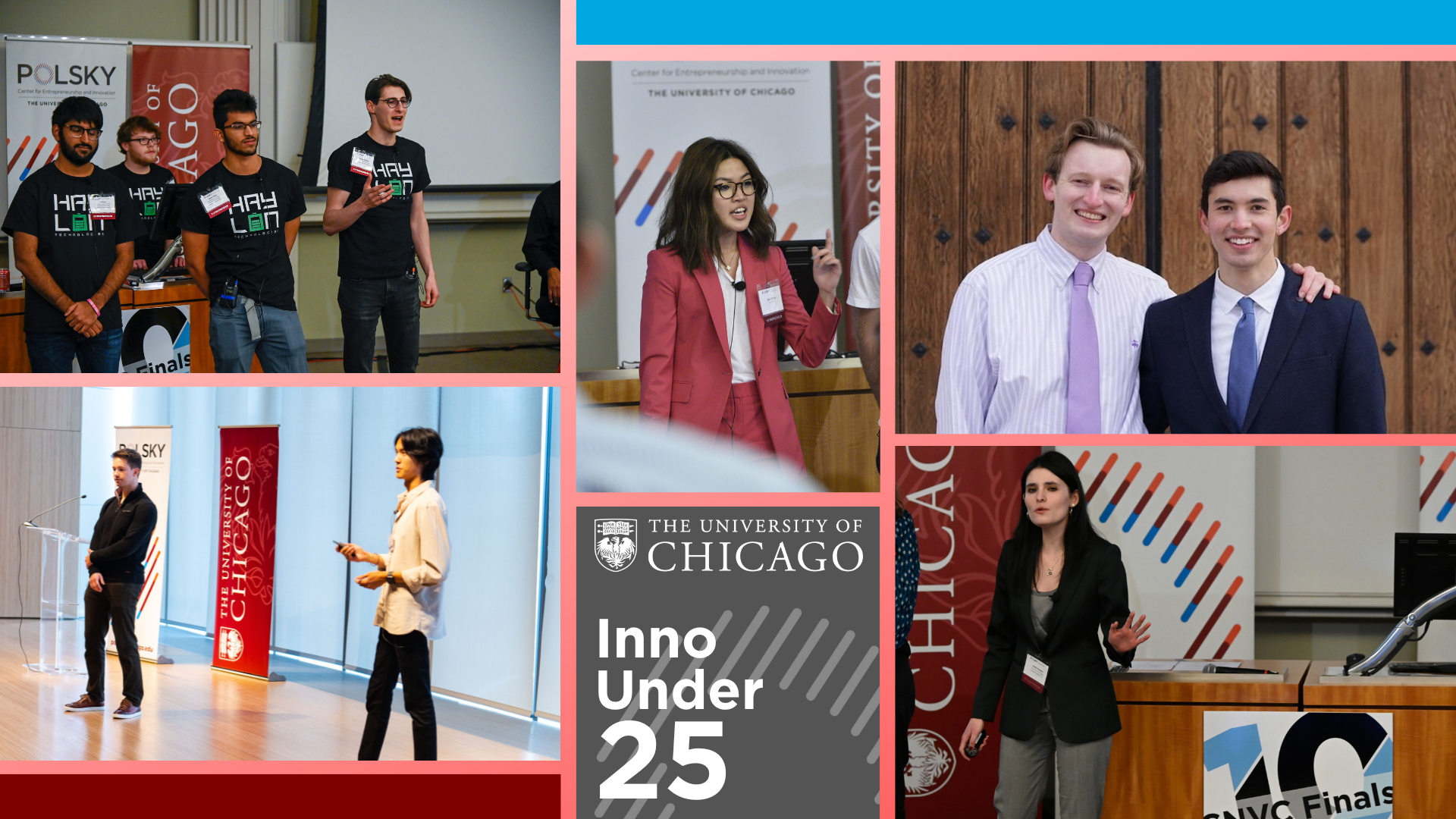 Chicago Inno's annual list of rising young innovators found plenty of entrepreneurial talent to celebrate at the University of Chicago. The 2022 "Inno Under 25" list featured seven recent graduates of the College, all of them startup founders or aspiring VCs who participated in Polsky Center programs, such as the College New Venture Challenge (CNVC) and the BUILD and LAUNCH summer accelerators.
The publication, which published the list on Oct. 6, honored "the young startup leaders tackling important problems, the super-connectors working to boost the city's tech scene, the techies bringing innovative approaches to complex challenges," and others who "will help define Chicago's innovation economy for years to come."
And none has yet turned 25 years old.
Here are the UChicago alums that Chicago Inno called the "next generation of builders." Read Inno's full story here.
Alexander Choi, 22, and Steven Bruening, 22 — Cofounders of Natuur Brands
Led by Alexander Choi, BA '22, and Steven Bruening, BA '22, Chicago startup Natuur Brands wants to upend the edible cannabis industry. Based out of the West Loop, the company placed third in the CNVC and participated in the Polsky Accelerator over the summer. Natuur's proprietary Natuur Nano cannabinoid powder turns any food or beverage into a fast-acting cannabis edible. The duo plans to soon bring the company's product to the East Coast.
Kevin O'Sullivan, 23, and Mason Rodriguez Rand, 22 — Cofounders of Alpha Nur
Kevin O'Sullivan, BS '22, and Mason Rodriguez Rand, BS '22, first wanted to build a nuclear reactor together their freshman year at UChicago. Years later, their company, Alpha Nur, seeks to provide small modular nuclear reactors to installations in need of reliable, clean energy. They have raised $25,000 from the U.S. Department of Energy. The startup also was accepted into the 2022 Nuclear Innovation Bootcamp and participated in Polsky Center's I-Corps program and its BUILD summer accelerator program.
Dante Vaisbort, 22 — Cofounder of Haylon Technologies
Dante Vaisbort, BA '22, and his teammates from the University of Illinois at Urbana Champaign (Tyler Revesz, 21; Raj Lulla, 21; and Namin Shah, 22) were recognized for founding Haylon Technologies, a startup working to prolong battery life and reduce battery waste. Haylon tied for second place in the 2022 CNVC, and it was selected to the 2022 Techstars Chicago class. The startup, which demoed a fully operational prototype battery pack and software platform at Techstars Demo Day, has more than $5.5 million in letters of intent and is partnering with a publicly-traded battery technology company to develop a pack with its cells.
Alexandra Chung, 24 — MBA associate at Decibel Partners
Alexandra "Alex" Chung, BA '20, MBA '22, received Chicago Booth's Hyde Park Angels VC Award this spring, awarded annually to a graduating MBA student based on demonstrated leadership in venture capital. As co-chair of Booth's Entrepreneurship and Venture Capital Club, Chung has made it one of the most active student groups on the University of Chicago campus by inviting industry-leading speakers. She began her VC career at Decibel Partners, an independent VC firm in Palo Alto, California, that invests in seed, Series A and Series B stage software companies.
Estelle Reardon, 22 — Founder of StandOut Search and Slingshot
Estelle Reardon, BA '22, founded StandOut Search in 2020 as a free platform for high school students to find internships at startups and nonprofits. After tying for second place in the 2022 CNVC, Reardon merged StandOut with another startup she founded, Slingshot, that connects startups with teenage coding and growth-hacking prodigies, giving the students experience and the budding companies an early talent pipeline. Slingshot, which has gone through the Techstars and Alchemist accelerators, has matched more than 1,000 high school students with internships, 300 of which were Chicago-based.