From Corporate America to Social Impact: How Rachel Kohler Helped Blaze a Trail for Whole-Person Care
Published on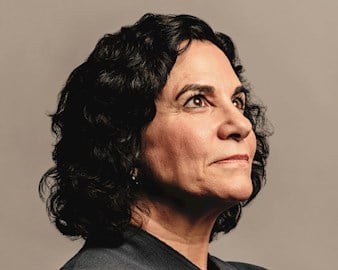 After 30 years in corporate America, Rachel Kohler, MBA '89, resolved to redirect her career to have greater social impact.
"If anyone could take risk in their life, I could," said Kohler, part of the fourth generation of Kohlers to run the family's Wisconsin-based business, famous for its high-end bathroom fixtures and luxury golf resorts. "I could take financial risk as well as career risk."
That career pivot led Kohler to the helm of NowPow, a social venture that uses a highly customized community referral platform to connect people with needed social services to improve their health outcomes. Last September, six years after Kohler came on as co-owner and CEO, NowPow was acquired by its larger competitor, Unite Us, to together become the nation's leading integrated health and social care referral network.
In a fireside chat hosted by the Polsky Center of Entrepreneurship and Innovation, Kohler told her entrepreneurship story to Chicago Booth classmate Doug Monieson, MBA '89, an entrepreneur-in-residence at the Polsky Center and executive chairman and CEO of UICO, a rugged touchscreen manufacturing company in Chicago. They discussed why NowPow sold when it did, how it navigated funding, and how Kohler ended up in healthcare innovation after a career spent mostly in interiors.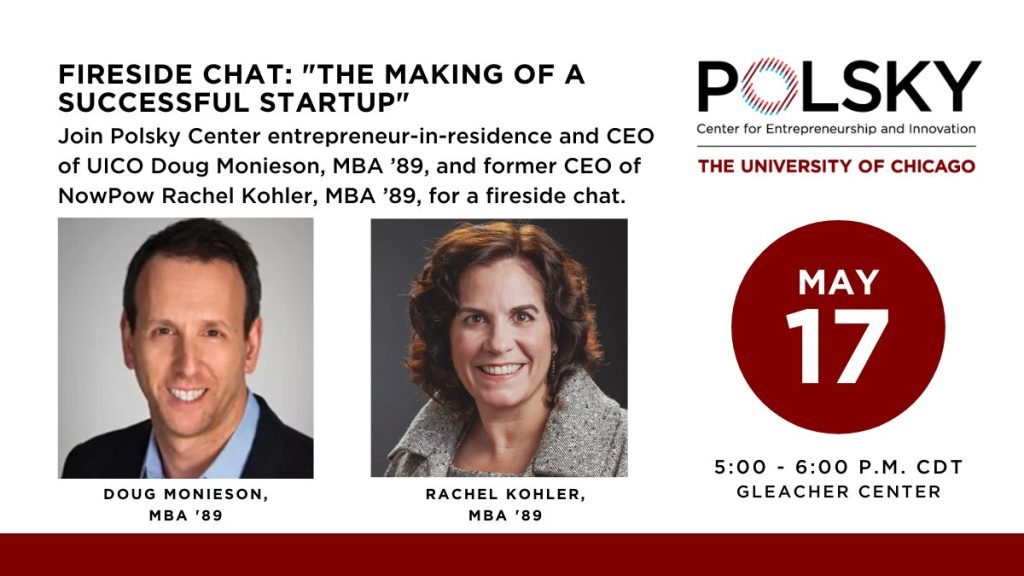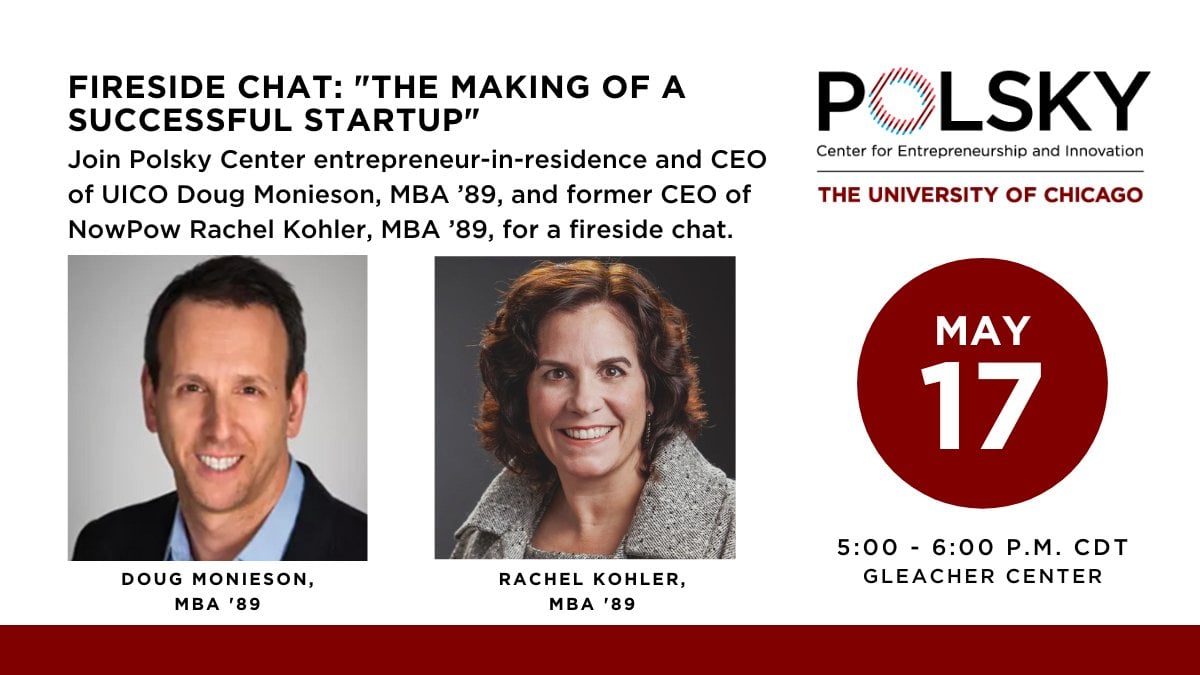 Knowledge is Power
Kohler, who was 52 at the time she moved on from Kohler Co., was pondering what shape her next chapter would take when she attended a lecture at the MacLean Center for Clinical Medical Ethics at UChicago Medicine. Stacy Lindau, MAPP '02, the Catherine Lindsay Dobson Professor of Obstetrics and Gynecology, spoke about the ethics of entrepreneurship within a university setting. She noted that the US spends 20% of its GDP on healthcare yet has terrible health outcomes, in part because patients confront a host of social challenges that the system does not address.
Lindau had built and deployed a proof of concept for how healthcare providers could prescribe social care for patients. Powered by a data engine, the platform could match patients' individual needs with relevant social services in their communities — from housing to food to weight management to caregiver support — at scale.
Kohler approached Lindau about partnering on the venture, and together they built NowPow — derived from the term "knowledge is power" — into an automated referral platform with a database of 12 million patients and a research directory of hundreds of thousands of social services across 23 states.
The Value of Equity
An early challenge for the pair, as it is for most startups, was how to secure funding. They opted not to structure NowPow as a nonprofit because the platform was meant to target large health systems, and "we felt health systems would want a for-profit company as their vendor partner," Kohler said.
Kohler also found that social impact funds would not be the resource she initially thought they could be. If they weren't investing a splashy amount in a high-profile project, the investment was trivial.
"They wanted to give you only 50 cents or $50 million," Kohler said.
Ultimately, NowPow took no outside money that would require giving up equity — an approach she recommends to startups, for as long as possible — relying instead on nondilutive funding and low-interest loans.
Core to NowPow's value proposition was the breadth and accuracy of its social services directory — which many social work organizations struggle to keep updated. The company initially partnered with MAPSCorps, a nonprofit headed by Lindau that trains high school students in the scientific method to capture community data, to collect and inventory information about neighborhood organizations that was otherwise hard for providers to come by.
"Many social workers literally have Excel spreadsheets or little black books, and they are always out of date," Kohler said. "They end up trying to leave voicemails in full inboxes or referring patients to organizations that have closed their doors."
NowPow moved on from relying solely on MAPSCorps but developed high quality data collection processes. With trusted data, condition algorithms could be deployed at scale to e-prescribe social care to large patient populations, setting NowPow apart from other companies.
"It gave us credibility with large health systems because social workers didn't trust the accuracy of information from companies," Kohler said.
A Changing Business Environment
The COVID-19 pandemic gave NowPow even more visibility. As lines at food pantries stretched down the block and isolation threatened people's mental health, "everyone started to see and understand the social determinants of health and the need to understand whole-person care," she said.
But as demand for NowPow's services grew, so it did for its competitors – and they started to take a lot of outside money. If NowPow didn't get bigger faster, it would be a problem, Kohler said.
Rather than seek investment, NowPow decided to sell to a competitor so that they together could compete against the largest players. Nearly all 140 of NowPow's employees were absorbed by Unite Us, and Kohler and Lindau moved to advisory roles.
Lindau, who has referred to Unite Us as its "fiercest competitor," said shortly after the sale that the union brings together NowPow's science-driven approach and focus on quality with Unite Us' focus on scale.
For Kohler, the experience of launching and growing a startup was invaluable.
"It teaches you to be great problem solversand it helps you think about paradox in a healthy way," she said. "It helps you get comfortable with that idea that you have to make a decision with imperfect information."
In her post-startup life she has been helping non-tech companies develop agile leadership strategies and adapt to changing business environments, and brings that expertise to her board service as well. Kohler is a trustee of the University of Chicago and the University of Chicago Medical Center, chairman of MacLean Center for Clinical Medical Ethics, and a member of the Kohler Co. and Kohler Foundation boards.
As for what's next for the mother of three and spouse to another Booth '89 grad?
"Catching up on time with family as the last six years have been pretty intense," Kohler said. "Beyond a "momcation" with each child, I vowed to my son, a senior and my last child at home, that I would go to all of his lacrosse games."