DeepTechU Day 3: Advice for Deep Tech Entrepreneurs, the Future of Immunotherapy, and Opportunities in Quantum
Published on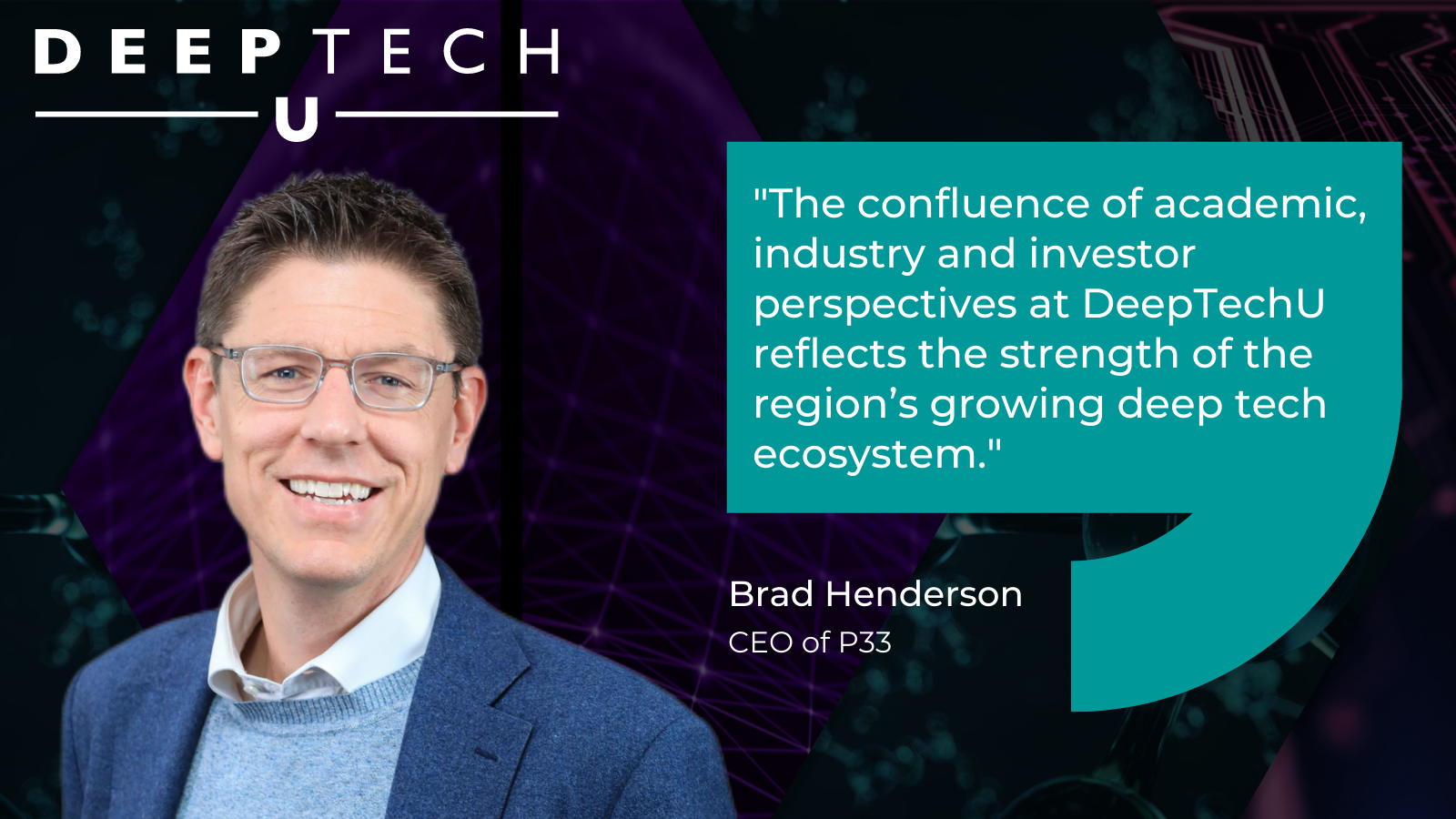 Day 3 of DeepTechU featured advice for entrepreneurs developing deep tech innovations, a look at the current and future immunotherapy market, and a Fireside Chat about growing the quantum ecosystem.
"Commercialization in deep tech is something that is incredibly challenging and incredibly important," said TJ Augustine, vice chancellor for innovation, the University of Illinois at Chicago, in the opening remarks for Day 3 of DeepTechU.
"We must continue to do the basic research… but then how do we also do more and more of the use-inspired research that can then be translated to innovation and entrepreneurship for the good of society," added Rashid Bashir, University of Illinois Urbana-Champaign, Dean, the Grainger College of Engineering, and professor of Bioengineering. "This is an increasing responsibility of ours in higher ed."
The Future of Deep Tech is Here
Lee Jones, Rebiotix, founder, president, and CEO, began the first panel of the day by defining deep tech as based on scientific and engineering discovery to achieve a profound impact – "leaps, not just iterations" beyond what today is available.
These technologies usually have a long lead time and require extensive capital investments. "You need big sources of funding," said Jones.
"I don't mind having a 10-year horizon," noted Ray Sharma, CEO and founder of Extreme Venture Partners, explaining that trends tend to be multi-decade. Sharma also stressed the importance of government funding sources, which he said are critical when it comes to deep tech.
To catalyze financing, Danny Sachs, director of the Innovation Fellows Program at the University of Minnesota's Institute for Engineering in Medicine, said to map out milestones that will reduce risk. He also recommends partnering with "deep pockets" early and stressed the importance of strong intellectual property (IP). "You need to dominate your IP," said Sachs. "You need to early have seminal IP otherwise I would pick another project."
Offering her advice, Dimitra Georganopoulou, Qral Group, General Partner, Qral Ventures, said to keep your passion up: "You have to play the long game and persevere. Imagine the impact you are going to have in the long term not the immediate gratification."
This requires tenacity and perseverance, embracing the concept of failing fast and pivoting, and trusting advisors and the ecosystem. Said Georganopoulou, "It's important to manage expectations all around."
Managing hopes – and hype – is important. When there is too much hype there is a disconnect with what customers actually want and need, noted Pranav Gokhale, CEO and cofounder of Super.tech.
"In the longer term it means that there is the fear of quantum winter," he said using quantum as an example. In this "winter," the market expects advancements that aren't delivered and ultimately investors shy away.
Gokhale's advice? "Engage with your university-level institutions, entrepreneurship centers… Tune into their seminars and office hours."
Immunotherapy Oncology: Where Do We Go From Here?
The current immunotherapy market is around $70 billion in 2022, with still huge investment in the field, said B '84, PhD '89, MD '91, the AbbVie Foundation Professor of Cancer Immunotherapy in Pathology, professor in the Ben May Department for Cancer Research, and a professor of medicine at the University of Chicago, leading off the second panel's discussion of the day. A major question that then arises is, is there room to expand? For Gajewski, whose research focuses on the development of immunotherapies, the answer is an obvious yes.
To support this growth in the market, there has also been an "explosion" in the number of companies providing cell and gene "and other types of manufacturing capabilities for this burgeoning area," said Michael Salgaller, National Institutes of Health/National Cancer Institute, supervisory invention development and marketing specialist. What Salgaller finds particularly interesting, is how this growth also is addressing the workforce, "being an economic driver to the communities leveraging those technologies."
Still, as all the panelists noted, there is room for further advancement. "For me, we've only scratched the surface and more and more is coming out and more are being tested in clinical trials," said Elizabeth Cho-Fertikh, CEO and cofounder of Meda Angels. While she said there has been some fatigue, the funding wouldn't be continuing if "there wasn't the belief."
"There is much more to be done," added Emmanuel Akporiaye, founder and CEO of Veana Therapeutics. "At the end of the day it's data, data, data," he said, speaking to securing investments, which he noted comes by "doing really good science," but also being able to share results.
"Messaging is very important," explained Akporiaye. "The message should be that you have a drug, the advantage of that drug, and how it fits into the space and who the competitors are, and what your advantages are over competitors."
As for the 'where do we go from here?' Gajewski asks what is necessary for the work to lunge forward.
Instead of trying to make current work better, he poses questioning if there are strategies to focus on the non-responding patients and ways to figure out why they aren't responding to the current agents. These are opportunities to expand more significantly.
Building the Future Quantum Ecosystem
"It's particularity apropos that we are talking about quantum today," said Brad Henderson, CEO of P33, leading the Fireside Chat with Kayla Lee, product manager, strategic alliances at IBM Quantum, as The White House this week announced an executive order on enhancing the National Quantum Initiative Advisory Committee.
"This really put us all on notice," said Henderson. "This may be ten years for some of it, but start getting ready now."
Also this week, IBM – which has a history in quantum dating back to 1981 – celebrated six years of quantum computing in the cloud. Decades ago, "it was just a dream," said Lee. "What you've seen is critical discoveries that have now led to where we are today."
Looking to the future, across all industries represented at DeepTechU, the presenters agreed that progress doesn't happen alone: "We can't do it by ourselves," said Lee.
Lee cited convening organizations such as the Chicago Quantum Exchange as critical and expects the industry to grow around the Centers of Excellence, including the centers led by Argonne National Laboratory and Fermi National Accelerator Laboratory, which are both affiliated with the University of Chicago. The US Department of Energy in 2020 established the centers, which are each projected to receive $115 million in funding over the next five years.
"I suspect geographies to grow around [these centers]," said Lee. "I love what's happening [in the Midwest] you have companies, startups, and academic institutions that are all leading in this space."
Another theme addressed throughout the week was the need for a skilled workforce to support deep tech innovation. Lee said she sees a skills gap that if not addressed could be limiting with how far and where the space can go, but there is a really big opportunity to get students excited about quantum computing.
"It's fine if it takes time to build the skills as long as people are thinking about the right questions," said Lee, adding that there is "a really interesting opportunity" to see this new technology come to fruition – and make sure more people are involved.
"There's an interesting push from companies, universities, to really put equity at the front of some of their missions," added Lee. "That's what I'm most excited about."