Small Business Spotlight: With Solo Noir and Zen Soul Apothecary, One Woman Nurtures Outer and Inner Wellness
Published on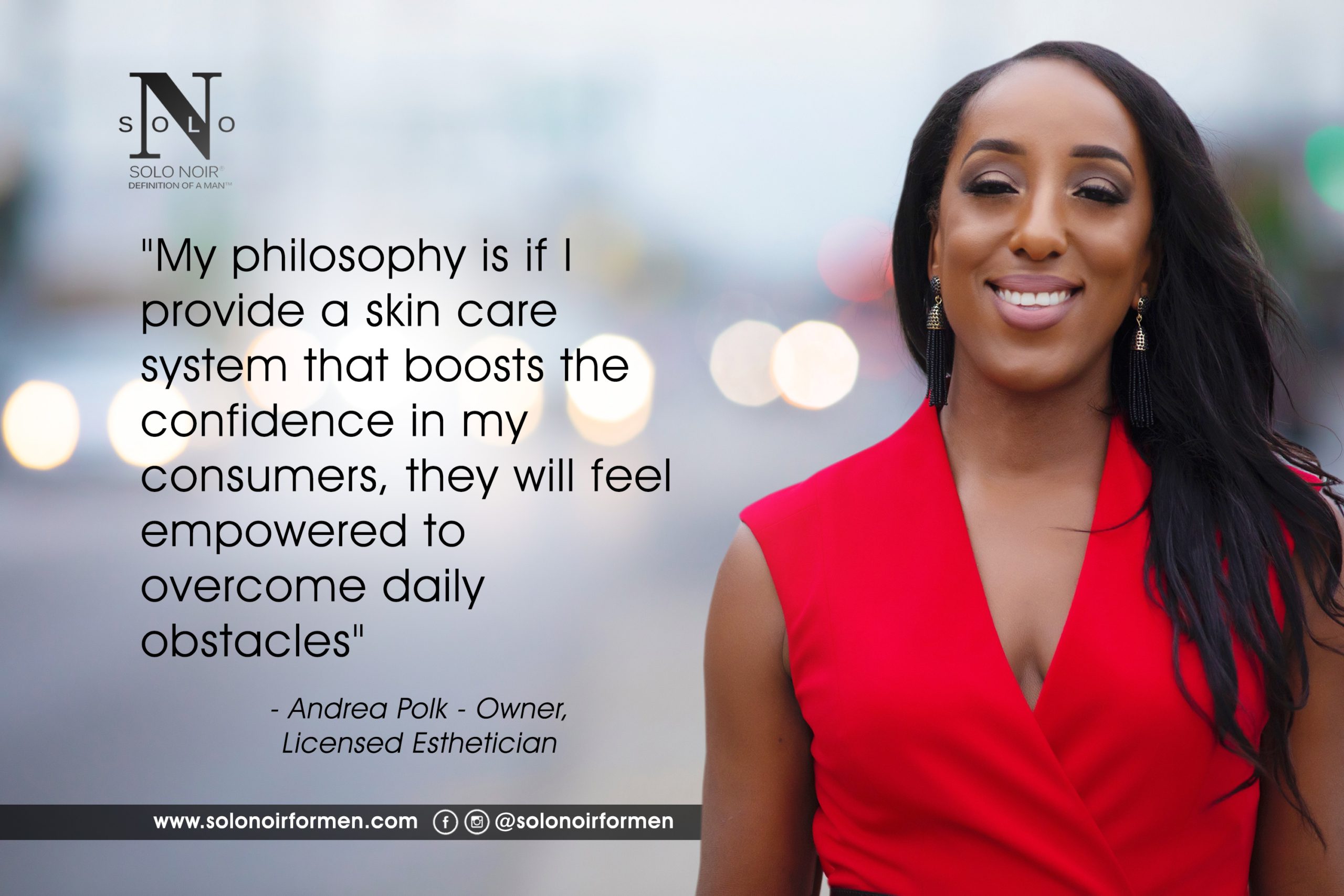 Andrea Polk always considered herself a spiritual person. But it took time for her to see the deeper meaning when her body suddenly went into revolt.
At 38, the normally active and healthy Polk became feverish, broke into body sweats, and started losing hair and muscle. Her weight dropped to 100 pounds and her skin cracked and shed, turning "a shade of blue-black."
Polk's bloodwork came back normal. She was diagnosed with severe dermatitis, but that didn't explain her body's overall upheaval.
After months cloistered at home, Polk resolved to tap into ancestral remedies and harness the power of her mind.
Armed with a positive outlook, she did grounding meditations with a shaman, drank herbal teas, received Reiki, spent time in nature, and visualized her healing. As her symptoms began to wane, she had an epiphany that the hardship was a test.
"It was a spiritual awakening," said Polk, who believes her illness arose from a build-up of stress and unresolved trauma. "Am I going to be strong enough to trust that I can heal myself, and take my lessons and make them into blessings and help others?"
Polk, who a decade earlier had founded the men's lifestyle brand Solo Noir, responded by creating a new business, Zen Soul Apothecary, for women.
"The two brands are a perfect marriage," said Polk, an alumnus of the Polsky Center's Small Business Growth Program.
Solo Noir, marketed toward men of color, sells moisturizers, facial cleansers, beard oils, shave creams, and other grooming products focused on external improvement. Zen Soul Apothecary sells kits containing herbal teas, bath bombs, affirmation cards, and sage bundles to help women restore inner balance.
Both brands are available at Polk's shop at the L1 Retail Store in Washington Park, a project of UChicago Arts & Public Life meant to support entrepreneurship and economic development in the South Side neighborhood. Polk is one of three inaugural L1 Fellows, who have free use of the retail space through the end of the year, when the next cohort arrives.
Polk, who grew up in the Chicago suburbs and now lives in Park Forest, is juggling the two businesses as she raises her 6-year-old daughter, Ava, as a single mom. The competing responsibilities can be overwhelming at times, but she is having success.
This month, Solo Noir products launched in 135 Walmart stores in 13 states: Arkansas, Tennessee, Louisiana, Mississippi, Alabama, Georgia, Virginia, North Carolina, Florida, Maryland, Texas, New Jersey, and Washington, DC.
"I manifested this in a way that is unbelievable," Polk said.
Polk's beginning as a business woman dates back 15 years, when she was in graduate school at Tennessee State University studying supply chain management and logistics. As part of a school project, she had to create a business in an untapped market. Polk, who was selling Mary Kay cosmetics at the time, found there was a demand for personal care products for men.
Polk started a product line but put the business on hold because it was too much for her to do alone. She returned to Chicago and got a sales job at a distributor of lights and motors.
While working there, in response to requests from friends, Polk revived the concept and formally launched Solo Noir in 2011 as an "empowerment brand for men of color," creating product lines branded "Smooth," "Dapper," "Sleek," "Brave," and "Refined."  She held a launch party at the office and a coworker bought some products for their boss. He ended up giving her the push she needed to give the business a real shot.
"I was up for a promotion, and he said, 'How do you like working here,'" Polk recalls. "He knew I wasn't going to always be selling lights."
Instead of the promotion, her boss let her go and agreed to pay her for the rest of the year so that she could focus on the business full-time.
"He said, 'When I started my business someone gave me a leg up and I'm going to do the same,'" Polk said. He later invested $1,000 in Zen Soul Apothecary.
Polk took Solo Noir through the Small Business Growth Program in the summer of 2020. The student team assigned to her case helped her develop a mobile app.
"It was very beneficial in giving me a support team to execute some tangible ideas that I had," Polk said. "Now I have the structure so when I have the time I can just implement their plan."
Polk remains the only employee of both her businesses.  Though the making of the Solo Noir products has moved from her kitchen to a contract manufacturer, she assembles all of the kits for Zen Soul Apothecary herself.
She conducts a ceremony with sage and a sound bowl when she makes the teas, and infuses the bath bombs – made by a friend – with Reiki energy. The brand has four product lines that follow a butterfly theme, starting with Cocoon, which focuses on opening the heart and solar plexus chakras, and moving through Emergence, Rise, and Flourish.
Meanwhile, Polk's daughter is helping create a children's line for Zen Soul Apothecary, which will include items like holistic DIY projects, chakra bracelets, and self-care body products for kids.
"It is important for her and other youth to maintain balance and harmony in their bodies to help navigate their own mental health," Polk said.
Being part of the L1 store has been "once in a lifetime," she said, allowing her to test ideas for a physical space and grow revenue without overhead.
In addition, she and her fellow tenants are exploring creating products together and have held events to encourage the community to cultivate their own creativity and entrepreneurial ambitions.
"We are creating something really magical, teaching through our stories, giving them platforms and sharing our resources," Polk said.
Once her time at the L1 store is over, Polk hopes to find an affordable retail space on the South Side that she can turn into a healing space and feature both of her brands. She envisions creating strategic partnerships with women-based companies interested in enacting her healing program.
"I hope this is just the beginning," she said.
---
Article by Alexia Elejalde-Ruiz, associate director of media relations and external communications at the Polsky Center. A longtime journalist, Alexia most recently was a business reporter with the Chicago Tribune. Reach Alexia via email or on Twitter @alexiaer.