Meet the Teams Selected for the 2022 Global New Venture Challenge
Published on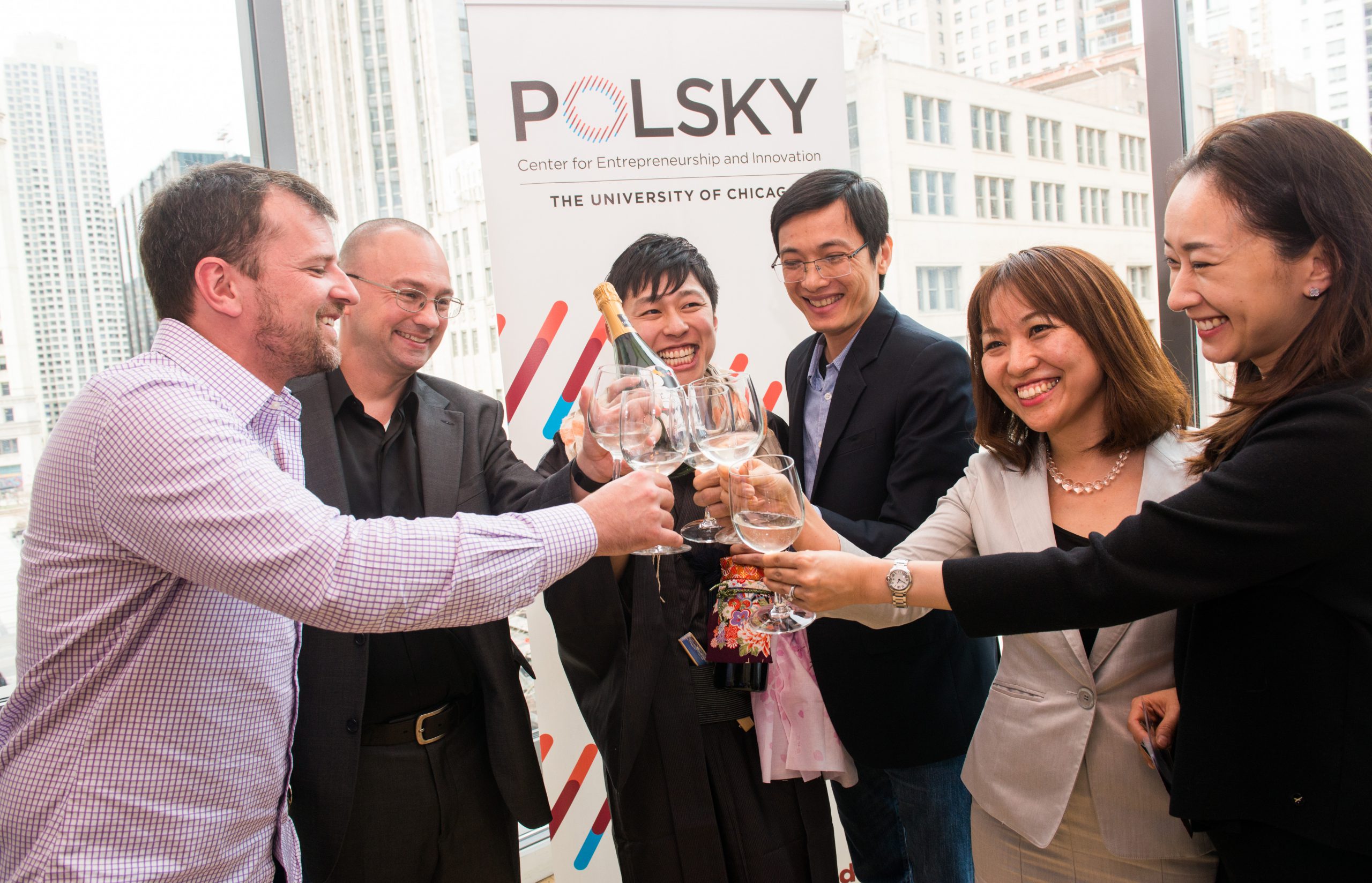 The Polsky Center for Entrepreneurship and Innovation is pleased to announce the 16 teams selected to participate in the 2022 Global New Venture Challenge (GNVC), a startup competition for students enrolled in Chicago Booth's Executive MBA program.
The GNVC, now in its 15th year, operates on Booth's three campuses — Chicago, London and Hong Kong — each of which will hold a semifinals event before sending their regional winners to the global finals, scheduled for June 1. Finalists compete for a portion of an investment pool, which last year totaled $150,000.
Semifinals schedule:
April 15, 2022: Hong Kong
April 29, 2022: London
May 13, 2022: Chicago
The GNVC is one of five tracks of the New Venture Challenge, a business plan competition founded 26 years ago at the University of Chicago Booth School of Business that has helped launch companies including Braintree, Grubhub, Foxtrot, and Simple Mills. With its focus on Executive MBA candidates, the GNVC offers a condensed version of the traditional NVC course that includes an intensive week of class and one-on-one coaching sessions with mentors from across the globe before the regional semifinals. The class is taught by Waverly Deutsch, clinical professor of entrepreneurship at Booth.
The 16 teams selected for the 2022 GNVC are:
Chicago Cohort
Barachiel // Barachiel is revolutionizing real-time information access for emergency response personnel, improving upon the antiquated 911 switchboard process that has not kept up with advances in cellphone technology like the health data collection possible with a smart watch.
Boolah // Boolah is a science-based data analytics platform that helps companies deliver better results by increasing employee productivity and engagement.
Celery // Celery is a mobile app that makes it easy to track, share, and understand your investments. Like Mint but specifically for stock and crypto investments, it aggregates all of your investment accounts and shows them to you in one view.
Evory // Evory wants to alleviate the pain of connecting and planning events across friends, family, and colleagues, by providing a collaborative planning experience. The platform will also address the data needs of hospitality SMBs by offering key solutions for reporting journey-level data for their customers.
Gray Matters // Gray Matters is a platform aiming to do social good by engaging and improving the quality of life for the 45 million retirees in the US. Gray Matters will bridge the needs of retirees to individuals and companies that desire to leverage the knowledge and expertise of retirees.
See-Thru-AI // See-Thru-AI is a SaaS platform that makes it easy for companies using Machine Learning (ML) and Artificial Intelligence (AI) to comply with the law. See-Thru-AI enables companies to demonstrate to regulators that they have designed and deployed machine learning and AI systems in compliance with relevant regulatory and policy requirements.
Towbly // Towbly is an application that takes the complexity away from someone needing a prearranged driver service or having a buddy system with a volunteer designated driver. It provides a two-person mobile service that provides a sober driver and gets a vehicle home with a support car following to ensure safety.
Hong Kong Cohort
Design-a-Day // Design-a-Day is a recommendation engine and itinerary builder that curates and makes personalized recommendations for local points of interest and helps arrange them into short itineraries. Through its social functions, locals can share their favorite recommendations and connect over common itineraries.
FaRong // FaRong provides non-recourse funding to potential commercial claimants to arbitration proceedings in Hong Kong. It pays for part or all of claimants' legal and administrative costs in return for a share of the final award sum, with the ultimate goal of improving access to justice.
Ozon // Ozon is a climate tech enabler for all stakeholders ranging from big corporations to individuals to achieve net-zero emissions by 2050.
Peek-a-Play // Peek-a-Play provides online live playgroup sessions that users can follow with Montessori teachers to guide their 0- to 3-year olds to sing, dance, paint, and play at home. Using an integrated one-stop app platform, together with in-person boutique community centers, it aims to provide a holistic education to every baby in China.
London Cohort
Azentric Perks // Azentric Perks is the first African-focused technology enabled (web and mobile app) employee perks and discount program. It aggregates negotiated discounts of numerous merchants to offer value/savings benefits on daily spend to employees of subscriber organizations in addition to wellness programs, recognition awards, continuous learning, and networking benefits.
Check the Fit // Check the Fit is a global business-to-consumer (B2C) sustainable apparel one-stop-shop online marketplace, primarily for Generation Z.
Connect4 // Connect4 is developing Connie, a SaaS platform to enable users to develop and maintain strong connections with their wider network. Connie leverages users' existing digital footprint and social platforms to provide relevant personalized nudges to strengthen relationships that are often overlooked.
Nimi // Nimi (formerly Digify.art) advises, structures, and authenticates the transformation of physical artworks into digital media. Nimi partners with museums to issue and market accredited digital replicas of their art collections in the form of non-fungible tokens, providing them with a new fundraising channel and an online community of socially and culturally-minded investors.
PermiTech // PermiTech is building SaaS cloud-based software for industrial PTW that uses process automation and artificial intelligence to decrease probability of human error. It is designed for manufacturing companies operating in hazardous environments including mining, oil and gas production, energy and chemical industries.
Precogs // Precogs is an autonomous cybersecurity product that leverages AI to secure software code for developers, enterprise, and blockchain. The company has been focused on applying AI to assist developers with application quality and security in real-time as they code, which ensures deep defense against cybersecurity risk.
More information about the GNVC can be found here.