Small Business Spotlight: ReformedSchool's Handmade Wearable Art Has Something to Say
Published on
Peter Gaona didn't have much money growing up, but he did have a nose for style. So he learned to distress and take apart his clothes, fashioning new items out of old ones to create a singular wardrobe with his distinct personal flair.
"When you're growing up in Chicago and have parents on a budget and you want the designer item you can't afford, how do you take what you can afford and make it unique and special?" Gaona said.
The South Side native didn't intend to turn his fashion hobby into a business, as he liked dressing differently from everyone else. But today he shares his creations via ReformedSchool, a brand of "handmade wearable art" that uses "fashion as a tool to educate."
ReformedSchool, an alum of the Polsky Center's Small Business Growth Program, sells unique gifts and accessories including bowties made of repurposed fabric, enamel pins celebrating unsung Black luminaries, and throw pillows depicting Black cameos.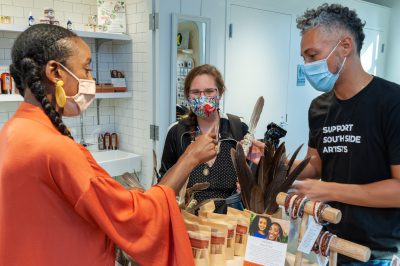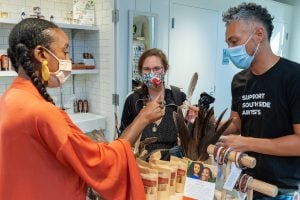 ReformedSchool this fall moved into its first bricks-and-mortar space as one of three businesses to set up shop in the new L1 Retail Store in Washington Park. The trio will occupy the space temporarily as part of the 20-month L1 Creative Accelerator fellowship, run by the University of Chicago initiative Arts + Public Life, which also offers mentorship, marketing strategies, and other business guidance to help spur economic development in the neighborhood.
"We're bringing life back to the block," said Gaona, who grew up in South Shore and Hyde Park and currently lives in Bronzeville. "We are creating programs to not just sell things, but to build a community."
Before he became an entrepreneur, Gaona danced professionally, mostly modern and ballet, and took some informal sewing classes. After he left dancing, and was working part-time at a high school while pursuing his undergraduate degree at Columbia College, he realized his designs could be a handy income source.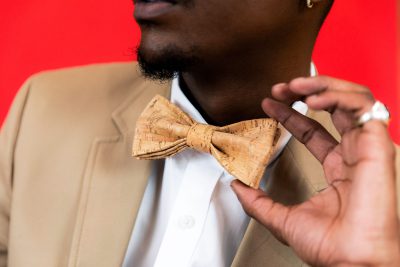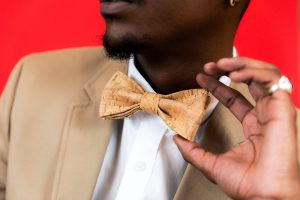 ReformedSchool, which launched in 2013, started with the handmade bowties, crafted of old leather pants and other discarded garments. Gaona found customers on online platforms such as Etsy and at popups such as Randolph Street Market, where a welcoming community of vendors and creatives were happy to share tips on how to grow his business.
Soon enough, Gaona was traveling to sell his wares at the AfroPunk festival in Brooklyn and Atlanta Essence Fest. When he lost his day job at the school he dedicated himself full time to the business, producing illustrations to stamp on apparel, pins, greeting cards, mugs, and other products.
A turning point came when Gaona was commissioned to design an enamel pin for the Schomburg Center for Research in Black Culture in Harlem, one of the New York Public Library's research libraries. The pin depicted the center's eponym, Arturo Schomburg, a Black Puerto Rican historian and activist who collected African-American and Afro-Latin literature and memorabilia during the early decades of the 20th century.
That project led to others – the famous Ailey School in New York, where Goana had trained, contracted him to design some pins for its boutique – and nurtured in Gaona a passion for showcasing lesser-known Black and Latino historical and pop culture figures.
Though the ReformedSchool name initially was meant to reflect the goal of educating people to find new uses for old things, it took on additional meaning as Gaona developed accessories to raise awareness about race.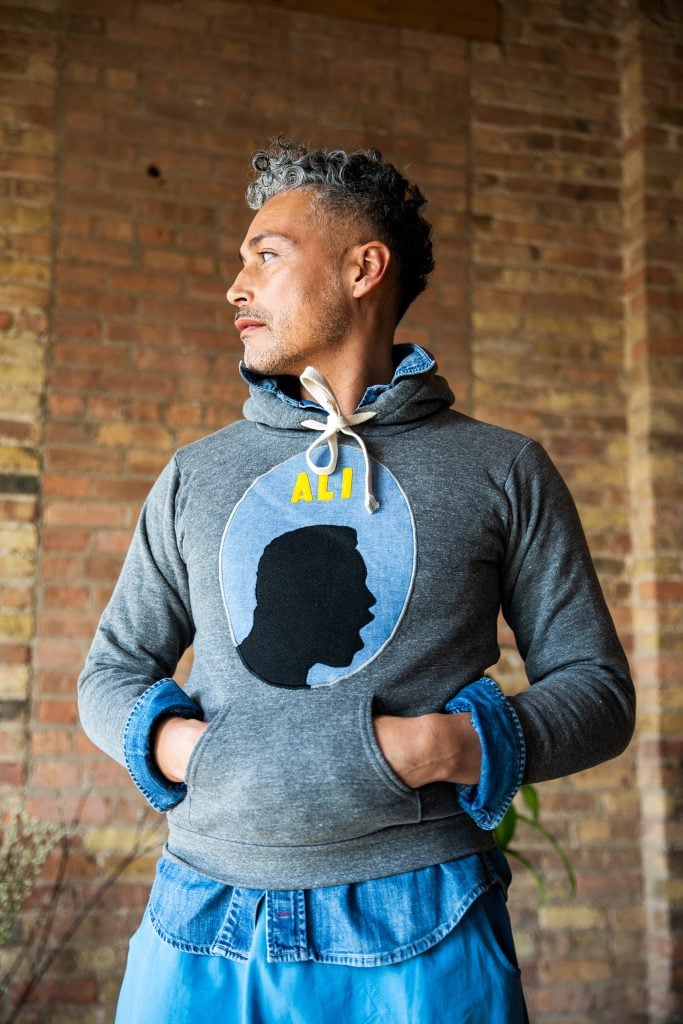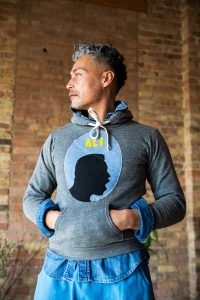 "It is a way to start a conversation with a stranger," Gaona said.
For all his creative confidence, Gaona discovered he had plenty to learn about growing the business.
One of the most useful lessons from the Small Business Growth Program, which he attended this summer, was how to analyze the metrics from all of his different sales platforms to understand where the opportunities are, Gaona said. He realized he needed to shift his strategy to focus on wholesaling to boutiques and gift shops rather than selling to individuals.
Looking forward, Gaona hopes to do collaborations with other brands. And once the L1 Retail Store rotates to a new set of entrepreneurs, he hopes to establish a more permanent physical shop of his own on the South Side.
The unique, one-of-a-kind nature of his products will remain a priority, even as demand grows. Sometimes customers ask him when a limited-edition product will come back out, but he'd rather not make that extra sale.
"I think my customers like the exclusivity, and it creates a sense of urgency," Gaona said.
---
Article by Alexia Elejalde-Ruiz, associate director of media relations and external communications at the Polsky Center. Alexia was previously a business reporter with the Chicago Tribune. Reach Alexia via email or on Twitter @alexiaer.