SeedCon 2021: Resilience and Opportunity
Published on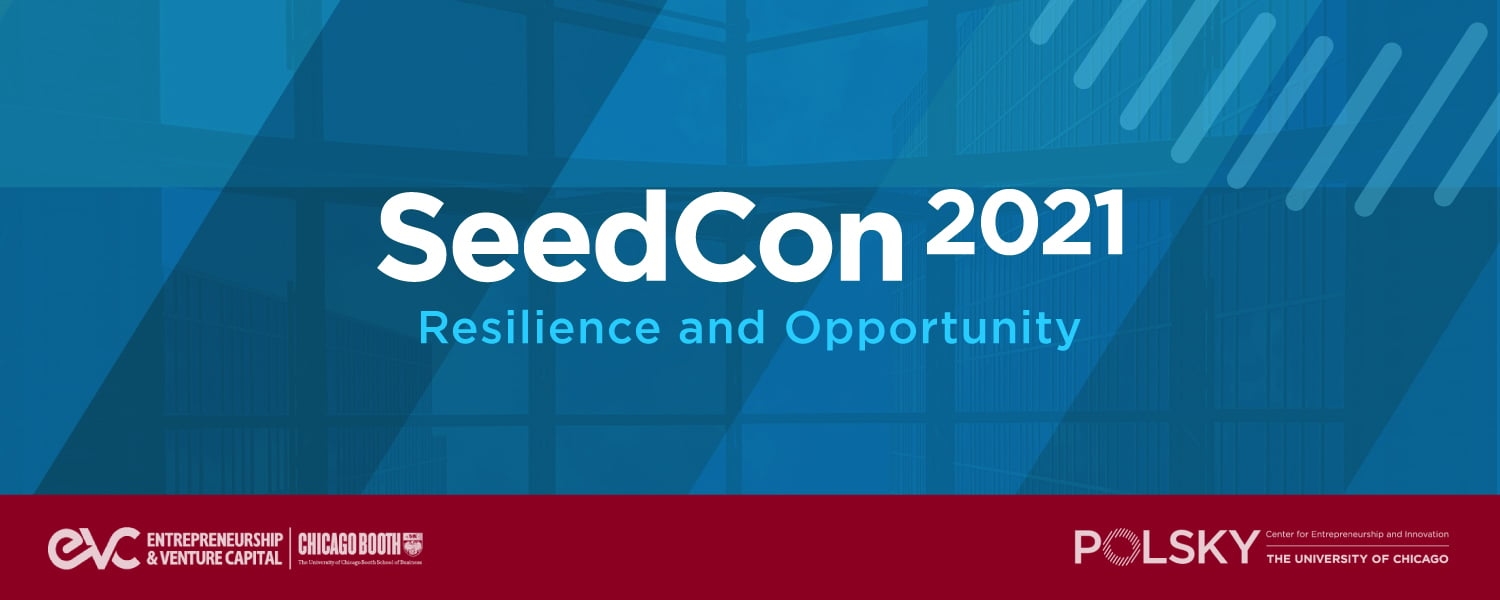 2020 was a year unlike any other. The effects of COVID-19 reverberated across the world and while the challenges each industry faced were different, similar themes and narratives emerged from panels and fireside chats at the Polsky Center for Entrepreneurship and Innovation's annual SeedCon event. 
Co-hosted by the Polsky Center and Chicago Booth's Entrepreneurship and Venture Capital (EVC) Group, SeedCon is Chicago Booth's annual flagship entrepreneurship and venture capital conference. For the first time in its thirteen-year history, SeedCon was hosted virtually through the Hopin digital platform. While we missed gathering in person, this year's virtual setting provided a unique opportunity to bring together members of the Booth community from across the globe. 
The event featured a diverse group of entrepreneurs and investors from industries disproportionately impacted by COVID-19 including professional development and productivity tools, health, and logistics, retail and delivery. Keynote speakers included Deborah Quazzo, managing partner of GSV Ventures; Bob Nelsen, cofounder and managing director of ARCH Venture Partners; and Nick Kokonas, co-owner of Alinea Group and cofounder and CEO of Tock. 
This year's theme, Resilience and Opportunity, was woven into much of the discussion, with speakers focused on the upside of 2020: there were plenty of unique opportunities to innovate and disrupt, if we were willing to find them. Case in point — while last year was an incredibly difficult year for the Chicago community, venture funding in the city reached an all-time high with nearly $3 billion invested last year, according to a report from Pitchbook and the National Venture Capital Association.
Throughout the three-day conference, a few key themes emerged:
Question Old Ways of Working
Last year was all about breaking norms and shifting paradigms, including more questioning of "old ways of working." In his keynote, Nick Kokonas, co-owner of Alinea Group and cofounder and CEO of Tock, explained that whenever he hears "that's just the way that we've always done it," he follows up with "why?" This line of questioning proved extremely helpful as he navigated successfully pivoting both Alinea Group and Tock over the last year. 
Similarly, in the education space, Deborah Quazzo, managing partner of GSV Ventures, said that the COVID-19 crisis was an opportunity to reframe the conversation on standardized testing. Regarding the elimination of the SAT and ACT, Deborah explained that while the tests were originally designed to give more access to those who did not have traditional networks, with the rise of paid SAT and ACT prep, standardized testing has become more of "an indicator of your zip code and your wealth."
"I think we'll have a big change in the role of standardized testing in terms of college admissions. It's a good change…. It's clear that assessment has to be revisited to drive equity," said Quazzo.
Take Calculated Risks
In each of their keynotes, despite the challenges of this past year, Bob Nelsen and Nick Kokonas discussed the importance of continuing to take risks, especially when building or investing in new ventures.  
Bob's advice? Make a lot of decisions, measure them, and try to be right more than half the time. While this commentary pertained to his life science-related investments, the message rang true for all entrepreneurs and investors. "The difference between me being right and a Nobel scientist being right is two or three percent. Most experiments you do are unsuccessful," he added.
For Nick Kokonas, asymmetric risk is critical to his success. Nick believes that it is important to focus your time and energy on efforts with a higher degree of payoff if it works out. 
Flexibility is Key
In a world where everyone is working from their kitchens or living room couches, what does the future of work hold? According to Mila Ferrell, senior product leader at Zoom, the future of work is now: "We are already living in the future, we just don't know it." During the panel on the trends shaping the future of work, Mila explained the future can be categorized by flexibility of location and work hours, better communication, and efficiency.
Similarly, Vinay Hiremath, cofounder and CTO of Loom, predicts that office space will become a space for brainstorming or heads-down, "war-room" work. Vinay also believes that companies that do not embrace hybrid work in the future will lose out on talent across the industry who do not want to live in more expensive cities. 
According to Chris Ahn, principal at Index Ventures, in the future, companies will need to lead with a remote-first approach, anticipating that even with a hybrid work model, it is better to just assume that employees will not be in the office every day. 
Embrace the "New Normal"
Although it took time to adjust to the initial shock of COVID-19, the keynote speakers all shared that once they were able to recalibrate, last year proved to be an incredibly productive and innovative time for their respective teams.
"[COVID-19] forced a war-time effort. That clarity of knowing exactly what you need to do is awesomely motivating," said Nick Kokonas.
Similarly, during his keynote, Bob Nelsen shared that he started Resilience in his robe and hasn't met half of the team in person yet. "It's amazing what you can do in a distributed model with good internet connection," he said.
All proceeds from this year's ticket sales were designated to two local nonprofits, including the Restaurant Employee Relief Fund by Illinois Restaurant Association Educational Foundation (IRAEF) and the Compassion Fund by Children's First Fund. Thanks to more than 200 attendees, the Polsky Center for Entrepreneurship and Innovation was able to make $3,300 cash and $6,000+ in-kind donations in support of the Chicago community. 
While SeedCon was restricted to Chicago Booth students and alumni this year, you can learn more about the event here.