The Future of Media and Entertainment is New Experiences, Distribution Models, Not 'Just Another Streaming Service'
Published on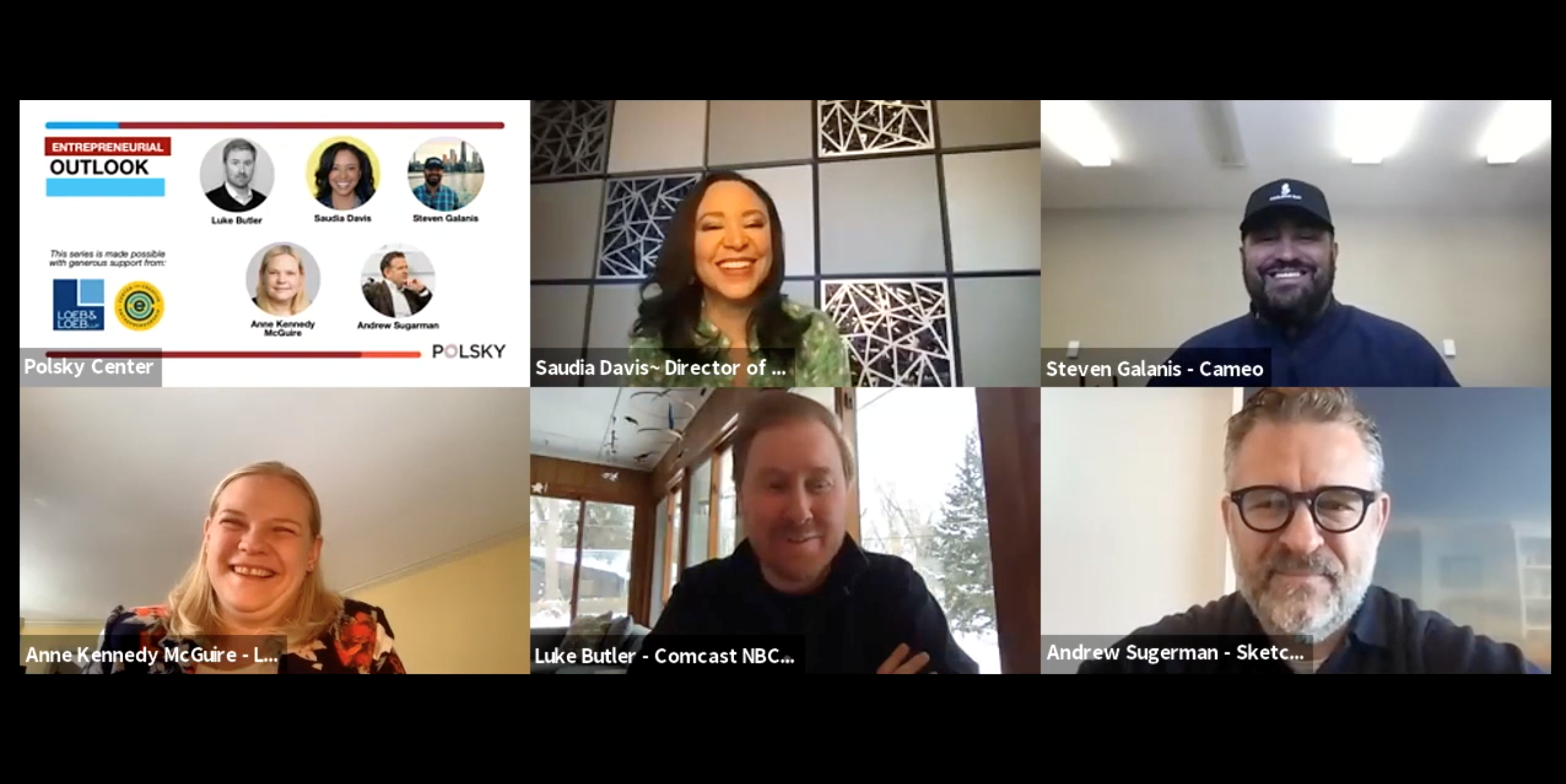 The Polsky Center for Entrepreneurship and Innovation has continued its Entrepreneurial Outlook series with a discussion about the state of the media and entertainment industry – how it has had to adapt and the ways in which technology has enabled connection and content creation to continue amid a difficult year that has kept us largely apart from one another.
"These technologies are helping to sustain not only individuals in their revenue and their ability to earn money, but in their spirits," said Saudia Davis, director, Center for Creative Entrepreneurship, who moderated the panel, which featured expert venture capitalists and entrepreneurs.
As things first began to shut down in March of last year, Andrew Sugerman, MBA '97, president, Sketchy, said he saw two things. The first was an opportunity for whoever could make content. The second was that the shuttering of the box offices was going to "open up the rise of premium video on demand."
Still, much of what happened has been an acceleration of trends that were already starting to emerge. "The pandemic created an immediate need, but then technology met that need and enabled us to do new things," said Luke Butler, senior director, startup engagement, Comcast NBCUniversal.
Made clear in this acceleration is that traditional distribution models aren't going to work, added Butler, who thinks there is a "huge" amount to learn from some of the newer social media platforms. "The opportunity to test things in this new environment is really important," he said. "Some of these emerging platforms are really going to inform the mainstream consumption of media and entertainment."
It also quickly became clear that engaging students through digital was not happening, said Sugerman, who in 2020 was named the president of the online education company, Sketchy.  "There's a huge opportunity in finding ways to take what works in gaming and entertainment and bringing that into learning," added Sugerman, "there is really going to be a coming together of those pieces."
Sugerman predicts that over the next decade there is going to be a rise in technology that the pandemic has ushered in, "and there will be no turning back, it will be a massive movement."
Anne Kennedy McGuire, partner, Loeb & Loeb, added that there will be new opportunities and avenues that weren't thought about before the pandemic hit. "The focus has been on just another steaming service and not real innovation," said McGuire, noting that another streaming service is not the answer.
"Content creators are resilient," she added. "You can't keep content creators and creativity down, they will come up with new ways to thrive no matter what."
Echoing this sentiment, Butler said the future of television is about an experience – not just more content. "What we're seeing is a democratization, barriers are lower, costs are lower… The ability for people to get to their consumers has increased," said Butler.
As these barriers lower, the other trend has been exponential growth in the amount of fame, said Steven Galanis, CEO and cofounder, Cameo. As part of this, there has been a widening gap between this fame and monetization opportunities.
Of the nearly 50 million people on earth who consider themselves to be content creators, few are supported because current business models don't work, noted Galanis, whose company connects celebrities with fans via short video messages. "I think direct-to-fan is the only way we are going to solve this gap between fame and monetization," he said.
"As the world opens up, it's going to look very different than it did before," added Galanis, who early in the pandemic made the decision to keep Cameo's offices closed – as long as employees have internet, they can work from anywhere.
Before COVID, the company had employees in two states in the US, today it has them in 26, and since making the decision to go virtual the size of the company has more than doubled in size. "There are more employees that work at cameo today that didn't work at the office than did," said Galanis, who noted that while this is an attractive offer for many, there also will be companies competing against cameo because they have offices.
"We all have to be inventive to keep moving our business forward," he added. "We have to find a way to leverage technology, work isn't going to look the way it did before."