NVC Alum Crave Natural Secures $650k in Pre-Seed Round for Healthy Food Startup
Published on

Crave Natural in November raised a $650,000 pre-seed round of funding. Founded by Chicago Booth MBA candidate Lin Jiang, Crave Natural is a healthy food company with an East Asian influence. Using nutritional science and organic ingredients, the company makes food products to support healthy living.
Right now, Crave Natural offers four flavors of oatmeal, all of which are gluten free, vegan, and 100% natural. Each flavor is focused on a different health function: black sesame (energy), adzuki bean (glow), silk osmanthus (calm), and taro black tea (focus).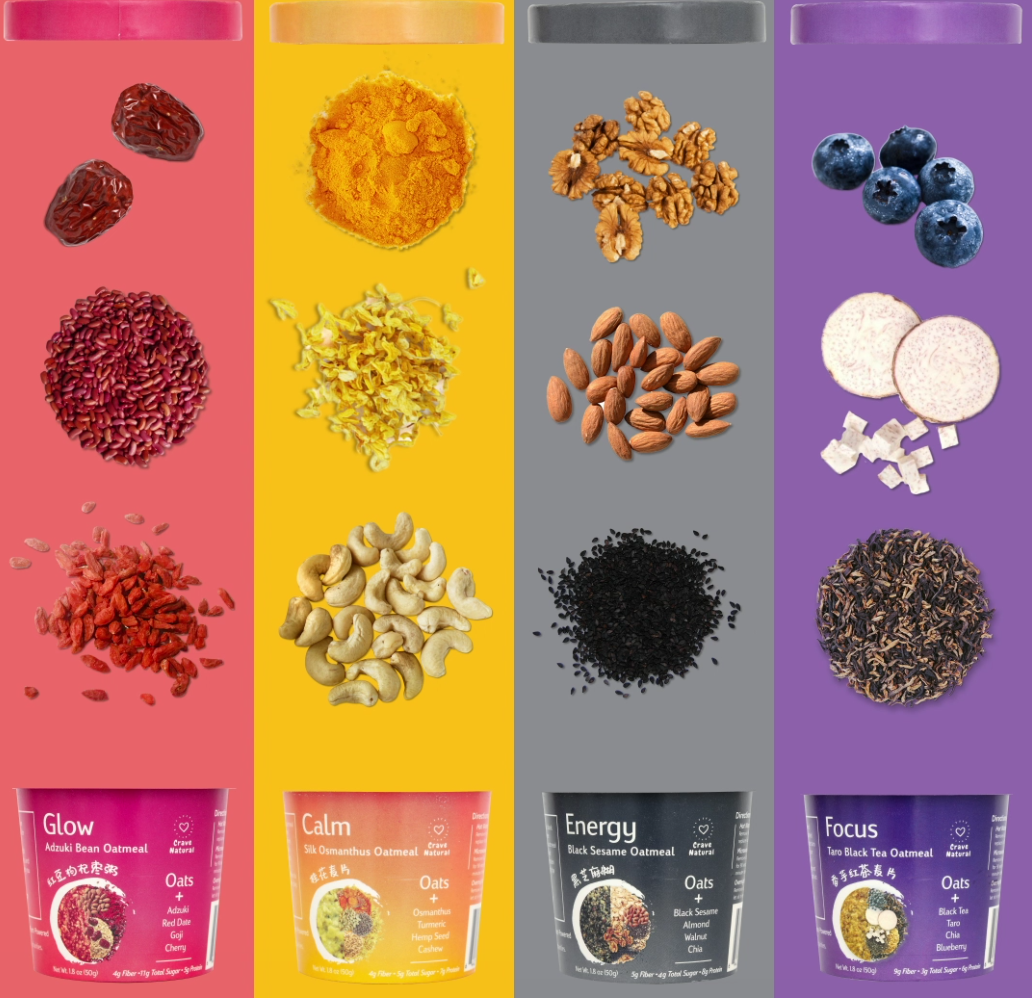 Jiang developed the idea for Crave Natural while working in consulting. Exhausted at the end of the day, she wanted foods with nutritional ingredients, similar to those that her mother made during her childhood in China. She particularly missed her mother's black sesame soup. "It's a very popular Eastern Asian breakfast food and dessert," said Jiang. "It has a lot of health benefits in the recipe because of the functional ingredients, like the black sesame and walnuts that go into it." She worked on her own black sesame soup recipe and eventually shared it with coworkers, who loved it. This inspired her to launch the company in the spring of 2019, the same time she began at Chicago Booth.
To grow her idea, Jiang turned to the Polsky Center for Entrepreneurship and Innovation where she found the resources and mentorship to build the company's foundation. "[The Polsky Center] helped me to stay organized at the very chaotic early stage," she said.
This led her to apply to the 2020 Edward L. Kaplan, '71, New Venture Challenge (NVC), the Polsky Center's nationally ranked accelerator program, where Crave Natural was a finalist. "It's more than a competition," Jiang said. "The whole experience really helped me narrow down my strategic focus and pushed me to do as much as I could within a very short period of time." Jiang also worked on the investor pitch, which helped her in complete additional fundraising after the NVC.
Part of this past November's investment will go to building out the company's ecommerce offerings. "Nowadays," Jiang explained, "consumers are everywhere. They shop online, they shop on social media." Crave Natural will work on building a strong presence across different online channels to grow sales, she said.
The main focus of the funding, however, is a complete rebrand. This includes new packaging and a new name, slated to be announced this June. As part of the packaging, the company will further emphasize its Asian roots and the health benefits of the products. "We took a leap of faith," remarked Jiang, "but the rebrand turned out really well."
Jiang is already selling the new brand to retail stores. "By the time it will get into the store," she explained, "we will have the product ready." According to Jiang, retailers have given her positive feedback on the changes.
The company is currently in 120 retail locations, including all Whole Foods locations in Illinois. With a current expansion underway, by the end of the month Crave Natural will be carried in independent stores around San Francisco, Los Angeles, Portland, as well as throughout the Midwest, including Wisconsin and Indiana.
---
Article by 

Julianne 

Lorndale

, marketing coordinator at the Polsky Center. Julianne recently graduated cum laude from the College at the University of Chicago, where she divided her time between Creative Writing and Italian Studies. Reach Julianne via 

email

, on 

LinkedIn

 or on Twitter 

@jlorndale

.