Chicago Booth Professor Steve Kaplan, a Top Private Equity and Finance Scholar, to Lead Executives' Club of Chicago Tech Outlook with Prominent Entrepreneurs and Investors
Published on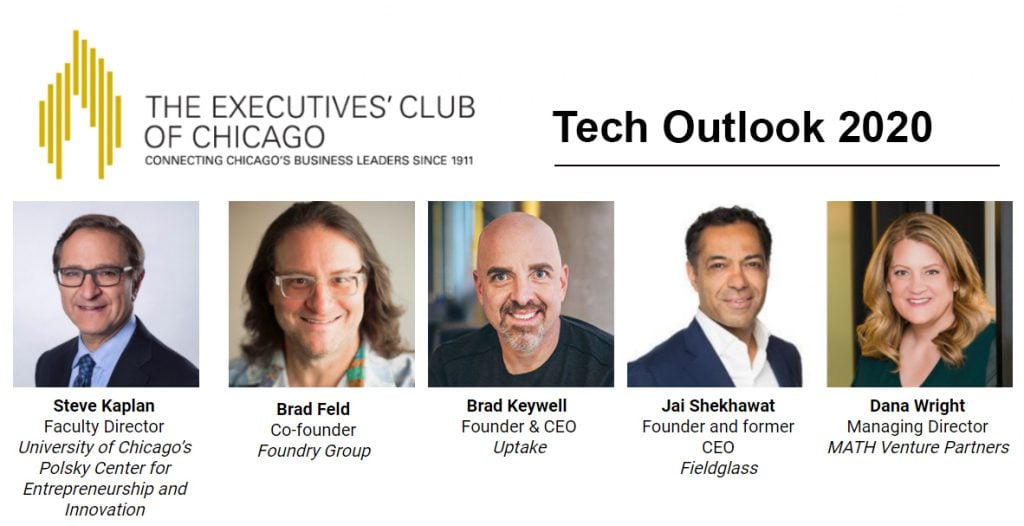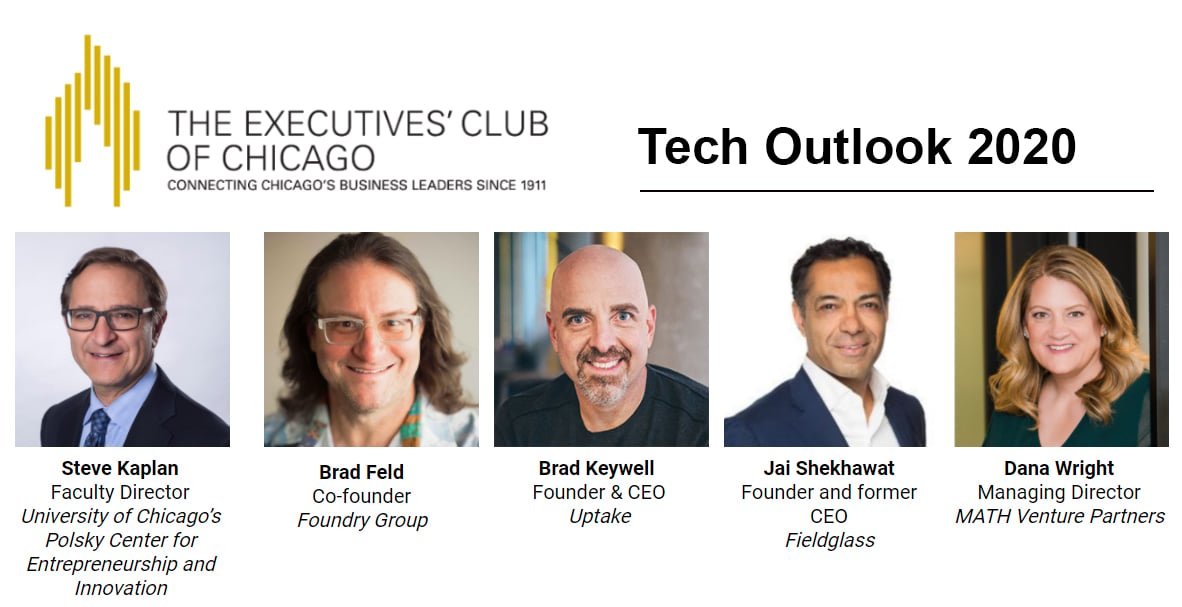 On November 20, The Executives' Club of Chicago will present their Tech Outlook event, led by Neubauer Family Distinguished Service Professor of Entrepreneurship and Finance at the University of Chicago Booth School of Business and Kessenich E.P. Faculty Director of the Polsky Center for Entrepreneurship and Innovation, Steve Kaplan.
The virtual conversation will feature tech experts: Foundry Group cofounder Brad Feld; Uptake founder and Groupon cofounder Brad Keywell; Fieldglass founder and angel investor Jai Shekhawat; and venture capitalist and M&A expert Dana Wright of MATH Venture Partners. They'll provide their investment outlook for startups in Chicago and the Midwest, as well as forecasts for fundraising, exits and IPO activity.
>> To register for the webinar, click here. University of Chicago students can register for FREE using the code TECHCOMP.
Steve Kaplan cofounded the Polsky Center and the entrepreneurship program at Chicago Booth. He also started the Edward L. Kaplan, '71, New Venture Challenge (NVC), which is recognized as one of the top accelerator programs in the nation. This year marks the 25th anniversary of the NVC, which has included over 800 companies that have raised almost $1 billion and created over $8 billion in value to investors including Grubhub, Braintree/Venmo, and Simple Mills. Kaplan teaches advanced MBA and executive courses in entrepreneurial finance and private equity, corporate finance, corporate governance, and wealth management at Chicago Booth and a Fortune Magazine article referred to him as "probably the foremost private equity scholar in the galaxy."
Brad Feld is cofounder of Foundry Group, a Boulder, Colo.-based venture-capital firm, and Techstars, a startup accelerator. As an early-stage investor with more than 20 years of experience, Feld is a speaker on the topics of venture capital investing and entrepreneurship. He's written a number of books as part of the Startup Revolution series and writes the blogs Feld Thoughts and Venture Deals.
Brad Keywell is the founder and CEO of Uptake, an industrial artificial intelligence software company. As a serial entrepreneur and investor, he is a founding investor of Tempus, and a founder of Groupon, MediaOcean, Echo Global Logistics, and Drivin. Keywell created Chicago Ideas, a conference and connectivity platform; Future Founders, an entrepreneurship education organization, and Wndr Museum, an ever-evolving immersive art and technology experience that is designed to ignite the curiosity. He was recognized as the 2019 EY World Entrepreneur of the Year.
Jai Shekhawat cofounded Fieldglass, a cloud platform for the management of contingent labor and services, which was acquired by SAP in 2014. He has more than 18 years of experience with software development, information technology and management consulting. He is an entrepreneurial partner and advisor for Chicago Ventures, which invests in innovative early-stage tech companies. He is a mentor within the Chicago entrepreneurial community and has held various civic and board positions including serving on the Mayor's Council of Technology Advisors (MCTA) for the City of Chicago, and the board of TiE Midwest.
Dana Wright is managing director at MATH Venture Partners and has more than 20 years of investing and operating experience. She is a leading voice on fundraising strategy, leadership during extreme growth, managing board dynamics, and optimizing for an exit. Prior to joining MATH, Dana was a corporate development executive at Gavilon, a private-equity sponsored commodity management firm that spun out of ConAgra Foods in 2008. After successfully scaling the operations to include multiple acquisitions, Gavilon sold in 2013 for more than $4.5 billion.