Digital Incubation Platform, Rainwater Collection System Tie for First Place at 2020 SNVC Finals
Published on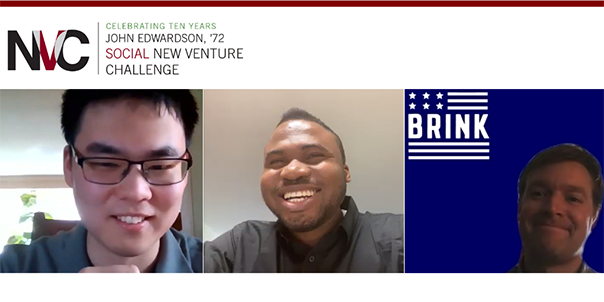 The Rustandy Center for Social Sector Innovation and the Polsky Center for Entrepreneurship and Innovation have announced the winners of the 2020 John Edwardson, '72, Social New Venture Challenge (SNVC).
Winners of the 10th annual SNVC, which launches enterprises with a social impact mission and a plan for financial sustainability, received a total of $100,000 in venture funding.
The winners are:
First Place (tie) ($40,000): LivingWaters has developed a low-cost, easily deployable rainwater collection system to provide clean water to the world's displaced populations in refugee camps and informal off-grid settlements. Team members: Joseph Bajor, Caleb Kao, Joshua Kao, Juliana Piza Caballero, Angela Remus, and Gabriela Saade (School affiliation: Booth, Harris, Law School).
First Place (tie) ($40,000): ImpactToolbox (I-Toolbox) is a digital incubation platform that provides youths and emerging social entrepreneurs in Sub-Saharan Africa with the opportunity to learn, network, and access seed funding to transform their ideas for social change into viable social ventures. Team members: Linh Dinh, Segun Fatudimu (School affiliation: Harris).
Third Place ($20,000): Brink is a nonprofit focused on making the American democratic process more inclusive for people with disabilities by using technology to simplify and improve the voting experience. Team members: Eden Avriel, Duke Best, Dylan Bulkeley-Krane, and Steve Puiszis (School affiliation: Booth).