Record-Setting NVC Alum Talks Passion, Growing Pains, and Putting Her Foot Down
Published on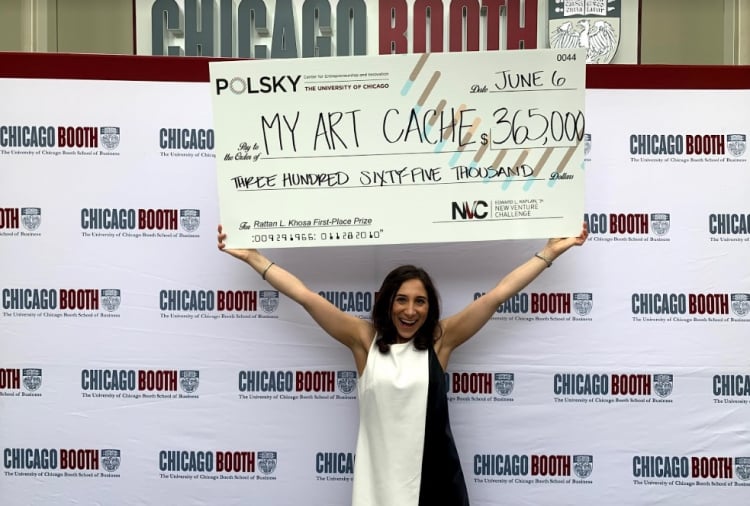 Breaking boundaries means knowing when to make unpopular decisions for Jilian Fenton, the founder and CEO of My Art Cache – which brought in a record-setting prize during the 2019 New Venture Challenge.
The company is a dealer-to-dealer sales platform that connects art dealers and art professionals and is currently in a closed Beta for a select group of customers.
For the idea, Fenton last year won the Edward L. Kaplan, '71, New Venture Challenge, taking home the Rattan L. Khosa First-Place Prize and $365,000 – which included $150,000 from Khosa, a Chicago Booth alumnus, as well as $215,000 from eight additional investors.
To further discuss life since the NVC, the challenges of getting a new business off the ground, and her advice for women in the workplace, we caught up with Fenton for this month's final Women Breaking Boundaries feature.
How did you get your start in entrepreneurship?
My interest in entrepreneurship began at a young age. Growing up, I looked up to my parents who each ran their own respective businesses. In college, I followed my passions and studied Spanish at Washington University in St. Louis. During my Junior and Senior year of college as the reality of graduation started to set in, I took an internship at a seed-stage startup to try my hand in business. The internship piqued my interest in the startup environment because it was challenging and exhilarating.
After graduation, I wanted to work for a small business. I started working for my mother, who ran our family art business while simultaneously consulting for a few local startups. I loved that I was able to apply my newfound business acumen to help grow my family business. I learned so much in such a short period of time because I had opportunities that were not given to people my age at large companies. It was during this period of growth that I decided that I wanted to be an entrepreneur someday.
What drives your passion?
Art is more than just my job; it has been a huge part of my life and my upbringing. When I moved into my dorm in college, we brought art to fill my walls because I had never lived with a white wall… ever. My mother, Phyllis, has been a prominent Texas art dealer for over 35 years. She showed me that the art world is fascinating, the climate is electric, and the people are passionate.
Today, my job is exciting: I travel to art fairs, attend gallery openings, and network with new and existing colleagues at industry events around the globe. I consider myself an art dealer, and as such, I am passionate about building up the careers of talented artists. Supporting an artist through his or her career comes with a multitude of challenges unique to this industry. I am motivated by my desire to be a part of the resolution to these challenges that dealers like my mother face every day in the online art market.
How were you positioned for your current role?
While the art world might seem mysterious to some, I have never known another way of life, and the way it works is easy to anticipate and even intuitive for me. My unique art background formed the foundation that I needed to start and grow My Art Cache. Fortunately, I've also had significant career experiences outside of the art world that shaped how I think about my business.
After working in the family art business, I moved into technology consulting. When leaving the consulting firm, I was itching to get back into entrepreneurship. So, I took a job at a Series B startup in software sales. I stayed at this firm until beginning my MBA at Chicago Booth where I've studied economics and entrepreneurship.
My experience in the art world, sales, and technology positioned me perfectly to run an art tech company, as these skills are critical to the success of my business today. On top of all that, my MBA experience, including access to coursework, professors, and of course, Polsky, has rounded off my experiences to give me the best possible head start as the CEO of an innovative art tech company.
Did you encounter more challenges getting your business off the ground as a woman compared to men in similar positions?
Every entrepreneur faces challenges, this is a tough job! Let's face the facts: most CEOs are male. The art world is no different. The vast majority of auctions, large galleries, and art software companies are led by men. As a female CEO, I've faced challenges that I know my male counterparts have not had to deal with in their work. I've been the only woman in a boardroom filled with men. At times, I've felt that others have underestimated me because I am a woman. These moments fuel my energy to be a better entrepreneur and to prove that being a woman enhances my ability to lead.
While I cannot holistically compare my experience to that of a man in my position, I will say that I am lucky. After winning the New Venture Challenge (NVC), there are many doors that are now open for me that might not be available to others, regardless of gender. As the NVC champion, there are many individuals who now return my calls who may not have under ordinary circumstances. I am incredibly grateful for these opportunities and have honestly never thought of myself as "disadvantaged" because of my gender. Instead, these challenges inspire me to be a better manager, CEO, and individual.
What professional milestones are you most proud of?
Without a doubt, I am most proud of winning the NVC in June 2019 and subsequently building my business from the ground up.
What challenges did you face in the process?
So many obstacles! The NVC pushed me out of my shell and forced me to reconsider every aspect of my business. Admittedly, the business that I run today is dramatically different from the business that I described in my application to the NVC over a year ago. This is because mentors, coaches, and investors pushed me to think critically about the business model that I worked so hard to build and to be unafraid to make changes that would enhance the sustainability of My Art Cache.
I worked so many long hours during the 10 weeks of the NVC, and I honestly thought that experience would be the hardest I would ever work. Little did I know, those growing pains were just the beginning of an uphill battle. The everyday obstacles that I faced in the first 6-months were anything but easy to overcome. Not long after winning the NVC, I felt like I had taken on the role of the company attorney, human resource director, accountant, social media manager, and so much more. Even something as simple as making a job offer usurped what felt like hundreds of hours. Every decision felt like a shot in the dark.
After spending several years working for startups of all stages, I was certain that I would have had a head start. I quickly realized – "you don't know what you don't know." Over time, I honed my decision-making skills, and these little choices became easier to evaluate each time. Every new milestone comes with new challenges, and that is truly the best part of being an entrepreneur.
Do you have any advice for women looking to break boundaries in the workplace?
Yes! First: Follow your passions, regardless of outside pressure. For the first time in history, women are no longer confined to the antiquated version of "what a woman should be." Follow your passions, whether that leads you to a typically male-dominated industry or not.
Second: Be confident. In my experience, I've noticed that some women are either reluctant to share their ideas or shy away quickly in the face of criticism. In work as in life, we should pick our battles. But once you're on the battlefield, don't surrender after the first shot. Stand your ground confidently and respectfully.
Third: Own your decisions and your mistakes; stop apologizing for them. Humans make a lot of decisions, many of them are mistakes. Don't apologize for being a human who makes mistakes. Admit your failure, fix the problem, and don't repeat it! I tell my employees regularly – it's OK to fail, just fail fast, fix it, and don't repeat the mistake. Many of the mistakes I made early on in my business led me to the most incredible opportunities later down the line. Be thankful for your failures!
What does breaking boundaries mean to you?
To me, breaking boundaries means knowing when to make unpopular decisions. First, we must sometimes ignore the advice of others. When you're constantly seeking other people's advice and validation, you can't develop your own "danger radar" and learn from your mistakes. Trust in yourself, even when others may prejudge you or doubt your capabilities.
Second, we must know our non-negotiables and stand our ground. Entrepreneurs receive a lot of pressure from employees, advisors, investors, customers… the list goes on. Being adaptable is key, but so is knowing when to put your foot down.