Phase II Teams Selected for the 2020 Social New Venture Challenge
Published on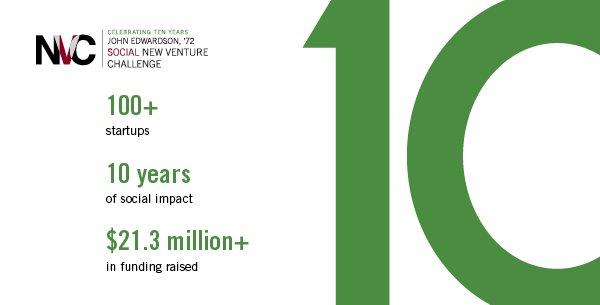 On Thursday, 17 teams advanced to the next round of the 2020 John Edwardson, '72, Social New Venture Challenge (SNVC).
With the announcement, teams advance to Phase II of the startup competition, which allows University of Chicago students to work throughout the Spring Quarter to launch a nonprofit or for-profit enterprise with a social mission at its core.
Finalists will compete for $100,000 in cash prizes at the SNVC Finals on Tuesday, June 2, at the Harper Center.
Operated by Chicago Booth's Rustandy Center for Social Sector Innovation, along with the Polsky Center for Entrepreneurship and Innovation, the SNVC is the social impact track of the Edward L. Kaplan, '71, New Venture Challenge (NVC), the university's nationally ranked accelerator program.
This year, the SNVC is celebrating 10 years of social impact, having helped jump-start more than 100 startups that went on to raise more than $21.3 million. Past winners include solar-powered light company LuminAID, Nigeria-based tractor-leasing company Hello Tractor, online voter guide BallotReady, and autism therapy startup AIM Clinics.
2020 SNVC TEAMS INCLUDE:
Brink is a nonprofit focused on making the American democratic process more inclusive for people with disabilities by using technology to simplify and improve the voting experience. (School Affiliation: Booth)
Ceres is a digital health platform that empowers women to safely, affordably, and discreetly manage unintended pregnancies through three telemedicine services: a supportive social network, family planning education, and mail-order medication abortion. (Pritzker School of Medicine)
CleanStream assesses the health and safety of at-home tap water to recommend solutions that aid in removing present contaminants and improve drinking water quality in the community overall. (Law School)
Do Good Collective is an enterprise SaaS platform that helps advocacy/service organizations tell their impact story more effectively to reach individual donors and charitable foundations that are looking to support a more diverse group of nonprofits. (Booth)
Givaly is a for-profit, subscription-based web platform that provides employees at small and medium-sized companies a way to find grassroots volunteers opportunities at nonprofits. (Booth, Graham School, SSA)
GrantDev aggregates and analyzes community data to augment grant applications and reports, streamlining the application process for grant makers and nonprofits. (Booth, Harris, SSA)
HyperImmersive Experience for Social Good (HESG) is a nonprofit that aims to leverage virtual reality to increase empathy for advocacy organizations and other nonprofits by creating more effective Public Service Announcements. (Harris)
Impact Toolbox (I-Toolbox) is a digital social venture incubation and networking platform that offers training, mentorship, networking, and idea development opportunities to young civic leaders and social entrepreneurs in Sub-Saharan Africa. (Harris)
LivingWaters is developing a low-cost, easily deployable rainwater collection system to provide clean water to the world's displaced populations in refugee camps and in other off-grid communities. (Harris)
NatureClaim provides information on the safety, efficacy, and quality of dietary supplements and superfoodss. (Biological Sciences Division, College)
NGOrganize provides digital tools to help nonprofits manage, monitor, and report social impact and success in a quantifiable way to donors and communities. (Booth)
Organic via Tech aims to empower rural farmers in China by integrating agricultural technologies in their sustainable farming practices—producing affordable, organic food—and connecting farmers directly to metropolitan customers. (Graham School, Harris)
People's Energy aims to provide a more reliable, clean, and affordable electricity alternative to residential areas of Haiti through a decentralized model that better manages demand and enables sharing amongst users. (Booth)
Ponte is a tech platform that aims to bridge the gap between people struggling with addiction, their families, and the recovery healthcare resources available to them. (Booth)
The Bridge is an e-commerce platform for artisans in developing and underdeveloped countries that will provide them with access to international markets, fostering economic development and reducing poverty. (Harris)
Wagyl provides a platform for Internet of Things (IoT) deployments with a focus on climate tech and clean tech applications. (Booth, Graham School)
Zocalo is an adaptive math learning mobile and web application for elementary school students in Latin America. Booth)
To get the latest on news and events planned around the 10th anniversary of the John Edwardson, '72, Social New Venture Challenge (SNVC), sign up here.
To register to attend or tune into the 2020 SNVC Finals on Tuesday, June 4, register here. If you're in Chicago, you can also join us for the Taste the Impact Reception later that day to enjoy beverages and food from social impact startups while we await the SNVC winners' announcement. RSVP here. 
*This article was originally posted by the Rustandy Center for Social Sector Innovation.