Polsky Launches New Program to Support University Alumni and Entrepreneurs Around the World
Published on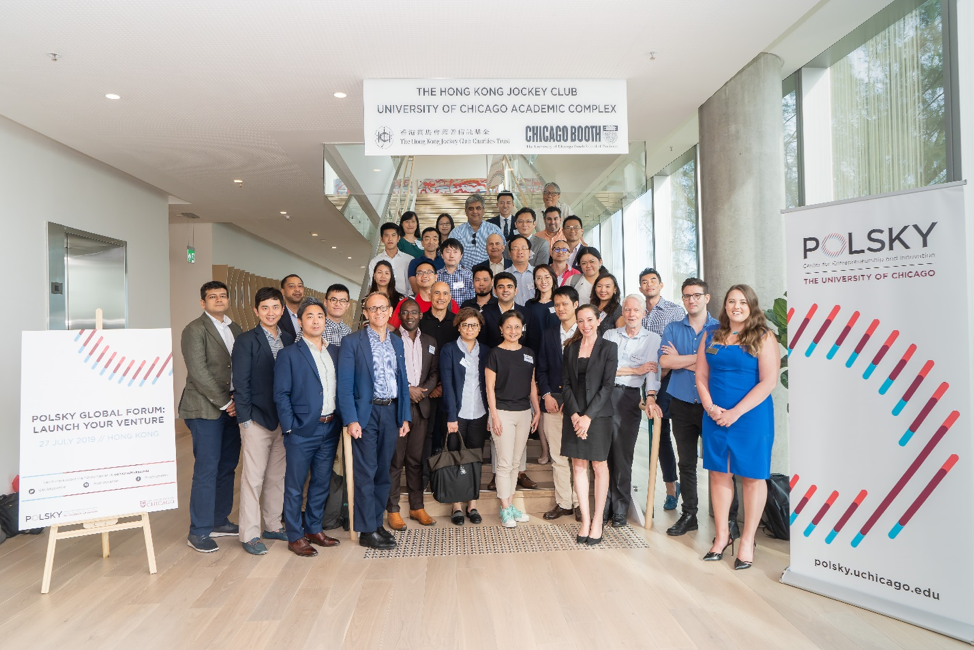 First Polsky Global Forum Sessions Held in Hong Kong and London
In an effort to expand support for University of Chicago alumni around the world, the Polsky Center launched a program called the Polsky Global Forum. These day-long events are designed to bring the Polsky Center's entrepreneurship education abroad and provide alumni with the opportunity to learn from Chicago Booth faculty in a 'back to the classroom' setting.
The inaugural Polsky Global Forum, focused on Launching a Venture, was held on July 27 at The Hong Kong Jockey Club University of Chicago Academic Complex | The University of Chicago Francis and Rose Yuen Campus in Hong Kong. The session featured two educational sessions on the topics of customer discovery and entrepreneurial selling, taught by Polsky's executive director Starr Marcello, AM '04, MBA '17; a fireside chat between Jay Schrankler, the new head of the Polsky Center, and serial alumni entrepreneur, Franck Benhamou, MBA '90; and a session on the startup landscape in Hong Kong presented by Pritish Sanyal of AngelHub.
The second Polsky Global Forum was held on September 13 at the Chicago Booth campus in London. The event focused on Angel Investing,and participants had the opportunity to test their knowledge through an interactive investment simulation. The Forum in London included an 'Angel Investment 101' presentation facilitated by Cornel Chiriac, MBA '12 of the Chicago Booth Angels Network (CBAN) and a special session on impact investing led by Gordon Eichhorst, MBA '97 of Resurgo Ventures. Attendees heard from industry and investment professionals during the afternoon panels to learn about investment opportunities in energy transition and fintech.
The day-long program concluded with the inaugural  University of Chicago Alumni Entrepreneur Demo Day, featuring six alumni-founded startups  that are currently in the process of fundraising in the region. These include Cyberfishing, Jobhawk,  MobieTrain, Spatium, VTX Partners, and WhiteLab Genomics. This marks the first time the Polsky Center has run a demo day for alumni-founded companies outside the U.S.
Cerise Miller, associate director for global engagement, leads the Polsky Center's global initiatives and international partnership efforts. She works out of Polsky's first international office, which opened in June at The Hong Kong Jockey Club University of Chicago Academic Complex | The University of Chicago Francis and Rose Yuen Campus in Hong Kong. Miller is responsible for designing and implementing entrepreneurial programs both in Hong Kong and across the globe. In this role, she drives the Polsky Center's international strategy and serves as a key strategic relationship-builder, particularly in Asia and Europe.
"We have a tremendous opportunity to support our alumni both in Asia and globally," she said. "There is so much energy and enthusiasm for our new international programs and no shortage of new ideas for what we can offer next."
The Polsky Center will host its next Polsky Global Forum on November 6 in Singapore. The session is focused on Scaling a Venture, and will be taught by Waverly Deutsch, clinical professor of entrepreneurship at Chicago Booth who also leads Polsky's Global New Venture Challenge. To learn more and to register for this upcoming session in Singapore, click here.