Inaugural ETA Alumni Symposium Reveals the Intricacies of Buying and Building a Business
Published on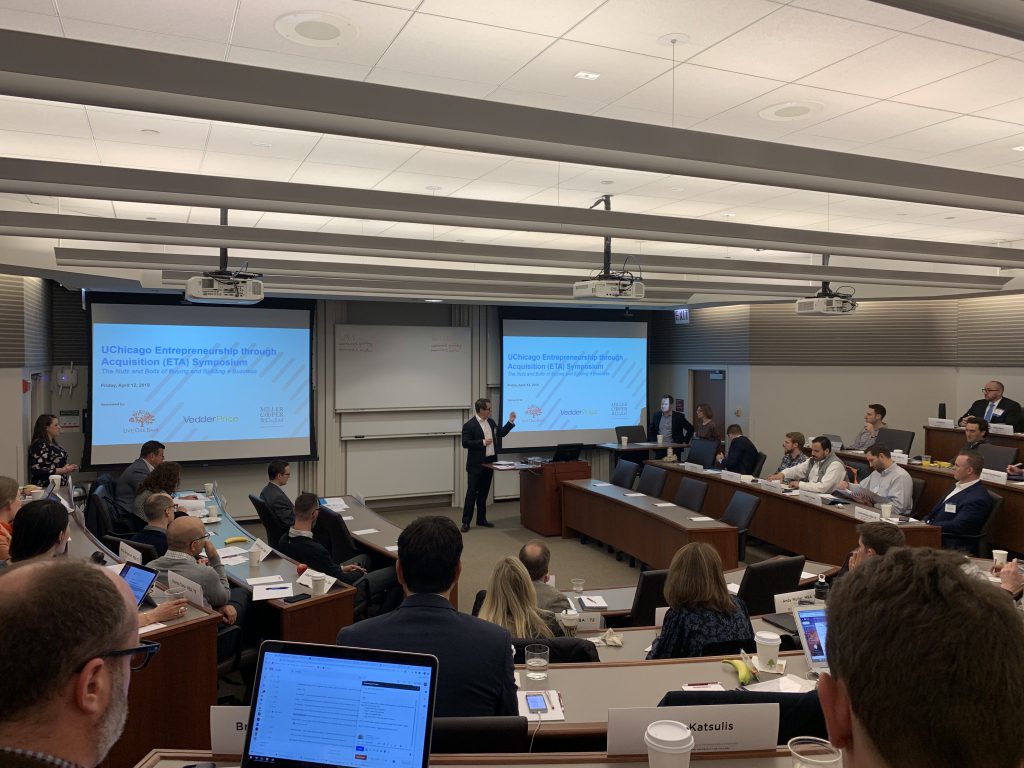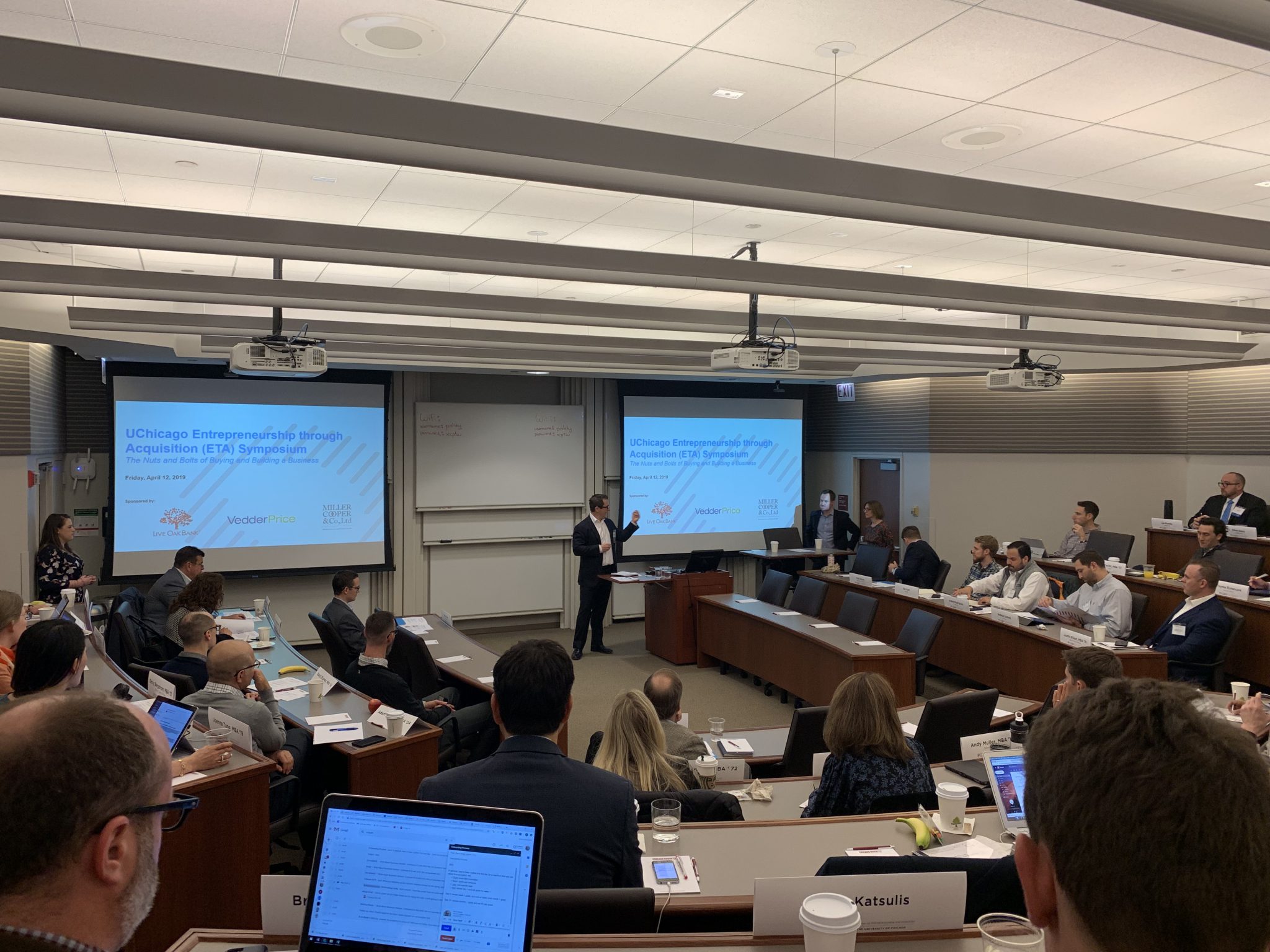 Over the last six years, Chicago Booth's Entrepreneurship through Acquisition (ETA) program has taken off as a popular focus for students. It's also become a subject of interest for University of Chicago alums across the globe. To give alums a taste of what Boothies learn in ETA courses offered, Brian O'Connor, an adjunct assistant professor at Booth and the founder and managing partner of NextGen Growth Partners, along with the Polsky Center for Entrepreneurship and Innovation hosted the first-ever Alumni ETA Symposium on April 12. O'Connor, one of the nation's foremost educators on ETA, conducted two sessions before the symposium closed with a panel—seven expert practitioners of different positions in the acquisition process who offered invaluable insight.
The model for this symposium differs from the annual ETA Conference, which welcomes over 600 attendees and connects search fund entrepreneurs, investors, MBA students, faculty, and other active members of this entrepreneurial ecosystem with each other to share insights. This symposium was specifically designed for alumni interested in buying and building a business. The sessions, led by O'Connor, concentrated on the models of ETA, the pre-acquisition process, and advice for each step—from selecting an industry and target to meeting investors and closing deals, to transitioning into the executive office. The symposium then shifted to a panel discussion, allowing the attendees to see the real-world applications of O'Connor's lecture topics.
Sam Duprey, vice president of finance and corporate development at Kingsway Financial Services Inc, was the first to speak. As an investor who has worked with a variety of asset classes, including traditional search and self-funded, he spoke of the traits that investors look for in an entrepreneur—intelligence, hunger, and integrity. However, he added that rather than having a rubric for a business model to follow, he instead watches for warning signs that he knows to avoid from experience.
"There's a bunch of ways for a deal to go wrong, and one way for it to close right."
— Dave Newberry
The conversation turned to the difficult necessity of walking away from deals. Several panelists shared stories about deals that fell through due to uncontrollable circumstances in order to illustrate their point that a hopeful entrepreneur must accept that time, diligence, and money may not always be enough.
This segued into Dave Newberry, MBA '15, discussing deals that fell through during his own search. Despite these setbacks, however, Newberry is now president and CEO of Contada Global, attributing this success to being permissive, accepting the many uncontrollable variables involved with business acquisition, and continuing to work hard despite the uncertainties. As another panelist concluded, "It is mostly luck, but that's the best way to maximize that luck."
"Don't be afraid to walk away[…] Make sure you're not emotionally chasing deals."
— Darrin Shillair
Darrin Shillair, MBA '16, the president of specialty sales brought up one of the biggest problems that searchers struggle with: becoming too affixed on what seems like a great deal. Duprey chimed in to add that even though continuing to work hard throughout the process is important, it is also necessary to find another activity to channel energy into. This advice was "the single best way to prevent getting too hungry for any one deal." As the deal approaches a monumental point, Shillair stressed that staying disciplined will prevent the emotional attachment from agreeing to unbeneficial compromises just to close the deal.
"Funds do make a huge difference, [but] just think about how time is the biggest commodity that you have."
— Josh Weiss, MBA '17
Panelists then began to break down the costs and best practices of a search and highlighted a few resources that areas valuable as they are expensive. Raam Jani, a shareholder at Vedder Price and a member of the firm's corporate practice, recommended hiring a lawyer from the beginning of an acquisition, as it would show commitment, while also minimizing the time and effort spent trying to figure out the details of the LOI.
A principal with Miller Cooper, Tad Render, discussed the importance of utilizing firms like his as a resource to verify the seller's proposed financials and growth. By working with an accounting firm, the searcher would be ensured that they are moving forward with a sound acquisition and possibly decreasing the purchase price even on the day of close. Render also encouraged small businesses to communicate with the seller if struggling to cover costs required to close the deal, as occasionally, they may agree to split the costs rather than have the deal falling through.
Most of the other panelists joined in to advise developing a good relationship with the seller and employees when making the transition into an operating role—Shillair highly recommended not talking about plans to improve the business in order to build rapport with the staff and to "just learn", as not all the details will be known.
Special thanks to sponsors Live Oak Bank, Vedder Price, and Miller Cooper. This event would not have been possible without your generous support and the valuable expertise that your representatives provided as panelists. Those interested in attending the next Alumni ETA Symposium are encouraged to contact Nora Mansfield at nora.mansfield@chicagobooth.edu.