PODU, the First Arabic Podcast Platform, Wins $15,000 at the 2019 College New Venture Challenge
Published on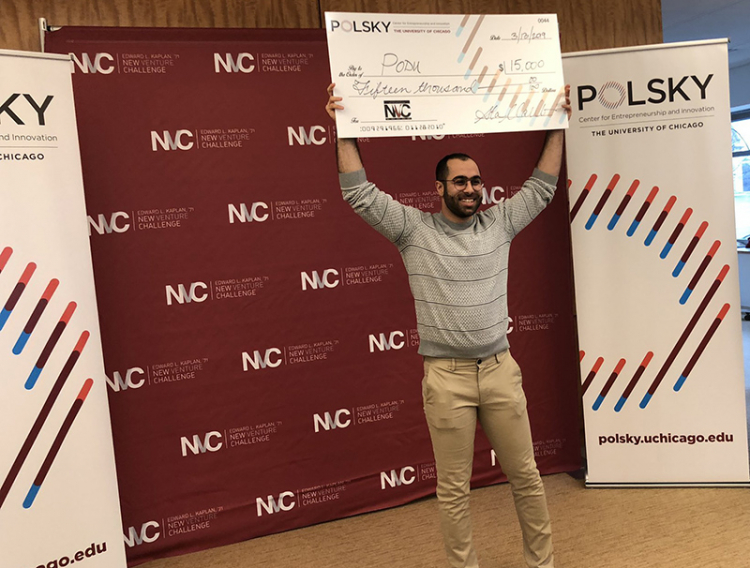 The Polsky Center for Entrepreneurship and Innovation at the University of Chicago is pleased to announce the winners of the 2019 College New Venture Challenge (CNVC). The CNVC is the undergraduate track of the University's business launch program, the Edward L. Kaplan, '71, New Venture Challenge (NVC), which is a nationally-ranked accelerator program.
While 2019 marks the seventh year of the CNVC track, the Polsky Center began offering the CNVC as an official for-credit class for undergraduates in the College in 2018. The 2018 CNVC top winner was Quevos, an innovative food startup that makes egg white protein chips. Other CNVC alumni companies include Cubii, Fronen, and Moneythink.
This year's CNVC cohort was an extremely competitive cohort. Six teams were selected to advance to the finals, up from five finalists selected last year.
These finalists presented in front of an esteemed panel of distinguished judges, including David Appel, AB '81, MBA '82, chairman and CEO of WAG hotels, Hilarie Koplow-McAdams, AM '87, venture partner at NEA, Rohini Pandhi, MBA '10, product lead at Square, Ellen Rudnick, MBA '73, senior advisor and adjunct professor for entrepreneurship at Chicago Booth, Reese Schroeder, managing director of Tyson Ventures, Phil Schwarz, MBA '08, venture capital investor at Corazon Capital, among others.
This year, the judges awarded a total of $50,000 to the six teams:
PODU, the first platform for podcasting in Arabic, took home first place and $15,000 in this year's CNVC. PODU offers on-demand and on-the-go entertainment to its listeners from all over the Arab world and fosters a welcoming environment for those interested in hosting a podcast on its open platform. PODU is led by Wessam Abozeid, expected AB '19, who is a Sawiris Scholar at the University of Chicago.
Dr. Shake, which produces and delivers nutritious and tasty smoothies to office workers and health-conscious consumers in China's metropolitan areas, tied for second place and earned $10,000. Dr. Shake intends to become consumers' go-to brand for fresh, tasty, and nutritious smoothies that are only one click away. Team members include Richard Zhao, expected AB '21; Nancy Xue, expected AB '20; and Jeffrey Zhu, expected AB '22.
Nahvy, an online marketplace focused on fulfilling the needs and providing services for people 65 years and older, also won $10,000 and tied for second place. Team members include Martin Bolotin, expected AB '21; Marley Rosario, expected AB '21; Michael Kokkiness, University of Illinois at Urbana-Champaign; Jake Fauske, expected AB '21; and Ben Brandt, expected AB '21.
Besst, a platform for people to compete with their friends, wagering social media incentives instead of money, was awarded $5,000. Team members include Spencer Gordon-Sand, expected AB '21; Lisa Smoluk, expected AB '21; and Diag Daveport, expected PhD '23.
Southsider, which provides a low-cost, high-quality solution for bicycle part security, was also awarded $5,000 from the judges. The universal, tamper-proof, proprietary, and insured hardware installs in minutes and makes bike-part theft impossible at a price that make sense. Team members include John Havlik, expected AB '19 Rimsha Nazeer, expected AB '20; and Jerry Shi, expected AB '21.
WAGR, an online platform that allows user to place bets on their performance in popular online video games (such as Fortnite or League of Legends) and earn money through their gaming skills, was also awarded $5,000. Team members include Stepan Severov, expected AB '19; John Van Den Anker, expected AB '20; Won Woo Kim, expected AB '20; and Justin Yannix, expected AB '20.