Making Renewable Energy Feasible
Published on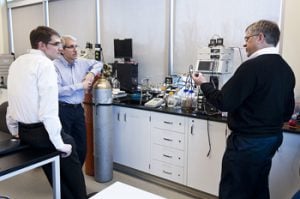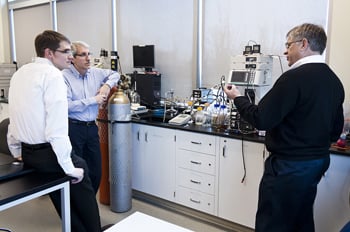 UChicago licensee Electrochaea uses electricity generated by the sun or wind to convert water and carbon dioxide into methane, the chief ingredient of natural gas. From left: Matt Martin, Jeff Fornero and Mich Hein. Photo by Vince Palermo
Renewable natural gas.
Not an oxymoron, this new concept is rapidly working its way out of the lab into the real world of energy generation, storage and delivery. With microbes as a catalyst, the new technology—called electrobiological methanogenesis—uses electricity generated by the sun or wind to convert water and carbon dioxide into methane, the chief ingredient of natural gas.
Electrochaea, which licenses the technology from the University of Chicago, recently received a $1.2 million grant from the Danish government to demonstrate the technology at 250-kilowatt scale at a commercial biogas plant in Denmark. The demonstration is planned to begin in the second quarter of 2012 and last about 18 months, according to Mich Hein, Electrochaea's CEO. "We expect to be operating a larger commercial facility by 2014."
The ties between Electrochaea and UChicagoTech, the University of Chicago's Office of Technology and Intellectual Property, are many. Hein first learned of the technology while he was an Executive-in-Residence at UChicagoTech. Also, John Van Dyke, a member of the selection committee of the University of Chicago's Innovation Fund, played a critical role in introducing Electrochaea to the Danish market. Operated by UChicagoTech, the Innovation Fund is a philanthropic source of proof-of-concept grants for commercially promising University innovations.
The close working relationship between Electrochaea and UChicagoTech is likely to continue for a long time, Hein says. Electrochaea recently gave the University $120,000 for research to optimize electrobiological methanogenesis.
"We continue to work with UChicagoTech on patent prosecution and the development of intellectual property involving this technology, which is still coming out of the University and Electrochaea," he says. "UChicagoTech has been a good business partner in helping to develop the commercial side of the enterprise and protect the intellectual property."
Developing a business model
With its deep commitment to renewable energy, Denmark is a good place for Electrochaea to launch its new business. One Danish entity, Energinet.dk, owns and operates both its gas and electrical power grids, which facilitates balancing energy conversion between the two grids.
In addition, the country generates 25% of its electrical power from wind turbines and plans to generate 50% by 2020. Due to the variability of the wind coupled with fluctuations in the demand for and price of electricity, much of this wind power would be available for electrobiological methanogenesis. "When the wind blows, and power demand is low, excess electrical power is sold at lower prices," says Matthew Martin, Electrochaea's director of business and technology development and former UChicagoTech project manager. "We'll use that excess wind power to make natural gas for storage on the gas grid until that energy is needed."
Furthermore, Denmark could be a launching pad for business throughout Northern Europe, where many biogas facilities operate. At such facilities, the conversion process would use renewable electrical power to transform biogas (half methane, half carbon dioxide) into methane.
Besides capturing stranded electrical energy and converting biogas into methane, Electrochaea has identified a third business opportunity: balancing a power grid. "Because electrobiological methanogenesis can be turned on or off quickly, even within 15 minutes, it could help keep a grid from becoming overwhelmed with too much power or it could add energy to a grid to ensure that enough power is available to meet demand," says Hein, who is also a managing partner of Nidus Partners, part owner of Electrochaea.
Laurens Mets, associate professor of molecular genetics and cell biology at the University of Chicago, developed electrobiological methanogenesis specifically to store renewable energy as a carbon-based fuel. While he was researching the subject, the price of natural gas in the United States was as high as $5 per million Btu. At that price, it was relatively straightforward to develop a business plan for the promising new technology. Since then, however, the increased use of fracking has dramatically reduced the cost of natural gas, making that business model very challenging here.
Nevertheless, Hein sees a future for electrobiological methanogenesis in the United States. "Due to the current low price of natural gas, many business are investing heavily in the natural gas infrastructure and new technologies to use natural gas," he says. "When the price of natural gas goes back up, as it inevitably will, that enhanced infrastructure and those new technologies will incentivize people to investigate the feasibility of converting, storing and distributing excess electrical power as natural gas."
The demonstration in Denmark will show people around the world the potential of this technology, says Mets, who consults with Electrochaea on the demonstration facility and other matters. "Meanwhile, we have things in development in our lab that will improve the functioning of this technology. We know that UChicagoTech will help us license them and find business partners to commercialize them."
Greg Borzo
*UChicago Tech is now the Tech Commercialization team at the Polsky Center for Entrepreneurship and Innovation in recognition of a $50M gift from Michael Polsky in 2016 to expanded the Polsky Center in order to unify and enhance UChicago's leading venture creation initiatives. Learn more about this transformational gift. >>