UChicago Docs Develop Content for New Web App for Physicians
Published on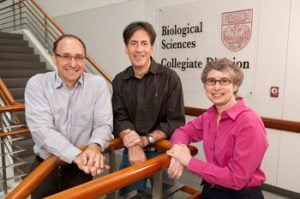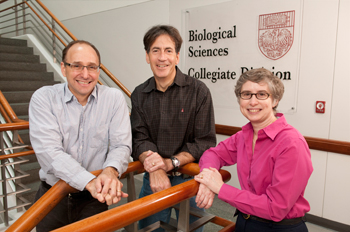 Three UChicago physicians (left to right) Adam Cifu, MD, Scott Stern, MD, and Diane Altkorn, MD, developed the content for a new Web app diagnosis tool licensed by startup Agile Diagnosis. Photo by Lloyd DeGrane
Launched early this year, Agile Diagnosis provides a new mobile, web-based application that helps physicians diagnose patients more accurately and efficiently. Built on the work of three University of Chicago physicians and intellectual property licensed from the University, the company is run by five current and former MBA students from Chicago Booth.
A beta version of the product for the academic setting will be released by the fall of 2011 and a professional version by the end of the year. Initially, the computer application will be given for free to medical students and residents — who tend to be open to new technologies and handheld devices — in the hopes of building a base of dedicated users. Agile anticipates that ultimately the product will become an integral part of primary care, not only among internists and other frontline physicians but also nurse practitioners and physician assistants.
The biggest challenge the nascent company faces is getting its products accepted by experienced physicians, says Timothy Honaker, chief operating officer at UChicagoTech, the University's Office of Technology and Intellectual Property. "If they can accomplish that, this software platform could be integrated into electronic medical records and become part of the standard of care. It has great potential."
The idea for a decision-support system originated with Scott Stern, assistant dean of technology at the Prizker School of Medicine and chief medical advisor at Agile, who has devoted his career to improving internal medicine diagnosis. He and two other University of Chicago physicians, Adam Cifu and Diane Altkorn, co-authored Symptoms to Diagnosis: An Evidence-Based Guide, a textbook that is used around the world.
For years Stern worked towards the development of a computer-based simulator, or avatar, to teach medical students how to diagnose patients. At the beginning of 2011, Stern and Scott Freedman, then an MBA student at Chicago Booth and now vice president of business development at Agile, decided to turn the decision-support component of the simulator into a standalone product.
"This new company is a victory for the University in that it combines entrepreneurial knowhow from Chicago Booth, intellectual property from the Medical School and technical expertise from UChicagoTech," says Stern. "The more the University combines its strengths, the better off all of us will be in terms of societal impact and financial rewards."
Bringing people, ideas together
UChicagoTech's role in helping to create Agile has been to nurture ideas, bring people together, work out intellectual property and licensing issues, and help negotiate royalty and equity issues, Stern says. "I'm a physician, not a business person and have never filed for a patent or entered into a licensing agreement. It would have been impossible to license these ideas or create this company without UChicagoTech."
Recently Agile won two awards that will help it build momentum: a $25,000 prize for first place in the 2011 New Venture Challenge sponsored by the Polsky Center for Entrepreneurship and a $50,000 grant from the Innovation Fund. Organized and run by UChicagoTech, the Fund awards University grants to support proof-of-concept studies and the commercialization of good research ideas.
"These two awards give us validation and credibility, and the money gives us some extra runway to develop our product and gain traction in the medical market," Freedman says.
More than $6 billion is spent every year on unnecessary medical care, says Agile's CEO Borna Safabakhsh, a recent MBA graduate of Chicago Booth. "Our app takes existing content, such as diagnostic decision-trees and flow diagrams, and makes it easy to use at the point of care. This will improve patient care and reduce healthcare costs."
By Greg Borzo
For more information about Agile Diagnosis, please contact info@agilediagnosis.com.
*UChicago Tech is now the Tech Commercialization team at the Polsky Center for Entrepreneurship and Innovation in recognition of a $50M gift from Michael Polsky in 2016 to expanded the Polsky Center in order to unify and enhance UChicago's leading venture creation initiatives. Learn more about this transformational gift. >>