Monsters of the Midway
Published on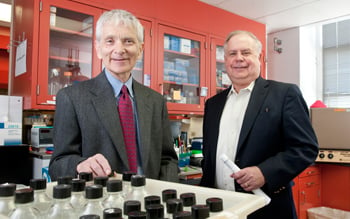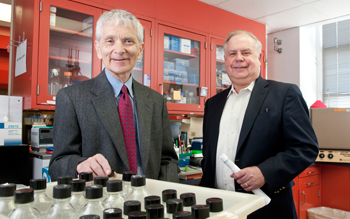 UChicago licensee NephRx is moving swiftly to bring to market therapeutics for patients with kidney transplants and mucositis. Nephrology professor Gary Toback, MD, PhD (left) developed the therapies that have attracted the interest of three large pharmaceutical companies according to NephRx CEO James Koziarz (right). Photo by Lloyd DeGrane
"Talk about Monsters on the Midway… they are the researchers at The University of Chicago," says James Koziarz, CEO of NephRx Corporation, a biotechnology company in Kalamazoo, Mich. "The University is just beginning to tap the power it has to commercialize the intellectual property being generated on campus, especially in the life sciences."
With one potential therapeutic in human trials and another close behind, NephRx is a good example of a commercial enterprise that can come out of the University's research channels. It is an exclusive licensee of University patents covering these two biological agents:
NX001 is a kidney growth factor peptide aimed at preventing delayed graft function in kidney transplantation patients. NX001 is in a Phase I clinical.
NX002 is a peptide derived from a naturally occurring growth factor aimed at patients with acute and chronic diseases of the gastrointestinal tract. NX002 is being developed to treat mucositis, a common and extremely painful side effect of chemo- and radiation therapy in cancer patients that affects more than 400,000 patients a year in the United States.
The core science for these two agents came out of research conducted by F. Gary Toback, MD, PhD, professor of medicine and cell physiology at the University of Chicago Medical Center and founding scientist of NephRx. And the intellectual property was secured thanks to the work of UChicagoTech, the University of Chicago's Office of Technology and Intellectual Property.
"We're very comfortable with and confident in our patent position, and we have UChicagoTech to thank for that," Koziarz says. "Without solid grounding in intellectual property, we would not be able to attract funding. In fact, three large pharmaceutical companies are interested in partnering with us."
Recent breakthroughs
NephRx has made considerable progress since Koziarz, who had been on the company's board for a couple of years, took the reins in 2010, according to Ben Dibling, project manager at UChicagoTech. Since then NephRx:
received "orphan drug" status for NX001 that will expedite the Food and Drug Administration's review process and grant NephRx extended market exclusivity for NX001, if and when that agent is approved;
announced a new study demonstrating that NX002 shows significant efficacy in an animal model of oral mucositis; and
was awarded $488,000 in federal Qualifying Therapeutic Discovery Project grants for the two compounds.
"The launch of our first human trial for NX001 represents an important milestone for NephRx," says Toback, who continues to work as a scientific consultant to the company. "If these trials are positive, Phase II trials could get underway by mid 2011."
Koziarz wants to extend the patent coverage for both compounds and is considering new indications and delivery methods, including possible applications in veterinary medicine.
Having earned his doctorate in biochemistry at the University of Chicago, Koziarz credits the school with much of his success. "The academic training translated very well into the industrial setting," he says. "It helps to have rigorous respect for the scientific method and to be your own worst critic." After graduating in 1976, Koziarz held a postdoctoral position at the University and then went to work at Abbott Labs, from which he retired in 2004 to focus on start-ups.
Meanwhile, UChicagoTech continues to make sure the patents that the University licenses to NephRx cover both the products that NephRx develops and the uses for which those products are being developed. "We work closely with Dr. Toback and NephRx on this continually evolving process," Dibling says.
By Greg Borzo
*UChicago Tech is now the Tech Commercialization team at the Polsky Center for Entrepreneurship and Innovation in recognition of a $50M gift from Michael Polsky in 2016 to expanded the Polsky Center in order to unify and enhance UChicago's leading venture creation initiatives. Learn more about this transformational gift. >>