Mentoring Program to Bridge Gap Between Ideas and Innovation
Published on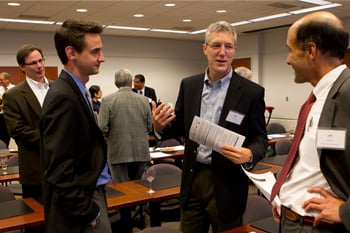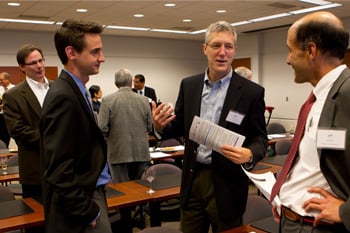 The inaugural event of the new Chicago Innovators Mentors program matched experienced entrepreneurs, executives, and domain experts with innovating faculty from multiple institutions. Left to right: Mentor Dan Schmitt, Jim Bray, mentor Mike Scholosser, and Jeff Coney. Photo by Jason Smith
One of the biggest challenges to early stage innovation is that it most needs experienced advice when it is least able to attract it, says Alan Thomas, director of UChicagoTech, the University of Chicago's Office of Technology and Intellectual Property. "A structural problem in Chicago is that at this embryonic point there have been very few resources to turn to," he says.
The solution: Chicago Innovation Mentors (CIM), a new multi-institution initiative that cultivates university technology commercialization by matching experienced entrepreneurs, executives, and domain experts with innovating faculty.
CIM will initially support biomedical opportunities from the University of Chicago, Northwestern University, and the University of Illinois at Chicago, in collaboration with the iBIO® Institute. All four groups are co-founders of CIM.
Start-up ventures are more likely to thrive when advised by multiple mentors with proven skills and experience. "Collectively we are stewarding discoveries flowing from between a billion and a billion and half dollars per year of basic research," Thomas says.
At the inaugural CIM kick-off event in November, more than 25 prospective mentors with diverse backgrounds and significant records of accomplishment met at the Gleacher Center to learn more about how their talents could assist mentees, and specifically, faculty members, who have an interest in commercializing research from their lab.
Adapted from the Massachusetts Institute of Technology's successful venture mentoring service, and being launched in collaboration with MIT, CIM places an emphasis on creating a safe haven for mentees. The number one reason innovators don't take advice is that they don't trust the motives of the advisor, says Thomas. In this program, mentor conflicts of interest are rigorously screened out.
Team Mentoring
A second key feature of the program is team mentoring. Mentees will be assigned four or five mentors. The team concept brings diversity and balance. For those selected to be mentors, the team meetings, plus monthly meetings of all mentors, provide a unique networking opportunity.
Mentee Maryellen Giger, PhD '85, professor of radiology at the University of Chicago, along with a team of Booth School MBA students who were finalists in the 2010 New Venture Challenge Program, are seeking expert guidance in the commercialization of a new radiology workstation concept, including in-depth understanding of the FDA approval processes and software coding requirements. "CIM has the potential to expedite the transfer of our developments to the clinical arena and thus, help in patient care," she says.
Entrepreneurs can save time learning from the successes and failures of those who have gone before them, says David Miller, president and CEO of the iBIO Institute. "This volunteerism is a critical part of the ecosystem; it supports the mentees in their efforts to take technical discoveries and turn them into commercialized product, and it really accelerates the learning curve."
The problem of moving products to the market is often the researcher's inability to show convincing proof-of-concept, which happens for two reasons: lack of know-how and lack of funding, adds Alicia Loffler, executive director and associate vice president for research for the Innovation and New Ventures Office at Northwestern University. "By wrapping the right know-how and connections around each project, we are starting to bridge that gap," she says.
CIM is in "soft-launch" mode for now, says Nancy Sullivan, who is Director of the Office of Technology Management at the University of Illinois, Chicago. "As we tune-up the program, we hope to steadily grow our mentor base, number of mentees, number of institutions involved, and to potentially expand the program beyond biomedical, to additional fields of research-based innovation."
For prospective mentor Steven Gould, MD, a former professor of surgery and a founder of Northfield Labs, CIM is an exciting opportunity to put Chicago on the map. "We all know that companies are increasingly looking to universities as their new pipeline and we have ample opportunity to unlock, right here in Chicago," he says.
For more information on the mentoring program, contact Alan Thomas at 773-834-3212.
Tanya Cochran
*UChicago Tech is now the Tech Commercialization team at the Polsky Center for Entrepreneurship and Innovation in recognition of a $50M gift from Michael Polsky in 2016 to expanded the Polsky Center in order to unify and enhance UChicago's leading venture creation initiatives. Learn more about this transformational gift. >>