Making Disc Drives Smaller, Faster, More Stable
Published on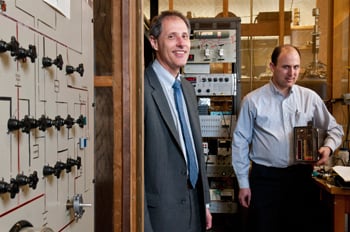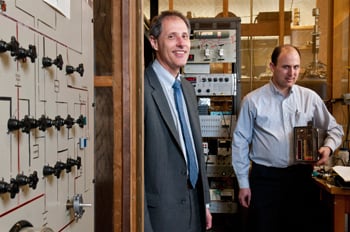 University Provost Thomas Rosenbaum and Daniel Silevitch, Research Scientist, James Franck Institute, stand inside a shielded room, used to screen out radio interference from outside. To the left is the control console for the refrigerator used to cool their experiment down to the extremely low temperatures required. Photo by Lloyd DeGrane
If you were to look "under the hood" of a computer you'd find magnets regulating the writing, storing and reading of bits and bytes of information on disc drives. Each magnet is more or less suited to each task depending on its size, strength, orientation, temperature and other properties.
Researchers at the University of Chicago and University College, London have developed a method for controlling such properties that could improve the speed, stability, energy efficiency and storage capacity of next-generation computer hard drives, while decreasing their size.
"This discovery has potential because the disc-drive market is enormous and depends on continuing technical advances," says Matthew Martin, PhD, Advisor at UChicagoTech, the University of Chicago's Office of Technology and Intellectual Property. UChicagoTech has filed a patent for the discovery and is working with disc-drive manufacturers to explore prototyping this new technology which UChicagoTech plans to license to interested parties.
"There are still some technological hurdles to be resolved, but this discovery has the potential to lead to some important advances in disc-drive technology," Martin adds.
Fine tuning
Magnets that can readily switch their polarity are widely used in the computer industry for data storage, but they present an engineering challenge: A magnet's polarity must be easy to switch when writing data to memory but difficult to switch when storing or reading data.
These conflicting requirements are typically met by heating and softening the magnet when saving data, then cooling and hardening the magnet for storage and reading. Now Thomas Rosenbaum, PhD, John T. Wilson Distinguished Service Professor, Physics, and Provost of the University; Daniel Silevitch, PhD, Research Scientist at the University of Chicago; and Gabriel Aeppli, PhD, Quain Professor of Physics and Director of the University College, London, Centre for Nanotechnology, have discovered a method that avoids the need for this complex heating operation. As reported in the Jan. 29, 2010, Proceedings of the National Academy of Sciences, these researchers can fine tune a magnet with the application of a small external magnetic field that allows writing, storage and readout at a fixed temperature.
"The experiments reported were conducted on a model system at low temperature using materials that are not currently used as storage media," Rosenbaum explains. "The commercial potential lies in translating these model results to conventional storage media at room temperature, the focus of our present efforts. UChicagoTech is recruiting partners for the necessary experiments."
"I had the pleasure of overseeing UChicagoTech as Vice President for Research and have relied upon Alan Thomas and his team ever since," Rosenbaum adds. "As always, UChicagoTech has been exploring the connections to possible industrial partners and taking the necessary steps to protect our intellectual property."
By Greg Borzo
*UChicago Tech is now the Tech Commercialization team at the Polsky Center for Entrepreneurship and Innovation in recognition of a $50M gift from Michael Polsky in 2016 to expanded the Polsky Center in order to unify and enhance UChicago's leading venture creation initiatives. Learn more about this transformational gift. >>