Bio-life Sciences "Ecosystem" Faces New Challenges
Published on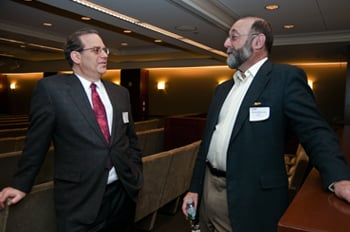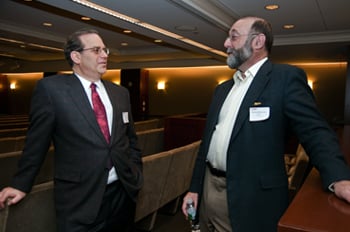 Dr. Elliott Sigal (MD'81, PhD), President of R&D;, Bristol-Myers Squibb, and Dr. Michael Prystowsky (MD'81, PhD), Chairman of Pathology, Albert Einstein College of Medicine, participate in the inaugural event of the new UChicago Mid-Atlantic Bio-Life Sciences Alumni Group. Photos by Deborah Suchman Zeolla
To help address growing concerns about the vitality of life science innovation, UChicago Tech and the University's Mid-Atlantic Bio-Life Sciences Alumni Group co-hosted "Advancing Health Care in Hard Times: Expert Views on Creating Solutions to a Mighty Big Problem." The event, which took place in midtown Manhattan on December 7, united several notable university alumni now working at high levels in different sectors of life sciences research, development, and production. The event served as the inaugural meeting of the Mid-Atlantic Alumni Group.
Panelists included Elliott Sigal, MD '81, PhD, Chief Scientific Officer, Bristol-Myers Squibb; Michael Prystowsky, MD '81, PhD, Chairman of Pathology, Albert Einstein College of Medicine; and Richard Kollender, MBA '98, Partner, Quaker Bio Ventures. Jon Edelson, MD '86, Venture Partner, Ascent Biomedical Ventures and CEO/President of Anterios, both co-organized and moderated the panel. Each participant gave candid assessments about the obstacles to innovation in the 21st century.
Challenge of today's economic environment
"One of the greatest common interests within healthcare, and specifically life sciences," said Edelson, "is the challenge of innovating in today's current [economic] environment."
According to the panel, the bio-life sciences "ecosystem"—the historically complicated structural interdependency of academic research, venture capital financing, and the pharmaceutical industry development—is in critical condition. Sigal, who coined the evening's guiding metaphor of an endangered ecosystem, said, "Each hub of the ecosystem is having its own pressures which can lead to obstacles that limit much-needed collaboration."
Moreover, the panelists noted inherent conflicts between the different goals of the three primary components exacerbate the difficulties. To overcome these current challenges, the stakeholders are exploring new models for the future, including expanded drug discovery and development activities at some universities and dedicated partnerships between universities and large pharmaceutical companies around specific therapeutic areas.
Edelson argued that despite the tremendous financial resources dedicated to research and development, there has recently been a relative paucity of popular new drugs. According to Sigal, R&D can cost up to $1 billion per drug, and even then 90% of drug development fails. Between discovery and market viability, lies the role of venture capital.
"The job of venture capitalist," said Kollender, "has been to be an intermediary, to find exciting technologies, to bring our expertise to bear and produce a technology that is good and that people want to acquire to develop further and commercialize."
Venture funding shifting
Edelson summed up the current situation by saying however that, "venture funds are moving toward later stage developments, and this leaves an enormous gap between universities and late-stage that's not being funded, and that's exactly where all the innovation needs to be critically supported."
The University of Chicago's Mid-Atlantic Alumni Association and UChicagoTech seemed particularly well suited to bring this discussion to light. As demonstrated by the members of the panel, the school has played a role in educating leaders in the field, and given the tremendous intellectual energy of the institution, is well situated to help formulate preliminary responses to the current situation. Panels like this are only part of the mission of the Mid-Atlantic Bio-life Sciences Alumni Group, which was formed to foster dialogue and exchange about these and related issues. Kevin Phelan, PhD "89, President of the Alumni Association said the evening's panel discussion was "one foundational type of event" that the group will be offering. In addition to topical conversation, the group will provide a forum for both alumni networking for those that work in the industry, and for mentorship and career development.
Audience members, which included alumni now working in academic, business, and private medical practice, as well as Cornell and Columbia medical students, found the topic of the panel essential to understanding the future of healthcare. "We have a healthcare crisis," said Deborah Friedman, BA '73, MD '77, "and nobody is talking about the science of medicine and new developments. This needs to happen."
By Michael Washburn
*UChicago Tech is now the Tech Commercialization team at the Polsky Center for Entrepreneurship and Innovation in recognition of a $50M gift from Michael Polsky in 2016 to expanded the Polsky Center in order to unify and enhance UChicago's leading venture creation initiatives. Learn more about this transformational gift. >>