Discovery Matters
Published on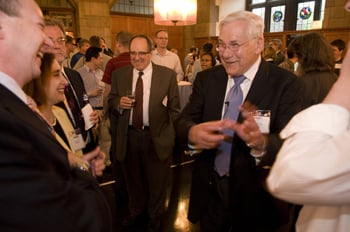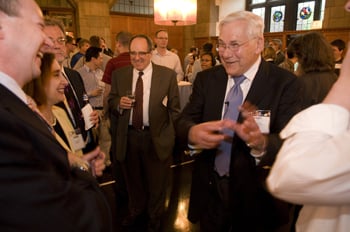 Alan Thomas, Director, UChicagoTech, Ellen Rudnick, Executive Director and Clinical Professor of Entrepreneurship at the Polsky Center, Keith Moffat, Deputy Provost for Research, Donald Levy, Vice President for Research and for National Laboratories and keynote speaker, Steven Lazarus, co-founder and Managing Director of ARCH Venture Partners. Photos by Lloyd DeGrane
The Polsky Center for Entrepreneurship and UChicagoTech successfully launched the Innovation Workshop Series, a new monthly program, on May 7, 2009.
Steven Lazarus, co-founder and Managing Director of ARCH Venture Partners, spoke at the inaugural conference. He said that Chicago is in the process of becoming a hub for scientific innovation and technology transfer, similar to established hubs in Silicon Valley and Boston as well as emerging ones in Seattle and Austin. The process can take 20 to 40 years, he added.
In any event, the Chicago hub likely will be based on and built around pharmaceutical products and medical devices, Lazarus said.
The series was made possible by an initial gift from ARCH, a premier provider of seed and early-stage venture capital that specializes in university-based start-ups.
"We hope this series will be the beginning of a new collaboration that will help us leverage the resources of our faculty, researchers and alumni to build a successful entrepreneurial ecosystem on campus and across the city," says Ellen Rudnick, Executive Director and Clinical Professor of Entrepreneurship at the Polsky Center for Entrepreneurship, which is part of the University of Chicago Booth School of Business.
"The Innovation Workshop Series is one of the many things we're doing to build a community so research and discovery can meet the marketplace," said Alan Thomas, Director of UChicagoTech. "Steve Lazarus is illustrative of the kind of speakers we want to showcase in this series because of his experience building business ideas out of research discoveries."
Lazarus said scientific discovery was more likely than politics to solve the world's problems. "Even during a recession, scientific discovery continues at an exciting pace."
He identifies entrepreneurial researchers by asking other scientists in the field for their frank evaluation, and by ascertaining whether the researcher is willing to devote time and energy to his or her idea.
One such successful entrepreneurial researcher is Maryellen Giger, Professor of Radiology and Committee on Medical Physics at the University. She also spoke at the conference, recounting how she and colleagues developed computer aided detection, a technology for detecting cancer early in mammograms. In 1993, R2 Technology licensed CAD, ran the clinical trials that led to FDA approval, and facilitated reimbursement for the technique; since then, millions of women have experienced improved outcomes.
"In addition to helping patients, commercializing this technology has given money back to my lab and the University, so being entrepreneurial and business-minded has enhanced our academic mission," Giger said.
Future speakers in the Innovation Workshop Series will address a range of topics including how to follow best practices, identify market potential and develop funding options.
On Thursday, June 11, Rifat Pamukcu, President and CEO of Midway Pharmaceuticals, and John Alverdy, Vice Chairman, Department of Surgery at the University, will talk about their "journey" from intriguing laboratory discovery at the University to business plan and initial financing, as well as their experiences raising biotechnology venture capital.
Midway Pharmaceuticals was founded in 2005 with the support of UChicagoTech. The company develops nonantibiotic therapies for hospital-acquired infections and a range of gastrointestinal conditions that include Crohn's disease, ulcerative colitis and irritable bowel syndrome. The therapies are based on a proprietary compound discovered by Alverdy and colleagues at the University.
For more information about the Innovation Workshop Series please visit http://www.chicagobooth.edu/iws/index.aspx.
By Greg Borzo
*UChicago Tech is now the Tech Commercialization team at the Polsky Center for Entrepreneurship and Innovation in recognition of a $50M gift from Michael Polsky in 2016 to expanded the Polsky Center in order to unify and enhance UChicago's leading venture creation initiatives. Learn more about this transformational gift. >>