Third Coast Water Seminars: Three Paths to Solving Six Water Problems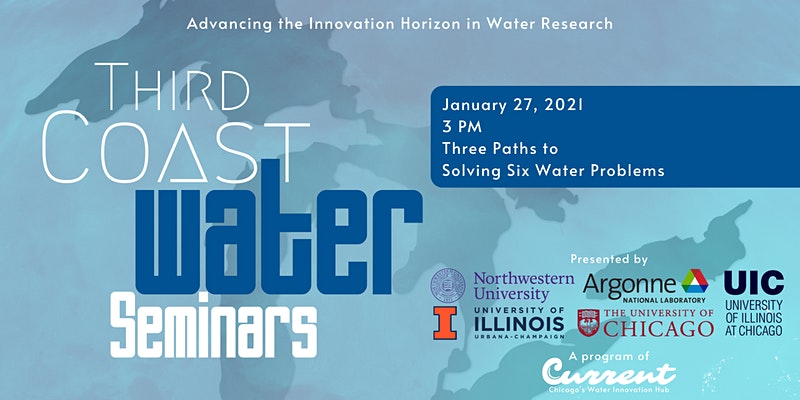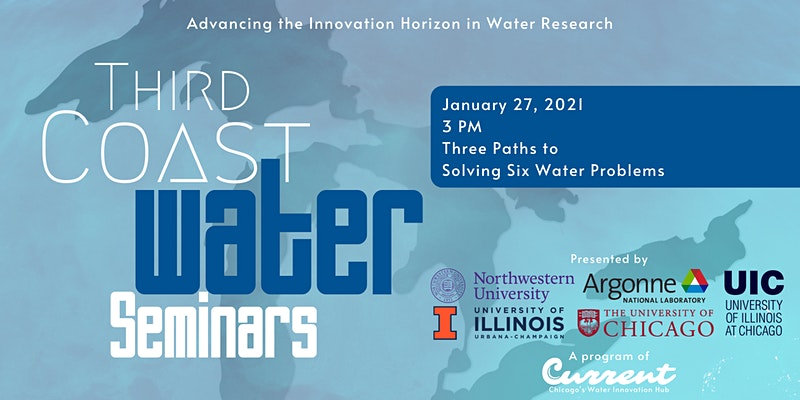 The Third Coast Water Seminars are a monthly research series hosted by Current in partnership with Argonne National Laboratory, Northwestern University, the University of Illinois Urbana-Champaign, the University of Illinois at Chicago, and the University of Chicago. The series is intended to share the latest research in water and water-related technologies/areas of need to spur collaboration and solve pressing water challenges.
This seminar titled, Three Paths to Solving Six Water Problems, will be delivered by Dr. David Sedlak. The global water crisis actually consists of six separate-but-interlinked crises being faced by different communities around the world. By placing the challenges within the larger context of changes that the world is still undergoing, we can comprehend the ways in which water stress will increase in coming decades as well as the efficacy of the three classes of solutions. Water demand-focused solutions will extend water resources through gains in efficiency whereas supply-focused approaches will unlock untapped water resources. However, these approaches will only get us part way to our goal; the ultimate solution requires a reimagining of our relationship with the environment and obligations to future generations.
Agenda:
3:00 p.m. – Introduction and Welcome
3:05 p.m. – Professor David Sedlak, University of California Berkeley
3:45 p.m. – Audience Q&A
3:55 p.m. – Next Event Information & Closing Remarks
About the Presenter:
David Sedlak is the Plato Malozemoff Professor in the Department of Civil & Environmental Engineering at UC Berkeley where he is the Co-Director of the Berkeley Water Center and Deputy Director of the NSF engineering research center for Reinventing the Nation's Urban Water Infrastructure (ReNUWIt). Sedlak is a member of the National Academy of Engineering and recipient of numerous awards including the Paul Busch Award for Innovation in Applied Water Quality Research and the Clarke Prize for Excellence in Water Research. He is also the author of "Water 4.0: The Past, Present and Future of the World's Most Vital Resource."