Chicago Water Week – Third Coast Water Seminar Series Seminar I: Waterborne Disease (COVID-19)

Learn from leading researchers (from across the U.S. and world) about innovative solutions and/or emerging problems in water.
About the Event

About the Speaker
Dr. Rita Colwell is a distinguished Professor at the University of Maryland at College Park and President of CosmosID, Inc. Her interests are focused on global infectious diseases, water and health.
Dr. Colwell served as 11th Director of the National Science Foundation and Co-chair of the Committee on Science, National Science and Technology Council.
Dr. Colwell has been awarded 63 honorary degrees from institutions of higher education and is the recipient of the 2006 National Medal of Science, 2010 Stockholm Water Prize, and 2018 Lee Kuan Yew Water Prize of Singapore.
*Zoom link will be sent to attendees prior to event. To the extent possible, please login to Zoom via the email supplied during registration.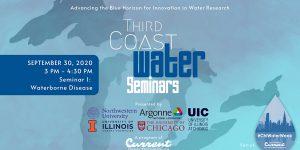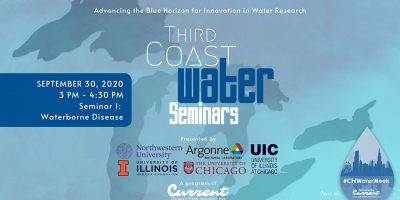 Chicago Water Week (CWW) is five days of mostly virtual events highlighting the critical role of water in Chicago's environment, economy, and society. From September 28 to October 2, 2020, participate in a wide-range of inspiring, water-focused events, featuring regional leaders, policymakers, innovators, researchers, and industry veterans. CWW is an opportunity to build your connections to cross-sector water leaders, discover novel ideas and technologies, and be inspired to solve the big water challenges affecting our region and the world. To learn more about CWW program offerings and to register, visit the current website.