Psyonic Racks Up Accolades as its Bionic Hand Prepares for Nationwide Launch
Published on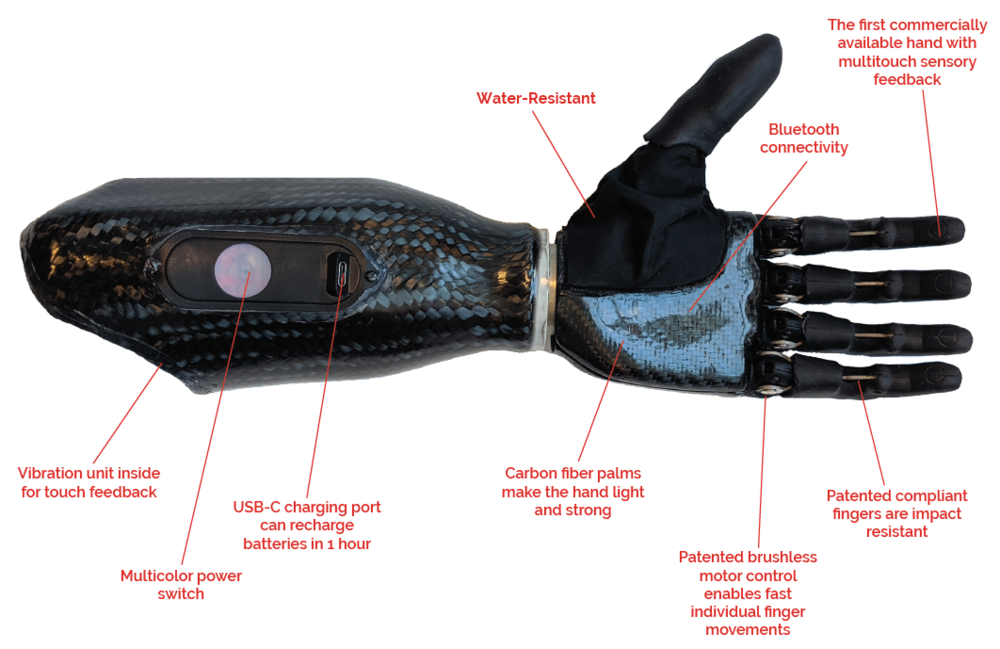 An Illinois startup that has developed a more affordable bionic hand has been racking up accolades as it prepares for the nationwide rollout of its high-tech prosthetic.
Psyonic, which this summer participated in the Polsky Center's Small Business Growth Program, on Sept. 1 will go national with its first product, the Ability Hand.
The company says it is the fastest bionic hand on the market and the first with sensors in the fingertips that offer multi-touch feedback. Light and durable, it is made with inexpensive silicones and rubbers that help lower the price to a point that it is covered by Medicare.
The startup, which is based at the EnterpriseWorks Incubator in the University of Illinois Urbana-Champaign Research Park, in Champaign, has received numerous honors recognizing its promise.
Psyonic founder and CEO Aadeel Akhtar this week received an Innovation Award from the Illinois Innovation Network, a consortium of public universities and community colleges working to improve the state's economy by nurturing innovation. His award, in the health and wellness category, was presented Wednesday at the Illinois State Fair's Tech Prairie STEAM Expo, which honored seven individuals from the network's 15 hubs who have made key advances in research, technology commercialization and education.
Also this summer, Akhtar, 34, was named to MIT Technology Review's global list of 35 Innovators Under 35, which recognized his creative approach to making the world more equitable.
There are about 100,000 people in the U.S., and 10 million people globally, who are missing a hand and could take advantage of the Ability Hand, Akhtar said.
"The goal is to get these hands to people who need them worldwide," Akhtar said. "It is the most accessible advanced bionic hand that is out there."
Akhtar, who grew up in Streamwood in the Chicago suburbs, traces his interest in prosthetics to a visit to his parents' native Pakistan when he was 7 years old. He recalls encountering an impoverished girl around his age who was missing her right leg and using a tree branch as a crutch.
Akhtar was researching prosthetics at UIUC, where he was pursuing his master's degree in electrical and computer engineering and his PhD in neuroscience, when he met a retired U.S. Army sergeant, Garrett Anderson, who had lost a hand to a roadside bomb in Iraq and used a hook in its place.
Together they started developing the Ability Hand, using Akhtar's research into sensorimotor prosthetic control to manipulate movement and stimulate the nerves so users can feel what their prosthetics are touching. He holds four patents  that are used in the product.
"When Sgt. Anderson holds his daughter's hand, he can feel it," said Akhtar, who described the sensation as a vibration.
Another trip abroad, this time to Ecuador, made Akhtar realize the importance of getting the prosthetic to market and making it available to the masses.
Working with a nonprofit that provides high-quality prosthetics to underserved populations, Akhtar met a former soldier in Ecuador who had lost his hand years earlier to machine gun fire. The team outfitted the man with an early iteration of its prosthetic, a clunky device three times larger than a human hand, and retrained his brain to do basic tasks like pinch. The man, joyous, "felt as though he had come back," Akhtar said.
"If we just stay in academia this just ends up in a journal paper," Akhtar recalled thinking. "We want everyone to feel the way he did."
In 2014, Akhtar took Psyonic through the National Science Foundation's I-Corps program, where he learned customer discovery and business models. The following year Psyonic won the University of Illinois' Cozad New Venture Challenge, taking home $25,000, and in 2016 it won the university's $20,000 Illinois Innovation Award. The same year, Akhtar was named to Forbes' 30 Under 30 in Healthcare.
Substantial funding came in 2018 and 2019, when Psyonic received Small Business Innovation Research grants from the National Science Foundation, now totaling $1.4 million.
Meanwhile, Psyonic, which has grown to be a team of 20, made its bionic hand better.
Initially made with a 3D printer, the early Ability Hand was crafted of hard injection molded plastics that would break from the occasional bump. In order to keep the cost down but improve durability, Psyonic opted to 3D print the molds but use low-cost rubbers and silicons to create the fingers and joints.
The result was a resilient hand at a low enough price point that Medicare would cover it, which was a priority. By getting the Ability Hand covered under Medicare, Psyonic expanded access to 75% of people with upper limb differences in the U.S., Akhtar said.
Psyonic has conducted numerous tests showcasing the device's strength, including posting a video of Anderson doing pushups with the hand.
"Recently we put it in a dryer for 10 minutes and it was totally fine," Akhtar said. "I can't say the same thing for the dryer."
After a limited release in the Midwest, the Ability Hand next month will be available to clinicians nationwide.
Akhtar sought marketing help from the Polsky Center's Small Business Growth Program to promote the launch, with a focus on social media strategy in hopes of creating viral content.
"There are particular things our hand can do that are unique," Akhtar said. "We want it to handle arm wrestling, break through boards, and we want those things to go viral."
Polsky's quarterly Small Business Growth Program typically offers support to small business owners on Chicago's South and West sides, pairing them with a team of University of Chicago students and a coach to tackle a business challenge over the course of three months. But when the program expanded last year it partnered with the University of Illinois Urbana-Champaign's Office of the Vice Chancellor for Diversity, Equity, and Inclusion to recruit businesses and student consultants from UIUC for some of the cohorts.
As a biotech startup, Psyonic was unique among the clients in the summer cohort, which was composed mostly of restaurants, retail stores and other established small businesses, said Vik Sharma, who led the team of student consultants on Psyonic's project.
The team presented Psyonic with a digital marketing plan for each of the social media platforms (follow @PSYONICinc) and offered other recommendations, such as creating content on TikTok and establishing itself as a community for users.
Sharma, who is pursuing his master's degree in finance at UIUC, said it was rewarding to be involved in Psyonic's mission and he enjoyed learning about marketing and strategy consulting.
"I loved the experience," Sharma said. "I will be taking these lessons and applying them forward."
Akhtar is eager to expand internationally, which could happen as soon as next year. Eighty percent of limb amputations occur in developing countries, but only 3% of people there have access to affordable prostheses.
Akhtar hopes to expand access to other prosthetic limbs as well. Psyonic is in the early stages of developing plans for a bionic leg.
---
Article by Alexia Elejalde-Ruiz, associate director of media relations and external communications at the Polsky Center. Alexia was previously a business reporter with the Chicago Tribune. Reach Alexia at Alexia.elejalde-ruiz@chicagobooth.com or on Twitter @alexiaer.